Lakers: Nick Young Deserves Another Season In LA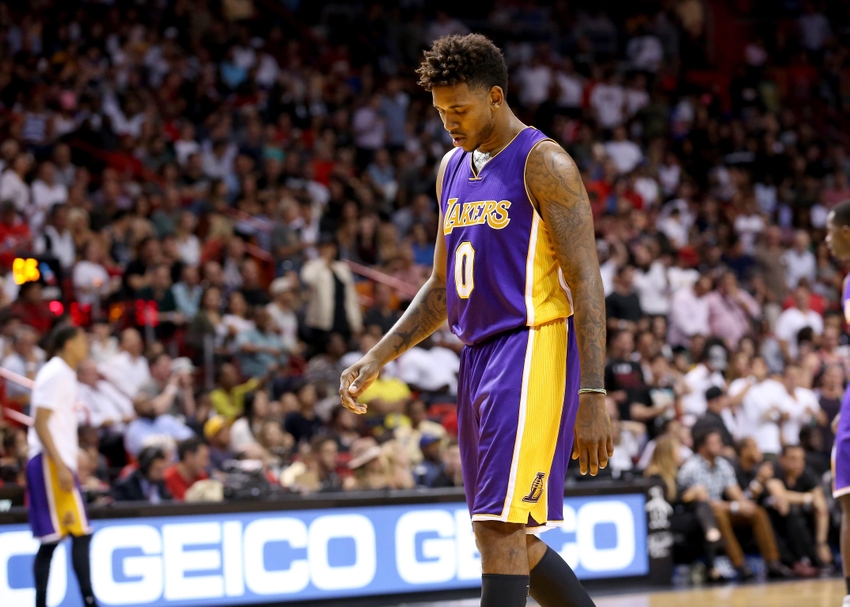 A few reasons why Nick Young deserves yet another chance with the Los Angeles Lakers
Nick Young had an interesting campaign with his hometown Los Angeles Lakers last season, to say the very least. Not only did Young not offer much while he was on the court, but he was a problem off the court causing unnecessary drama to an already demoralized team.
It's for this reason that there is a growing sense around the league that Young will be waived or traded before preseason. The deadline for teams to waive players is August 31, which means that if the Lakers wanted waive Young they would have to do it today.
Today is the deadline for Lakers to stretch Nick Young contract. If they do, his 2-year, $11.1 million gets stretched over next 5 seasons.

— Alex Kennedy (@AlexKennedyNBA) August 31, 2016
However, contrary to what most fans think, I believe Swaggy P can still contribute to a promising young LA team.
It's easy to forget that at one point Young was all fans had to cheer about during a miserable 27 win 2013-14 season. That year Young averaged a career-high 17.9 points per game, earning him a four-year, $21.5 million to stay with the Lakers the following summer. Now 31 and entering the third year of that deal, Young finds himself in a less than ideal situation.
He went from being the Robin to Kobe's Batman, to the Joker almost overnight. A lot can be attributed to this, from Young getting a tattoo on his right arm that used to be "Strictly for buckets," or the fact that he played for a coach that hated his guts. For the sake of this article, we'll go with the second assumption.
Scott received a ton of criticism last season for the way he developed – or didn't develop – the Lakers' young core, especially their presumptive franchise cornerstone D'Angelo Russell. Despite being someone who favored playing veterans like Marcelo Huertas and Brandon Bass over LA's young talent, Scott refused to give Young playing time. Even with their wing depth being paper-thin, Young had to battle with career stretch four, Ryan Kelly, for playing time.
Further, when Young was on the court last season, he didn't offer the same scoring off the bench that Lakers fans were so accustomed to. He averaged a career low 7.3 points per game on 33 percent shooting from the field. Much of this has to do with the style of play that Scott was running with the team, or lack thereof.
A deflated ball rolling uphill moved more than the Lakers' offense under Byron Scott. This was the polar opposite of the style that former head coach Mike D'Antoni ran with the team, a style that Young thrived in.
A deflated ball rolling uphill moved more than the Lakers offense under Byron Scott.
Scott also wasn't a huge fan of the 3-point shot and that showed considering the Lakers finished dead last in 3-point shooting for the 2015-16 season. Young was one of the better 3-point shooters on the team last year, finishing fourth in 3-point percentage only trailing D'Angelo Russell, Jordan Clarkson and Lou Williams.
During his aforementioned 2013-14 season with the Lakers, Young shot 43 percent from the field and 38 percent from behind the arc. While that might not seem all that impressive, when Young is as streaky a shooter as they come.
Fortunately for Young, things are different this season. Scott is no longer the head coach and new head coach Luke Walton seems devoted to shooting the three. This offseason, the Purple and Gold added sharpshooters Jose Calderon and Yi Jianlian. There have also been reports that they've signed former UCLA standout, Travis Wear, to a training camp deal.
Not all of the changes made over the summer benefit Young. He is no longer in a minutes battle with Ryan Kelly.
After inking two-time All-Star Luol Deng to a four-year, $72 million contract and using their second overall pick on a promising young wing in Brandon Ingram, Young might find it harder to see the floor this year. Not to mention their second round pick in the 2015 NBA Draft, Anthony Brown, who the team is hoping develops into a prototypical "3-and-D" guy.
But if Young can somehow rekindle the fire he had in his belly nearly three years ago, the $5.4 million he is due next season will be more of a bargain than a burden for the Lakers. If not, he might find himself trading spots with the Jianlian, who just left the CBA.
This article originally appeared on