Lakers: NBA Scouts Preview the Western Conference Per SI's 'The Crossover'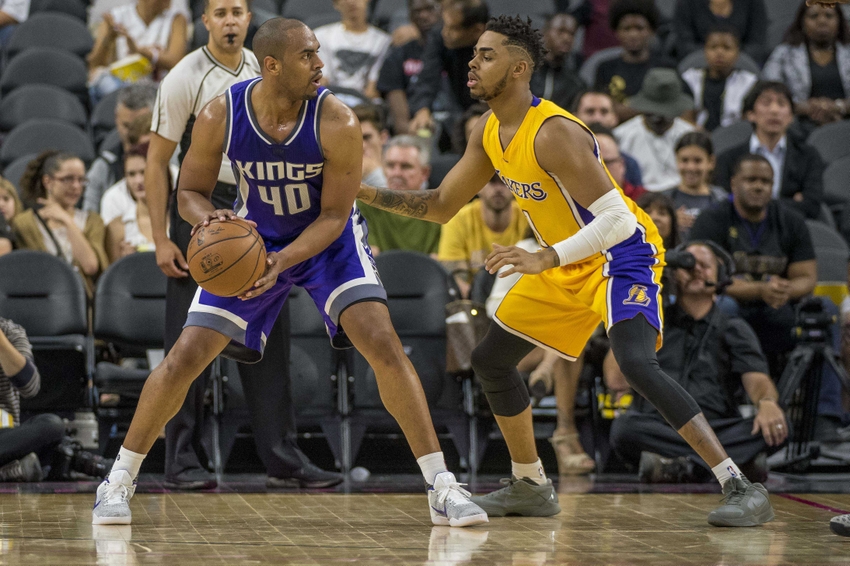 Per Sports Illustrated's newest vertical, 'The Crossover' anonymous NBA scouts recently previewed the Western Conference including your beloved Los Angeles Lakers
Just this week, the NBA released their annual GM survey, and surprisingly, this year the Lakers were actually in the conversation for some of the questions asked.
Of the 20+ questions posed, Los Angeles ranked in the tops of "Which team will be the most improved," "Who will win Rookie of the Year," and "Which new coach will have the biggest impact next season."
However, it was the inquiry of "Which player is most likely to have a breakout season in 2016-17" that should stand out in fan's minds. Though he was beat out by three other players, D'Angelo Russell ranked fourth overall, and rightly so.
As already shown by his impressive Summer League and Preseason performances, Russell is primed and ready to take his game to the next level come regular season, and anonymous NBA scouts seem to agree with that assessment.
Recently released by The Crossover, Sports' Illustrated's new NBA site, scouts were asked to give a brief overview of the Western Conference and the takes were quite surprising.
They'll be the worst team in the West and bottom-three overall with Brooklyn and Philadelphia. … The best-case scenario for them is that Russell becomes a high-level starter, Ingram is in the Rookie of the Year mix, and they get a clear sense for how Randle fits into their long-term plans.

All of those things could happen and they still might not win 25 games. … Keeping their pick again would be huge for turning this around into a playoff team again. …
The scout also seemed to be under the impression that Brandon Ingram should start over Randle in turn, throwing him into the fire and seeing what comes out on the other side.
Another comment that stood out was the fact that D'Angelo Russell can be seen as a "redshirt freshman" because of the way Kobe Bryant dominated the stage last season.
Even with their improvements, the general consensus was that "Even with Mozgov and Deng, they'll be the worst defensive team in the league," though I'm going to go out on a limb and bet the over on this one.
Regardless of the chatter, LA is already in a much better place than they were last year, and that's a good enough start for me.
This article originally appeared on