Lakers: Maximizing Nick Young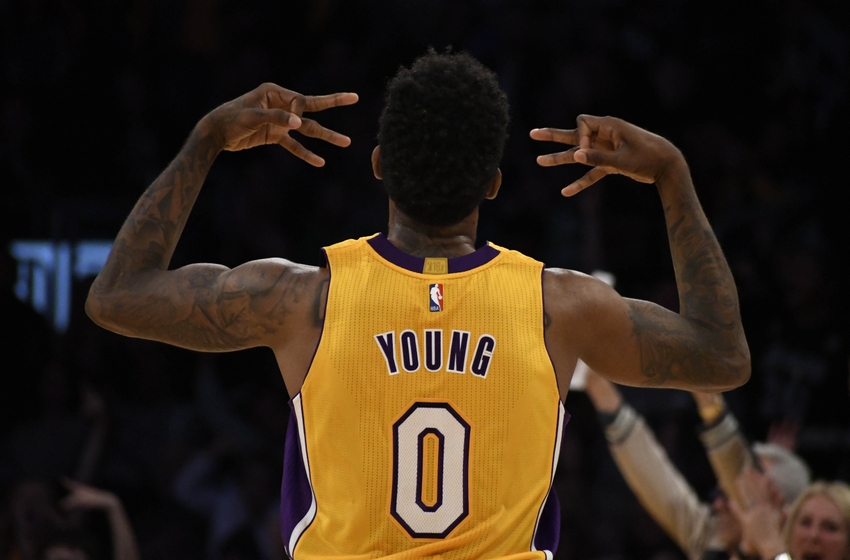 Nick Young's resurgence has been a key part of the Lakers' success this season, but he's also emerged as one of LA's most valuable trade chips.
The Nick Young Renaissance hit its crescendo Tuesday night, as his stolen-pass-from-his-own-teammate-game-winner sent the Staples Center crowd into a frenzy and helped the Lakers avoid a monumental late-game collapse against the Thunder. You've probably seen it 50 times already, but why not watch it again, just one more time for good measure:
The @Lakers pick up the W on @NickSwagyPYoung's clutch bucket! #LakeShow pic.twitter.com/kenV7jtvpj

— NBA (@NBA) November 23, 2016
Peak Swaggy P.
Noodles 2.0 has been well chronicled lately, but it's still jarring to consider how much has changed in the course of six months. Not only did Young look certifiably washed last season under Byron "folded-arms" Scott, the Snapchat fiasco with D'Angelo Russell seemingly stamped his ticket out of town. And it made perfect sense. How could you salvage a regressing 31-year-old gunner who had a major public beef with the new face of your franchise?
Somehow, to Young and coach Luke Walton's credit, it's happened. And Young hasn't simply become playable again — he's actually good. Not only has he harnessed his offensive talent into becoming the ideal floor-spacer for Russell and Julius Randle on the break, his performance on the defensive end has been stunningly impressive.
The numbers back it up, too. His effective field goal percentage is at an all-time high right now, 10 percent better than his career EFG and 14 percent better than last season.
Nick Young has a .586 eFG%, by far the best mark of his career https://t.co/PzbGrSmkC2 pic.twitter.com/zMwP2dOtVi

— Basketball Reference (@bball_ref) November 23, 2016
Just for a little more context — it's the 11th best EFG percentage in the league right now, just a shade below Steph Curry.
Again, Nick Young is good. And he's even doing D'Angelo's "ice in my veins!" celebration! The Snapchat incident never happened, as far as I'm concerned. 2016 really has been a wacky year.
Nick Young has ice in his veins and D'Angelo Russell hyped at the homage. ❄️https://t.co/P6dZas0jnO

— NBA SKITS (@NBA_Skits) November 23, 2016
All of this is a longwinded preamble to saying what the Lakers front office should be doing as the trade deadline approaches: Hammering the phones and looking for anyone crazy enough to give them a first-round pick for Young.
This notion is sacrilegious to some Lakers fans – Swaggy P has become a folk-hero and a key contributor to the post-Mamba turnaround. And I get it, too – I've loved watching Young jack up 3s and ham it up since his days at USC. But the main priority has to be surrounding Russell, Brandon Ingram, and the other Lil' Lakers with pieces that'll contribute when they're mature enough to compete for a title – not just a playoff spot.
As seamless as Noodles has fit into Walton's system, it would unquestionably be a setback in the short-term. Still, this is a potential move that must be on the front of Mitch Kupchak's mind, however unlikely it is.
Young has done an admirable job of resurrecting his career and bringing life back to an organization that has been moribund the past three seasons. It's been fun to watch, and I'm looking forward to seeing it continue. But the last, and ultimately most enduring, contribution he can eventually make is being a player that returns an asset that best aligns with this young Lakers squad.
Do you think any team is crazy enough to give up a late first-rounder for Swaggy P's sweet stroke? Let us know in the comments below or join the conversation on Twitter @TheLakeShowLife.
This article originally appeared on