Lakers: Ivica Zubac wants the ball in his hands, the D-Fenders oblige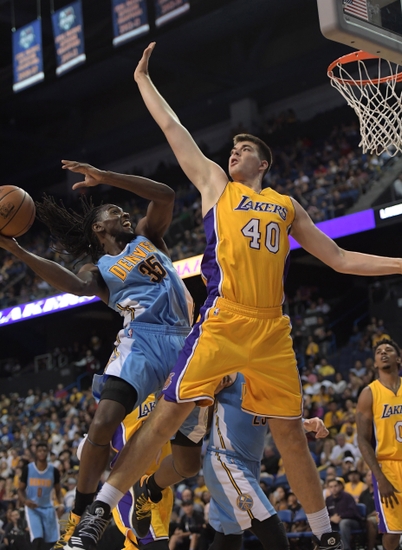 The Lake Show Life got a chance to chat one last time with Lakers rookie Ivica Zubac before being called back up to the big show
Lakers rookie Ivica Zubac has spent roughly ten days back with the Los Angeles D-Fenders and couldn't wait to get back to his Lakers team after learning a lot and getting playing time playing for Coby Karl.
Before Zu got called back up to the big leagues, he played one last game with the D-Fenders, and he was one rebound away from another double-double. The Lake Show Life got a chance to chat with the beloved big man after the game.
Ivica was a hoot after the game, and he wants the ball, It's very clear to us now, "I started off hot!," said Zu, "If I get the ball I can score on anybody." Translation: "I didn't get the ball in my hands enough, I would have had more baskets."
Over and Back: Was Kareem vs. Walton the NBA's great lost rivalry?
Zu, what his D-Fender teammates call him, also wants to dunk more and felt badly he missed the first one. "It feels great! Sometimes I can get those kinds of those dunks, but sometimes I am no 100 percent in the game, and I can't go for a dunk, I was mad at myself, so I had to do something."
Zubac's teammates had nice things to say about their mentee. Vander Blue was asked if the rookie fitted into the team.
"Yeah obviously, the more time he spends with us in practice and the more games we get more familiar with him, and he gets more familiar with us," explained Blue. "But it's still a work in progress. Like I said he's 19, it's hard for any 19-year old to come down especially from another country and try to learn out we play over here, so everybody is just working together man."
Justin Harper spoke about his Lakers teammate positively, "Zu he's coming along great, he had his best game the other night, and he's having fun I think too. And it's a learning process. You know he's 19, so he's got a lot to learn but you know he's very coachable, he's a great teammate, and he plays hard, so it's really the sky's the limit for him."
When we told Ivica he was one rebound away from a double-double, this is what he said, "I guess they have to review it, I had an offensive rebound they didn't count!"  He told us he was advised from the Lakers coaches that he would be on the D-Fenders for 7-10 days. They were right. Zubac just got called back up to the Lakers for the Utah game.
We asked Zubac what he thought of the Lakers fans hashtag #FREEZUBAC, and his reaction was sweet; he blushed and smiled big. "Really?" he said, "I think next game I am going to be with the Lakers, definitely if I get the opportunity I am going to be one hundred percent and bring the energy from the field — I am really happy I am getting these kinds of minutes because I would probably be sitting on the bench there, I feel really good, and I feel like I am in better shape now."
Zubac has learned a lot from his D-Fenders team. He also has been keeping up with his Lakers teammates. "I have been keeping track, I couldn't go on this road trip but we got some injuries so it's been very hard I just can't wait to see all the guys tomorrow and it's going to be great!"
We hope he had fun being back with the Lakers tonight; hopefully, we will see him back in action very soon.
This article originally appeared on