Lakers: Getting to Know the Players who Complete LA's Bench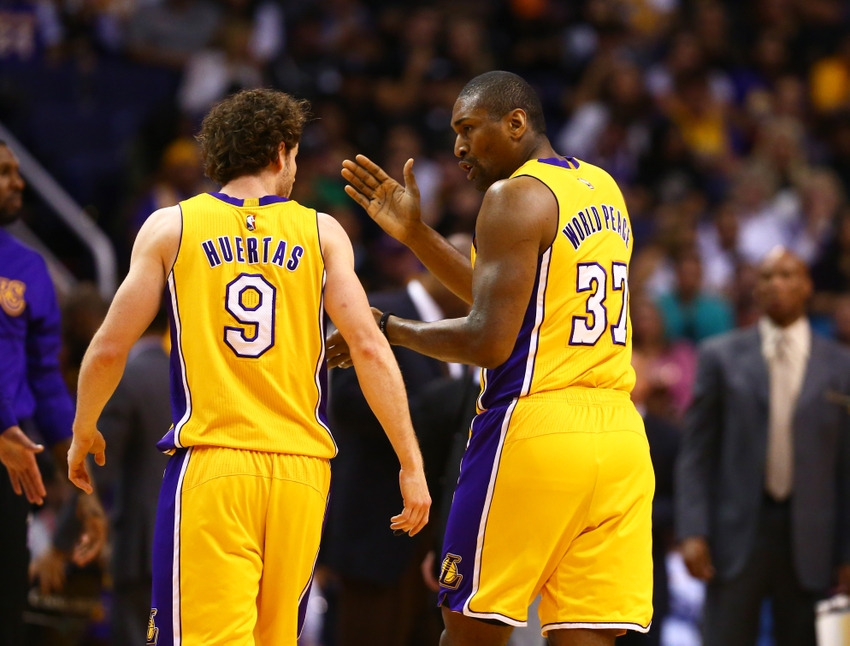 The Lakers bench unit has been an essential part of LA's strong start, but the "bench warmers" have also played their part this season
An NBA team can have up to 15 men under contract and of these 15, just 13 can dress up for a game. More often than not, no more than 8-9 players get consistent minutes, but recent injuries could force the Lakers to go deeper into their bench than normal.
"Bench warmers" are hardly ever under the same bright spotlight as the starters — except towards the end of training camp when teams are making cuts. They get minimal minutes and too often they are overlooked, such is the case with the end of LA's bench.
Even on a team with a wide rotation like the Purple and Gold, where 10 players play more than 15 minutes a game, the remaining five players struggle to receive playing time.
We already know how good this year's second unit is and how often they surpass the starting lineup. That said, every NBA team should also be able to count on quality players in their final spots who can step up when called upon.
As of late, similar to season's past, the team has been plagued by a plethora of injuries, meaning these last players are going to get a chance to show what they can bring to the table.
Here's what to expect from said players:
José Calderón, a career .412% 3-point shooter, was acquired in a trade with the Chicago Bulls to add depth at the point guard position and provide much needed 3-point shooting in Walton's system.
He came just to be a veteran presence and play some minutes as the backup of D'Angelo Russell, but fell out of the rotation when Jordan Clarkson started to click with the second unit. Recently, with Russell's knee injury he gained the starting spot as the floor general with good results.
Sadly, injury has also sidelined Calderon, segueing directly into LA's next back up point guard.
At 33 years of age Marcelo Huertas is technically a sophomore and was re-signed  for his court vision and passing ability.
Though his season was seemingly doomed from the start, with Russell and Calderón in front of him, he has shown he can hold his own when required to. Who can forget his performance in last year's upset of the Warriors?
Thomas Robinson was a surprising survivor of the training camp's cuts. He beat out Anthony Brown for the last remaining spot on the roster, praised by Luke Walton for his energy and relentlessness.
A former lottery pick, Robinson has become a journey man who played on five different teams in his previous four years without ever finding a definite role in the NBA. The short absence of Julius Randle (hip injury) allowed him to get a start and play some good game under the boards.
The injury to Tarik Black will also open up more time for Robinson should it prove serious.
For the second consecutive year Metta World Peace shocked the masses, securing a roster spot against all odds. He was signed just to be a veteran presence in the locker room and sometimes to make his presence felt on the defensive end (as we saw in the season opener).
MVP is expected to fill the role of seasoned veteran with championship experience that Phil Jackson used to include in his teams. Guys like James Edwards and Robert Parish for the Bulls, and John Salley and A.C. Green for the 1999-00 Lakers. At the sunset of their careers, their only task was to provide the imprinting for a successful season.
Last but not least is Ivica Zubac. The young 7-foot-1 center looked like a steal in the Summer League, averaging 10 points, 7 rebounds and 2.6 blocks.
He has a long way to go before being a reliable player on the floor, but he has already shown some promise. He has had a good stint in D-League for the LA D-Fenders and his commitment to bringing back the skyhook has made him a fan favorite.
The Croatian big man is not expected to receive significant playing time in his first professional season, but if he keeps working hard, he could become the future starting center in LA's youth movement.
With all of the recent injuries, fully expect to see more of these cut survivors in the coming games.
This article originally appeared on