Lakers fall to Knicks in high-scoring affair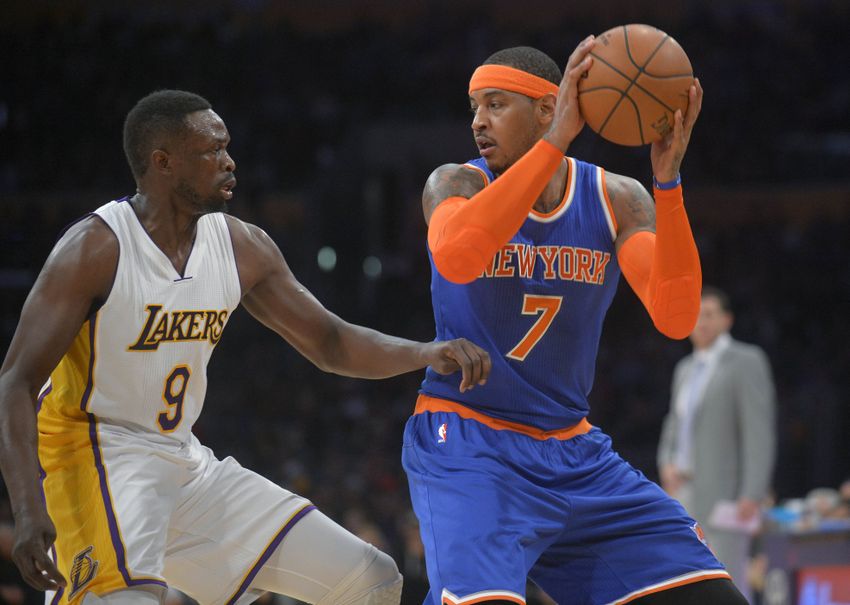 118

112
Sunday proved to be another tough loss for the Lakers despite scoring plenty.
D'Angelo Russell's return from injury was everything short of spectacular. With only three points, the second year point guard didn't have much influence on the game.
Instead, Lou Williams came through again, but this time had some help. Williams led the team with 24 points, while Luol Deng dropped a season-high 22 and Julius Randle pitched in 17.
Jordan Clarkson also had 14 off the bench.
While the Lakers held their own in the first half and the fourth quarter, there was plenty of room for improvement.
More specifically, how the team came out of halftime is what decided the game.
Down by just a point, Los Angeles saw that gap widen to nine before moving to the final frame.
Kristaps Porzingis led New York in scoring with 26, while Derrick Rose contributed 25 of his own.
Final: Knicks 118, Lakers 112. Porzingis, Rose and Jennings combined for 70 points, while LAL got 22 from Deng, and 17-10-4 from Randle.

— Mike Trudell (@LakersReporter) December 12, 2016
Carmelo Anthony had an unlikely quiet night, scoring just 13 from the floor.
Where the Knicks took control of the game was also from beyond the arc. Comparatively, the Lakers only shot 35% from three-point land to the Knicks' 45%.
Los Angeles also turned the ball over 15 times compared to just 11 mishaps by the Knicks. New York also won the rebounding battle by a factor of three.
With the loss, the Lakers are now 6-7 at home and continue on the slippery slope that is their six game losing streak.
Losing six consecutive games is bad for any franchise, but thankfully the team hasn't lost any ground in their division. Golden State is well ahead of the pack with a 21-4 record, while the Clippers are giving chase with 17-7 as their mark.
The Lakers will play the Kings in Sacramento on Monday night to try and end the six-game skid.
This article originally appeared on