Lakers: Examining LA's Options At Shooting Guard Going Forward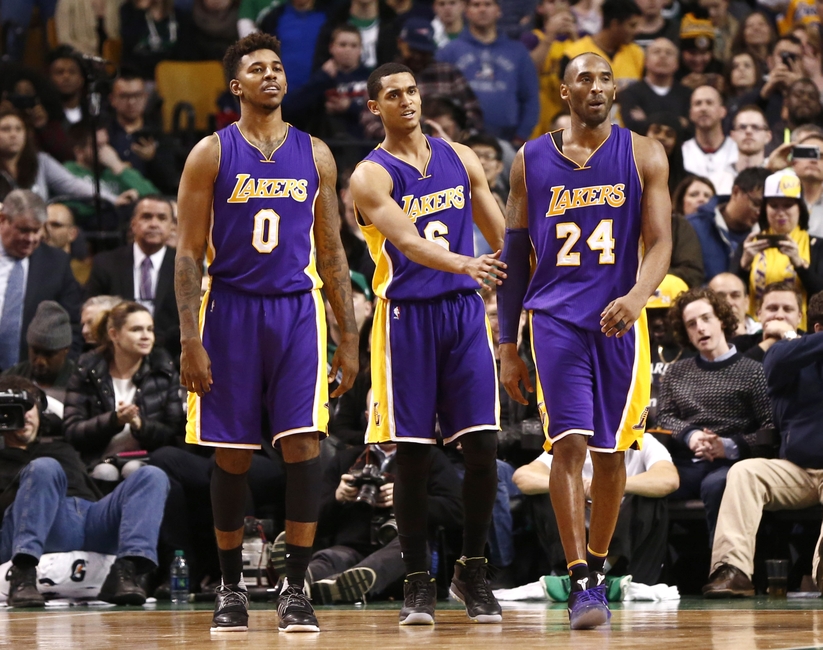 The Lakers have big money committed at every position but shooting guard. Does the team have a plan going forward? If so, what is it?
Just a few months ago, it looked like D'Angelo Russell and Jordan Clarkson seemed destined to be the backcourt of the future for the Lakers. However, a few months have passed and Clarkson is no longer a part of the starting lineup.
Instead, in a surprising turns of events, new head coach Luke Walton has turned to Nick Young to start at shooting guard. That's right; the guy the front office was desperately trying to get rid of this summer now shares the backcourt with a kid he had a very public feud with last season.
2016 has been weird folks.
That's not to say Young didn't earn his spot in the rotation. He has been crucial to what the Lakers have been able to accomplish this season. Not only is he shooting the ball at the most efficient rate of his career, but he is also showing flashes of defense fans haven't seen since his days at USC. Despite this, the Lakers still have a problem at the shooting guard position going forward.
Young, who celebrated his 31st birthday this summer, is on the tail end of a four-year, $21.3 million deal he signed with the Purple and Gold in the summer of 2014.  Swaggy P has a Swaggy Player option in that contract next summer; an option he is almost certainly going to decline with the way players around the league got paid this summer. He's going to demand that J.R. Smith money.
So what can the Lakers do to make sure D'Angelo Russell has a capable starter next time him in the backcourt? Let's take a look at some of the options the Purple and Gold have.
Option No. 1: Pay Nick Young
What would the Lakers have to pay Nick Young to keep him around?
The $5,668,667 he is due next season likely won't do the trick, unless he opts to take a huge hometown discount. Don't bank on that.
Cleveland Cavaliers guard J.R. Smith famously played hard to get this summer before re-upping with the Cavs on a four-year, $57 million contract. Young's breakout season might force the Lakers to break the bank in a similar way, if not in a bigger way.
Uncle P is actually having a better year –so far– than Smith did before re-signing with reigning NBA champions.
| Player | Season | G | GS | MP | FG% | 3P% | 2P% | eFG% | FT% | TRB | AST | STL | BLK | TOV | PF | PTS |
| --- | --- | --- | --- | --- | --- | --- | --- | --- | --- | --- | --- | --- | --- | --- | --- | --- |
| J.R. Smith | 2015-16 | 77 | 77 | 30.7 | .415 | .400 | .438 | .535 | .634 | 2.8 | 1.7 | 1.1 | 0.3 | 0.8 | 2.6 | 12.4 |
| Nick Young | 2016-17 | 17 | 17 | 26.4 | .458 | .418 | .522 | .588 | .941 | 2.5 | 1.2 | 0.3 | 0.4 | 0.7 | 2.9 | 14.1 |
With that in mind, the Lakers are probably looking at around $16 million a year for the 31-year-old swing man. That's Timofey Mozgov money, my dudes. The chances of the front office actually giving him that money are slim, considering how reportedly keen they were on getting rid of him this summer.
But in the unlikely scenario that they do throw all of that money at him, Young could choose not to take it. Having to hear there's a chance you're going to get traded or waived every year can be exhausting. Just ask Pau Gasol, who turned down big money from the Lake Show because he felt disrespected by the front office, according to Kobe Bryant.
"He said, 'Kobe I want to play with you forever,'" Bryant said. "But what management did to me was disrespectful.'"
If Young values playing for his childhood team and wants to take a pay cut, then by all means keep him on the team. If not, then unfortunately the Swaggy P era in Los Angeles will likely to come to an end.
Option No. 2: Sign or trade for a young shooting guard
The 2017 NBA free agency class is primed to be one of the most star studded ever. With names like Steph Curry, Blake Griffin, and Chris Paul on the market, teams are going to try their best to get a meeting with the NBA's biggest stars.
However, for the first time in at least a decade, the Lakers don't have any real reason to go chasing stars. They have a solid young core they can build around, with talent at almost every position.
One area they could still use a little star power at is shooting guard, but next year's free agent class isn't too deep at the 2 (unless you're a huge fan of a 39-year-old Manu Ginobili and a 35-year-old Kyle Korver).
There are a few names, however, that the Lakers should take a close look at next summer.
| | | |
| --- | --- | --- |
| Player | Age | Free Agency Type |
| Jonathon Simmons | 27 | Restricted |
| Kentavious Caldwell-Pope | 23 | Restricted |
| Tyreke Evans | 27 | Unrestriced |
| Andre Roberson | 24 | Restricted |
All of the free agents listed fit the timeline of the Lakers' young core, giving them the opportunity to grow with the team. Oh, and they can't shoot the ball from 3 to save their life. That's important.
So why on Earth would the Lakers go after these guys? Defense, defense and more defense.
Los Angeles has a pair – we're assuming – of really good shooters in D'Angelo Russell and Brandon Ingram. What they don't have is a guard that can get to the rim at will and play consistent lockdown defense (sorry, Nick).
If the Lakers were able to pull off a trade involving any one of these guys, it would be a huge step in the right direction for the Lake Show. With the exception of Tyreke Evans, all of the aforementioned players are restricted free agents, making a trade the ideal scenario.
Maybe Stan Van Gundy needs Lou Williams in Detroit to complete the formation of his "f***ing wall." There's only one way to know for sure.
Option No. 3: Move Jordan Clarkson back to the starting lineup
Sometimes, the answer is literally right in front of you.
At 24 years old, Jordan Clarkson is arguably the best player on the Lakers' roster. After proving himself to be more than an okay player on a bad team in his first two seasons with the Purple and Gold, the Lakers made a long-term commitment to Clarkson.
That commitment has paid off so far this season.
Clarkson is averaging 15.2 points per game on a career-high 45 percent from the field coming off the bench. While others would complain about getting "demoted' to a bench role, Clarkson has been absolute pro handling the situation. Again, 24-years-old.
The argument against starting Clarkson next to Russell is his defense and his 3-point shooting. Clarkson did work on becoming a better defender this summer, but that work is far from over.
He also allegedly worked on his outside game, but his numbers would say otherwise. Clarkson has actually digressed from behind the arc, shooting his worst percentage since his rookie year.
However, his athleticism and scoring instincts driving to the rim are unmatched by anyone on the team. He's like a little DeMar DeRozan.
Clarkson might not ever be the All-Star shooting guard the Lakers need, but assuming Brandon Ingram and D'Angelo Russell pan out, he won't have to be. He can still get 20 points on any given night.
If the Lakers strike out in free agency, Clarkson would be quite the consolation prize going forward. What do you think the Lakers should do about their dilemma at shooting guard? Let us know in the comments below or join the conversation on Twitter (@TheLakeShowLife).
This article originally appeared on