Lakers defeated by Spurs, but provide better idea of who they are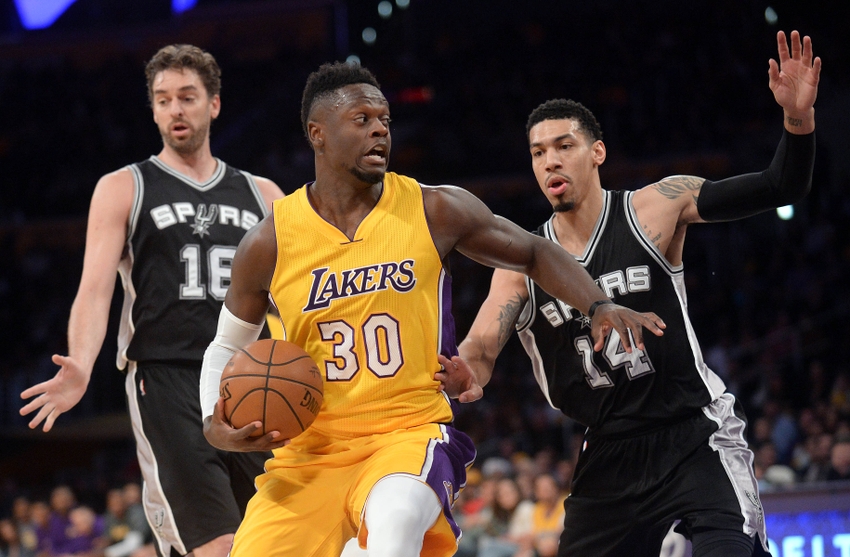 116

107
Even in a loss, the Lakers are showing us that they're here to contend.
Most of us thought it would probably take a while for the Kobe Bryant era to wear off. After all, a lot of the team's young core is plenty youthful and have a lot to learn.
Contrary to popular belief, the Lakers are really hanging in there with the best teams in the NBA. Earlier in the season, we saw them hand the mighty Warriors their second loss of the season.
Friday night was their test against San Antonio — and they passed it, even with a loss.
Los Angeles only scored 16 points in the opening quarter, but appeared to recover before halftime. They emerged for 36 points, tying with the Spurs at 52 apiece heading into the break.
San Antonio was able to control the flow of the game in the third quarter, jumping back to a double-digit lead. The Spurs eventually got the win, but didn't escape completely unscathed.
For San Antonio, the win brought them to 10-3 on the year and 7-0 on the road.
Jordan Clarkson on Lakers' upcoming schedule (Chicago, OKC, then GSW twice): "We ain't scared."

— Baxter Holmes (@BaxterHolmes) November 19, 2016
Kawhi Leonard and LaMarcus Aldridge were in sync the whole night, leading the starters with 23 points each.
Opposite them, Lou Williams led the Lakers in scoring with 24 points, while Jordan Clarkson dropped 20.
The real surprise of the evening, however, was Nick Young, who managed to score 22. Young has insisted before that this season is really a redemption for him and he's living up to it perfectly.
D'Angelo Russell was inactive, but the team held their own against one of the better teams in the Western Conference.
Where the Lakers really shined and why they passed a major test was how their bench performed. When compared directly, the Los Angeles benched out-scored San Antonio 57-28.
The loss brings the Lakers to 7-6.
This article originally appeared on