Lakers: D-Fenders take on the Vipers for the fourth time now down 3-1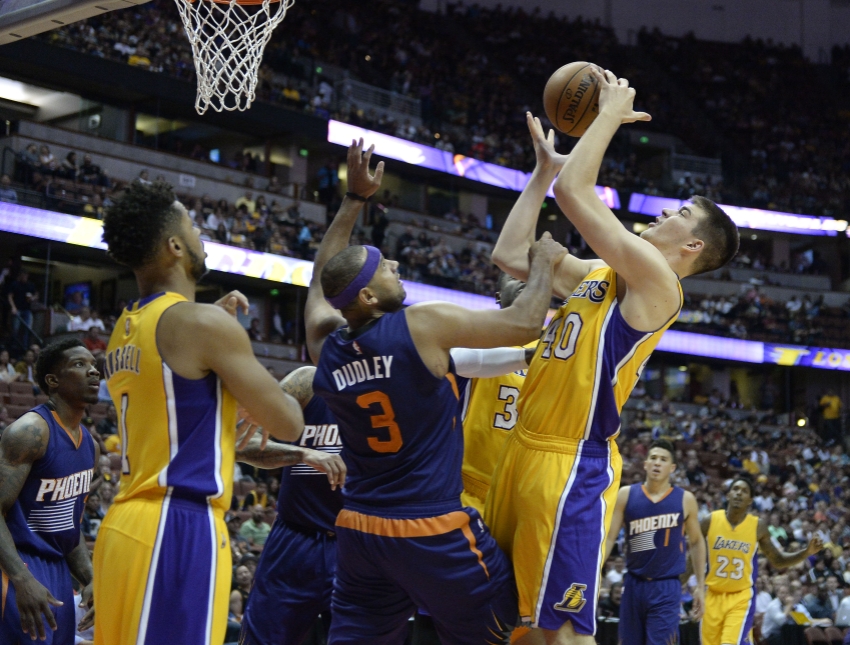 This week in the D-League, the Lakers Development League team, the D-Fenders, have played the Rio Grande Vipers three times and beat a few other teams along the way.
The D-Fenders veterans, Vander Blue, Justin Harper and Josh Magette are sweeping up at the D-League. Add Ivica Zubac to that trio and you have some high powered high-speed basketball. We would be remiss not to mention Roscoe Smiths contribution as well and oh yeah, David Nwaba can jump, very high!
Their biggest problem so far this season is the Rio Grande Vipers, coached by Matt Brase, Lute Olson's grandson.
Against the Vipers on Saturday night, the D-Fenders made 63.6 percent of their field goals just in the first quarter. Coach Karl did a fantastic job rotating in players, as he got everyone in at least three minutes in the first half. The score ended in a one point advantage for the D-Fenders ahead 34-33.
Over and Back: Was Kareem vs. Walton the NBA's great lost rivalry?
Three things were for sure, Zubac wanted the ball in his hands, nothing scares Magette who dribbles as fast as a bullet and defends the same way, and Justin Harper can shoot a basketball.
Oh one more thing, the Vipers bench is one rowdy bunch cheering their starters on from the first second of the game. The Vipers had fun during the game exchanging commentary with their teammate's dad, Gary Payton.  They knew this was a big game due to pride alone and dare we say the start of a Rivalry?
The D-Fenders only losses have come at the hands of the Vipers in nine games, they were 7-2 going into game four.
The second quarter was dominated mostly by the D-Fenders, but the Vipers came back to tie the game at 69. Heavy sigh. Justin Harper ended the quarter with 12 points and five rebounds, Jeff Ayers with 10 points and David Nwaba recorded a team-high seven rebounds.
Former Oregon State Beaver Gary Payton Jr., perhaps motivated by his dad's presence, scored the highest points by either teams players, 29 points on four for six 3-pointers and 12/18 field goals.
We asked Gary Payton Sr. what he thought about his sons 29 points, "Sheesh, it should have been 40!"
Fun Fact: When Vander Blue shoots a layup, it is usually highly contested and he ends up with his feet in the air or on his stomach sliding past backboard.
In the third quarter, the Vipers pulled away a bit, Payton had racked up 42 points on 17 FG's and seven threes. The D-Fenders had five players in double digits led by Justin Harper with 15. The Rockets assignment, Chinanu Onuaku, fouled out late in the fourth and had a little tantrum that landed him with a technical. Harper would miss his first free throw of the game.
But even with Harper's precision, the Vipers would not go away in the fourth quarter. Vander's shots weren't dropping, and The Glove Gary Payton was not having what Vander dished out at the end of the game after a contested foul akin to a Draymond Green kick. "Terrible," said Payton to Blue, "Just Terrible."
Vander commented on the exchange after the game and basically brushed it off as the confident young man he is, "It's all good," said Blue, "He's just watching his son play, I didn't think nothing of it. We are just trying to groove, trying to win, it's about not letting it get to us, it's about just getting better
Coach Coby Karl got a technical as well and we asked him what happened, "I think it was the language that I used according to her," he said, "That's her job, not my job." He didn't think his team lost because Roscoe Smith has out injured, but he was missed, "We have 12 really good players, obviously it hurts when Roscoe's not in the line up, but we have the next guy up or the guy that follows him has to step up."
Meanwhile, Gary Payton II ended up with 51 points on the night, and that stat tells the whole story right there, that and former Gonzaga Bulldog Kylie Wiltjer went seven for 12 at the 3-point line and scored  a total of 27 points.
Obviously, the Payton duo had a tad to do with the loss, but Karl wasn't bothered by his presence and support of the other team, he is  tight with The Glove. "I love Gary, Gary was my favorite player growing up," said Karl, "His tenacity and his competitiveness – I learned a ton just watching him on TV."
Justin Harper and Zubac were both shooting at a high percentage on the court, coach Karl commented on Harper, "He seems to have the hot hand a lot, he's shooting consistently." Harper took it all in stride, "I think I was in a rhythm if they're falling, but I would have like to get the win tonight, of course, I think it's important to me to just try to show my versatility. I was trying to pass off to Zu for a pass."
The D-Fenders will take on the Reno Big Horns, a conference foe, on Thursday night, December 8th at 7:30pm. The team will be without Zubac, but they recently acquired Jeff Ayers, who has a lot of fun dunking himself.
Hopefully, they get Roscoe Smith back in the line-up. That said, any D-Fender who Coby Karl calls on to play will be one hundred percent ready to give a two hundred percent effort. Come out and cheer them on, we guarantee it's a fun time watching this fast-paced and determined winning team.
This article originally appeared on