Lakers: D-Fenders demolish Pacers affiliate in home opener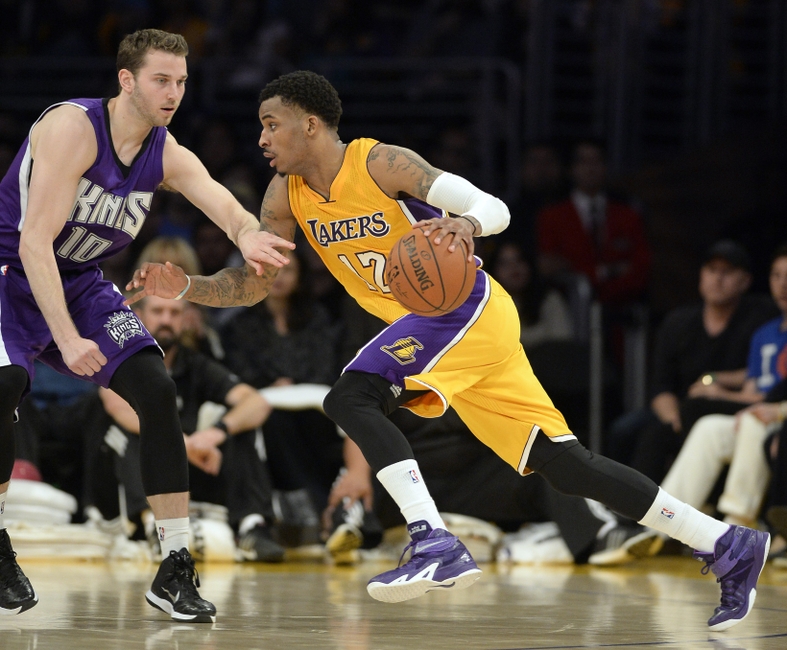 The D-Fenders, the Lakers' D-League affiliate, opened their season at home against the Indiana Pacers affiliate, the Energy, and dominated their opponent.
The D-Fenders are starting off their young season with a bang! They took on the Indiana Pacers affiliate the Iowa Energy, in their home opener in front of a packed crowd and head coach Colby Karl's dad and legendary NBA coach George Karl.
The D-Fenders pulled through with flying colors and demolished the Energy 127-98. The elder Karl switched places with his son. Coby told us in a post game interview that he gave his suit to his dad while he got ready for interviews. When he was growing up, it was the other way around. Very special day altogether for this Coby.
It was a three-way tie for most points scored on the night; Travis Wear (nine rebounds), Vander Blue (six rebounds) and Justin Harper (six rebounds) all scored 21 points. Returning guard Speedy Smith earned a double-double with ten points and ten assists. Josh Magette contributed 12 points, seven assists, and nine rebounds and if he played for a bit more minutes could have probably scored a triple double which had done a couple of times last season.
We couldn't wait to see how this team differed from last season's Western Conference Champions under their new head coach Coby Karl. Of their six returnees, would Karl depend on Vander Blue, Speedy Smith, Josh Magette and Justin Harper and play them most of the game? Or, would he rotate players in and out?
None of the above, Karl seemed to have two teams A and B, and he switched them in and out with a few substitutions for most of the game until he felt comfortable with the score and the win, then he subbed a bit more. What was a tad surprising was that Karl decided to play Speedy (Kenneth) Smith a bunch of minutes along with Travis Wear leaving Josh, Vander and Justin on the bench at the end of the game.
It must have been difficult for those three as they are used to playing most of the game and carrying the team. This season. It seems they won't have too. If you are concerned that their season stats may suffer, we thought that too.  Coach Karl advised us that they had another game the next night and they were about to take a bus to Santa Clara to take on the Warriors affiliate at 11:00 pm.
We totally didn't take that into consideration, but it made sense at the time and proved to be the right strategy since they only beat the Santa Cruz Warriors by 2 points, 116-114 in their season opener. Which players made the most impact?
According to the D-Fenders press release it was the D-Fenders veterans.:
Guard Vander Blue led the team in scoring with his 25 points, 14 of which came in the final quarter as the D-Fenders fought their way back. Forward Justin Harper was integral in the comeback effort as well, recording 24 points and 14 rebounds that was good for the team's only double-double on the day. Guard Speedy Smith matched a career-high with 19 points off the bench".
Here's the Lake Show Life's exclusive interview with a happy Vander Blue and Travis Wear post game along with some highlights:
The D-Fenders are now 2-0, and their fans have a lot to look forward to this season. They take on Matt Brase (Lute Olson's grandson) and his Rio Grande Valley Vipers, then the Houston Rockets affiliate this Thursday night, November 17th. It will be a reunion for D-Fenders Assistant Coach Isaiah Fox, a fellow former Arizona Wildcat. It should be a good one!
This article originally appeared on