Lakers: D'Angelo Russell Showing Signs of Maturity Early On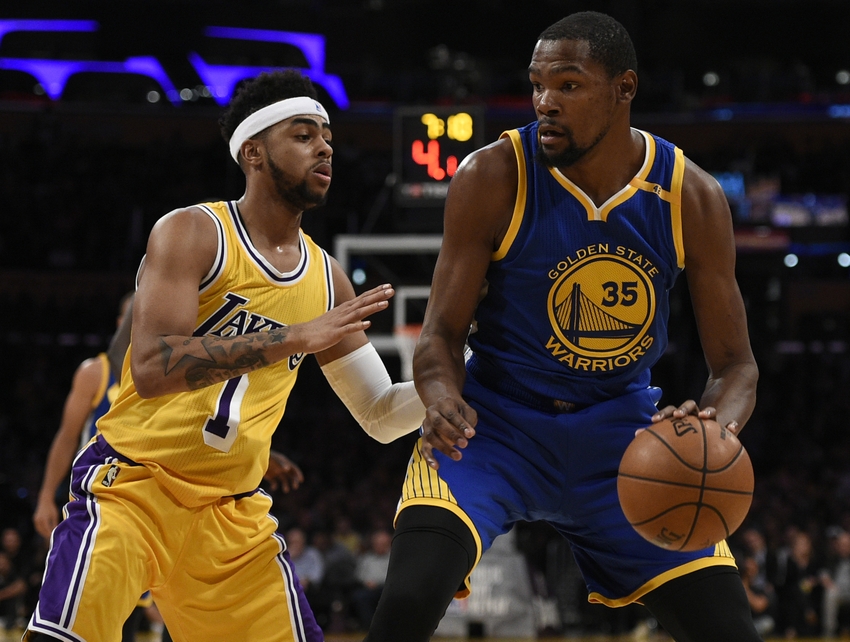 Last year, former Lakers' head coach Byron Scott, complained of his immaturity, but D'Angelo Russell looks eager to close the page on that chapter of his career
Friday night's game against the Golden State Warriors was an absolute circus for the Los Angeles Lakers and their faithful fanbase.
Jumping out to an early lead, fans were hyped on the possibility that the team could have a chance to duplicate the results they found in March of last year, but knew that the Warriors, at some point in the game would find a way to make it interesting. That surge came in the third quarter.
However, unlike last season where the Lakers would be in game only to let it slip away like sand through their fingertips in the fourth quarter, this LA team showed fortitude and the character to hit back when being attacked.
On multiple occasions, the Lakers were pushed into a corner with the Warriors cutting the lead down to seven at one point, but they responded with a maturity far beyond their age. Of the many shots that stopped the bleeding, none may have been more important than D'Angelo Russell's heavily contested three, which should have been an and-one, against formidable defender Klay Thompson.
That said, one thing that got lost in the frenzy on Friday was the fact that D'Angelo wasn't even on the floor for the final moments of the contest. Instead Coach Luke Walton opted to go with the lineup of Jordan Clarkson, Lou Williams, Brandon Ingram, Julius Randle and Larry Nance Jr.
Ironically, it's interesting that you don't see fans up in arms about Lou playing over Russell this season, similar to what we saw a multitude of times last season with Coach Scott.. but that's a different story for a different time.
More importantly, instead of pouting or complaining about being on the bench, Russell's comments after the game show that he's fully bought into Luke Walton's team first mantra. Additionally, he had even more telling comments about another defensive epiphany.
D'Angelo Russell on the Lakers' defensive mentality: "Don't let them miss — make them miss. There's a huge difference."

— Los Angeles Lakers (@Lakers) November 5, 2016
During media day, the second year guard talked about making defense a priority, and fans everywhere rolled their eyes. But while the Warriors arguably just missed a ton of wide open shots, the improvement Los Angeles has shown on this end of the floor through the first seven games is staggering.
Following up his impressive performance Friday, despite struggling from the floor on Sunday night against the Phoenix Suns, Russell impacted the game in other ways after realizing his shot wasn't falling at the pace he's grown so accustomed to.
Grabbing five rebounds, dishing out six assists and nabbing one steal which turned into a Nick Young 4-point play, the sky is the limit for the second year guard.
The Lakers are now 4-3 on the season and in the words of D'Angelo Russell, "Y'all ain't seen nothing yet."
This article originally appeared on