Lakers: D'Angelo Russell Hasn't Talked to Kobe Since His Retirement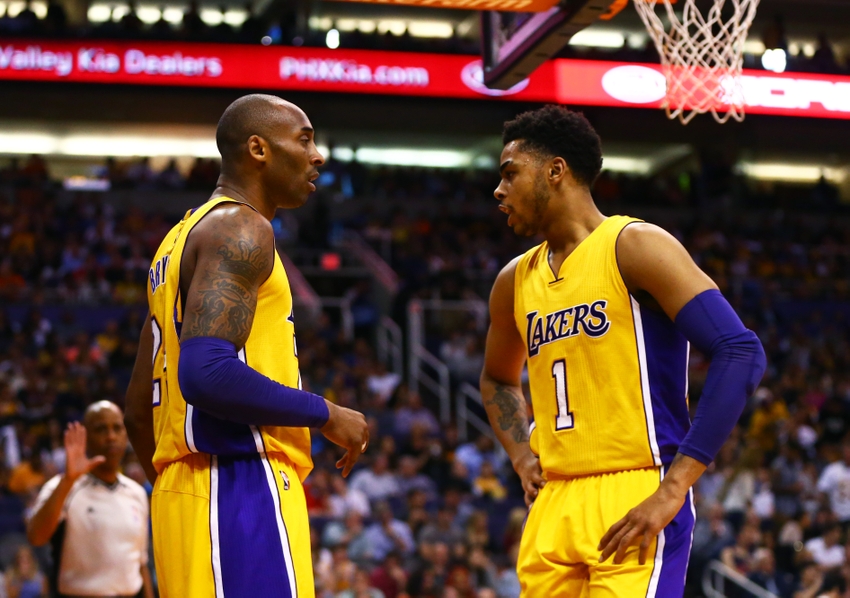 D'Angelo Russell recently dished on his relationship, or lack thereof, with retired Lakers' superstar and mentor, Kobe Bryant
Last season, fans were able to see a different side of Kobe Bryant that they rarely saw throughout his 20 year career with the Los Angeles Lakers.
Instead of the hyper-competitive, cutthroat leader fans had grown used to, Kobe was more mother goose than Black Mamba. This was none more apparent than in his final game as a Laker in which he symbolically passed the torch to his young compatriots with one giant bear hug.
With that in mind, it was surprising when D'Angelo Russell revealed that he hadn't talked to Bryant since that very night in a recent interview with SLAM Magazine.
When asked if he'd "spoken to Kobe at all since his retirement," his answer was plain and simple: "Actually I haven't, no."
Judging by the responses to the article, some are up in arms that Russell has the nerve to wait for Kobe to reach out to him, while others are just happy that he didn't go silent like Roy Hibbert, Brandon Bass and Lou Williams when they were asked a similar question last season.
As a big believer in the fact that the single greatest asset of being a member of the Los Angeles Lakers provides is their vast array of successful players, and in turn, mentors at every position, it's disappointing to hear but then again, Kobe Bryant is a busy man.
Something, however, that is more concerning is the fact that immediately after the final game Magic Johnson said that he'd be working with Russell this offseason, but nothing has come of that so far.
Laker Nation: I'm looking forward to being a mentor to D'Angelo Russell on and off the court.

— Earvin Magic Johnson (@MagicJohnson) May 2, 2016
Season is still about two months away, meaning there's still time on that front, but we'll have to wait and see what happens.
Either way, D'Angelo Russell has been putting in work without either of them so fans need not worry on that front.
This article originally appeared on