Lakers' D'Angelo Russell Has Choice Words for Heckler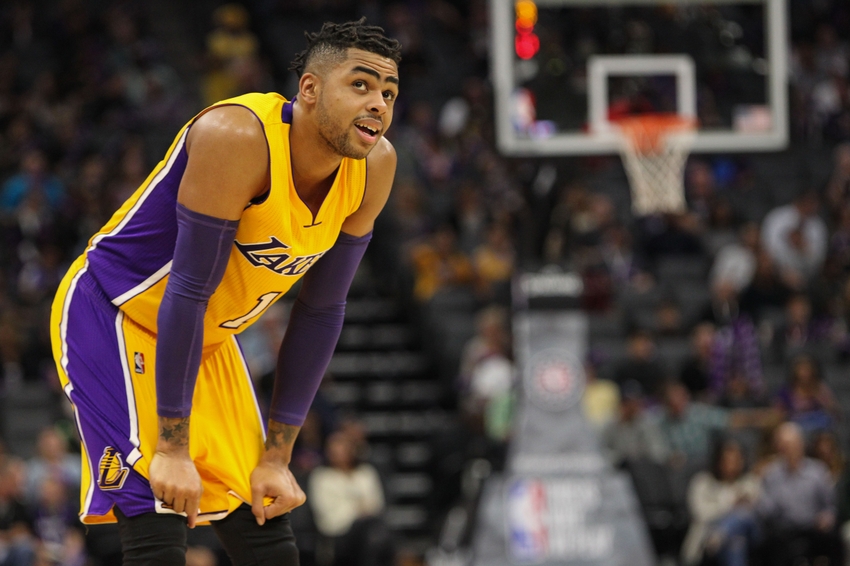 The Los Angeles Lakers look like a completely different team from last season, but fans around the league still haven't forgotten about D'Angelo Russell's blunder
Prior to their impressive comeback victory against the Sacramento Kings on Thursday night, Lakers' point guard D'Angelo Russell had a run in with a fan that was less than appropriate for the casual viewer.
Holding up a sign — obviously meant to troll Russell about his video taping scandal with Nick Young last season — which read "D'Angelo leaked Hillary's email," the second year guard had a NSFW response for his heckler. Just watch the video below.
D'Angelo Russell is a savage beast. ????????

— NBA SKITS (@NBA_Skits) November 12, 2016
Ever since the end of last season, Russell has been on a mission to put his past behind him and let his play strong play on the court do all the talking. That said, it was interesting to see him let a fan get under his skin, which was obviously the intent.
With another impressive performance under his belt Saturday night in a blowout victory against the New Orleans Pelicans, Russell has done a relatively good job of keeping out of the tabloids, but incidents like this can't help his already blemished reputation.
Toronto Raptors' star DeMar DeRozan had a similar run in with a heckler earlier this week and also had some expletives for him after hitting a dagger to clinch the game.
For the most part, athletes try their best to block out the noise but instances like this remind us that at the end of the day they're human just like us. I'm not going to hold it against them and you probably shouldn't either.
This article originally appeared on