Lakers Bulled Over by Chicago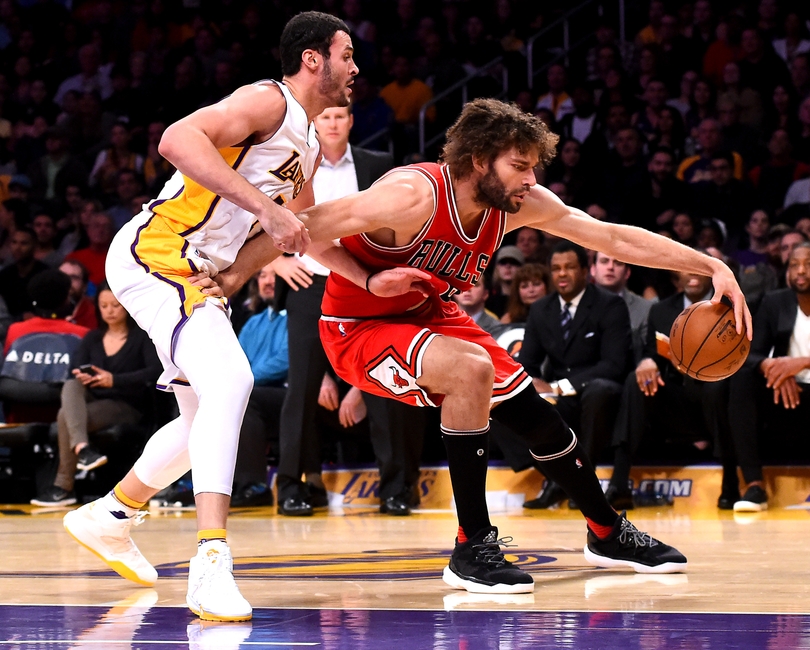 A sloppy second half – and a healthy dose of Jimmy Butler – lead to the Lakers falling 118-110 to the Dwyane Wade-less Bulls Sunday night at Staples Center.
LA simply didn't have an answer for Butler, and he let Defensive Player of the Year frontrunner (just go with it) Nick Young know about it. The All-Star swingman torched the Lakers to the tune of 40 points, seven rebounds and six assists on better than 60 percent shooting from the field. Oof.
Jimmy Butler is trash-talking Nick Young after that make in the post – something like "You try and stop that . . . "

— Eric Pincus (@EricPincus) November 21, 2016
It was all peachy for the Lakers for a minute, though. Young hit a 3-pointer to put LA up 78-71 midway through the third period, with LA looking poised to finish off the Bulls on the second night of a back-to-back. Instead, Chicago went on a 19-7 run to end the quarter, aided by several Lakers turnovers and their inability to keep the Bulls off the offensive glass.
The Bulls would keep the punishment coming in the fourth quarter, with Isaiah Canaan (17 points off the bench) helping extend Chicago's lead while Butler took a breather.
The Lakers had one last gasp late in the quarter, but two straight misses from downtown from D'Angelo Russell and Nick Young with a minute to play and LA trailing by five essentially closed the door.
Considering the Bulls lost a down to the wire matchup against the Clippers last night, it was especially frustrating to see the Lakers severely outworked on the glass — Chicago bullied their way to a 56-37 rebounding edge. Nikola Mirotic, not exactly known for his willingness to battle under the rim, was especially a thorn in the Lakers' side, as he a career-high 15 rebounds on the night.
CAREER HIGH – Niko Mirotic has set a new career high with 15 rebounds tonight.

— Jeff Mangurten (@JeffGurt) November 21, 2016
Chicago shot 52 percent as a team, which isn't going to get it done. Did I mention they were on the second night of a back-to-back without Dwyane Wade? I did, didn't I.
With the defensive and rebounding issues, the Lakers couldn't afford the ugly performances they received from both Russell (3-11 FG in his return to the lineup) and Jordan Clarkson. JC missed his first nine shots of the night and finished 1-12 from the field.
Once Chicago took a double digit lead in the early moments of the fourth quarter, the Lakers seemed to mentally check out a bit. Chalk it up to irritation with how they were playing and youth, but it was still an abnormal sight to see from the Luke Walton-lead Lakers.
What didn't suck for the Lakers? Well, Lou Williams had another nice night on the offensive end, scoring 25 points only 14 shots. He also banked in a half-court shot to end the first quarter, when things were still looking up for the Lakers:
Lou Williams from half court…buckets pic.twitter.com/llPo5IwBCF

— LakersTheBlog.com (@lakerstheblog) November 21, 2016
The player of the night for LA was easily Larry Nance Jr., as his 18 points (including six dunks), six rebounds and overall activity helped mask some of the Lakers' woes.
LA will look to bounce back as they wrap up their home stand on Tuesday when walking triple-double Russell Westbrook and the OKC Thunder head to town. I'll be there, if anyone wants to
Game Notes
Bulls fans who are born and raised in LA are pretty annoying, right? I get that Chicago had the GOAT play for them, but that was nearly 20 years ago and it's not like the Lakers were schlubs — they've won 10 titles since 1980! Anytime I hear someone is a Bulls fan and they're from SoCal it raises an immediate red flag.
Despite losing a game they probably should've won, I still enjoyed seeing the Lakers dare Rajon Rondo to shoot jumpers with six feet of room to operate — bringing back great memories of the Black Mamba guarding Rondo in the 2010 Finals. Rondo finished 2-9 from the field on the night.
Luol Deng Cooked Meter: "Medium Well." He only managed six points in 23 minutes of action, and had zero shot of slowing down Butler. Other than that, his early Lakers tenure is going fantastic.
This article originally appeared on