Lakers: Brandon Ingram Full Highlights vs Warriors, 21 Points (Video)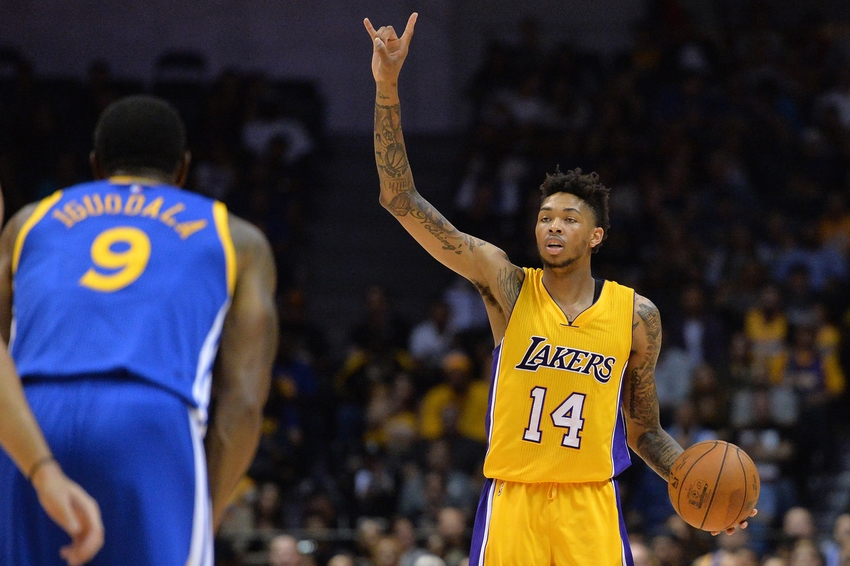 Lakers' rookie, Brandon Ingram broke out of his mini slump Wednesday night against the Golden State Warriors. Here are the highlights
Unlike D'Angelo Russell who received his fair share of criticism during his rookie year with the Lakers, fans and the media alike seem to have tempered their expectations for Brandon Ingram this season.
After struggling in the Las Vegas Summer League and the first five or so games of the Preseason, it appeared that Ingram would have to make his adjustments before settling into his NBA groove just as all rookies do.
However, after an impressive performance against the Golden State Warriors on Saturday night, Ingram seemed determined to use this as a jumping off point and he did just that with his first breakout game of his young career the following game.
Scoring 21 points, grabbing 7 rebounds and dishing 4 assists, against the likes of his muse Kevin Durant and tenacious defender Andre Iguodala, Ingram showed fans exactly what they have been desperately waiting to see.
One of the biggest adjustments Coach Luke Walton implemented was having Ingram run the point guard, much like what we've seen Jason Kidd allow for Giannis Antetokounmpo in Milwaukee with the Bucks.
LA reporter Mike Trudell talked about this during the game, saying Walton felt like Ingram was getting lost in the offense off the ball and that he wanted to "force him" to get involved. Based on the results, it was obviously the right decision.
The fact that he was touching the ball every possession down the floor also led to his confidence shooting the ball, as he hit 7-of-10 field goals, 2-of-3 from down town, and many mid range jumpers.
It has yet to be seen if Walton plans to use Ingram as the point guard permanently but using the small sample size it couldn't hurt to give it a go a few more times and see where it takes them.
This article originally appeared on