Lakers: Brandon Ingram Continues to Say All the Right Things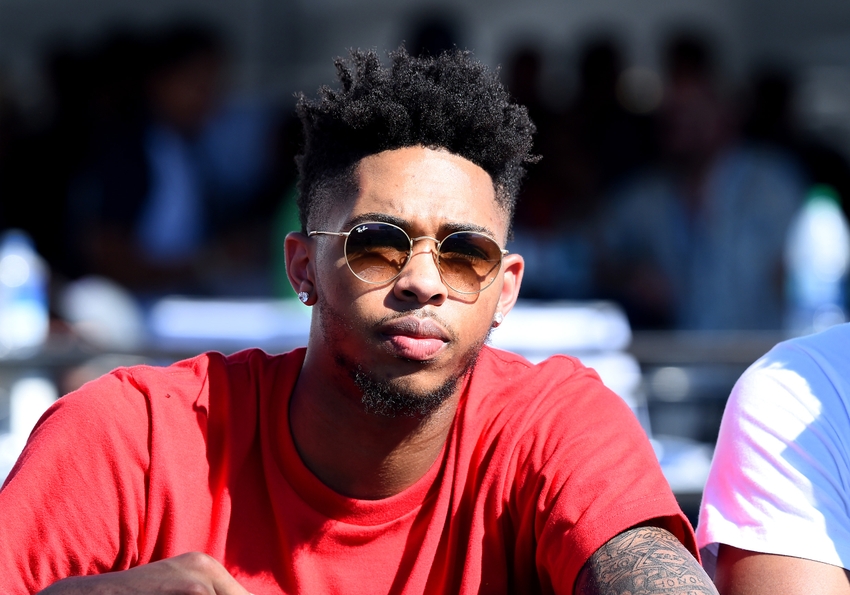 Even before playing a regular season game for the Lakers, Brandon Ingram continues to show exactly why he was the perfect pick for the team
Recently spotted representing the Lakers at the LA Rams first regular season game in Los Angeles in over 20 years, Brandon Ingram continues to say and do all the right things.
Just a day after the game, Ingram was on "The Herd" with Colin Cowherd where he talked about his upcoming rookie season.
Humble yet confident as always, when asked if he's ready to "own the city," he politely answered, "Uhh, yeah I am." However, it wasn't his calm demeanor or amount of "ums" that made headlines, instead it was his answers to the questions that Cowherd fired off.
If you don't have time to actually sit down and watch the entire 11 minute interview, the overarching theme was definitely that Ingram is motivated to work hard in order to be great.
Even when I'm walking into the facility for the first time, the Lakers' facility, I'm looking at all the great players that's came through here and it gives me motivation to try to get to their point one day
One of the knocks that critics of D'Angelo Russell constantly have is that he's "too cocky," though he's yet to truly accomplish anything yet, so Ingram's "humble confidence" is a perfect counterbalance to Russell's "bravado."
Almost a testament to this point, Ingram even spoke about that his goal for this season is "playing team basketball."
I think this year, through the practices we have, Coach Walton has touched on team basketball, moving the basketball, getting up and down the floor.

And I think a successful season for us is getting better each and every day. Working our tails off each and every day, in practice and in the game, and just getting better.
Coming fresh off the news that Luke Walton plans to start the season with Ingram coming off the bench, the most interesting part of the interview came when Cowherd asked when the last time he didn't start was.
I'm actually not sure. But hearing that it just gives me motivation to work hard… Just like when Coach K told me 'No guarantees,' I know that I have to work hard to get on the floor
Of course, actions speak louder than words, but I have no doubt in my mind that Ingram will stay true to his word.
You can watch the rest of the interview above, and I don't know about you, but I just got 14 times more excited for the start of the season.
This article originally appeared on