Lakers: Biggest Takeaways From the First 20 Games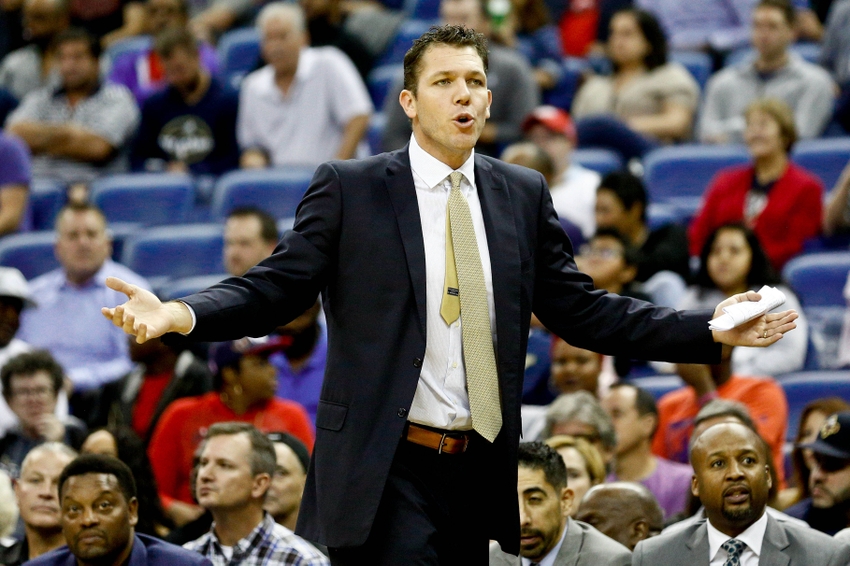 With a month of 2016 Lakers basketball in the books, we take at the biggest takeaways from the first stretch of the season.
Luke Walton is a Game Changer
When Jim Buss and Mitch Kupchak hired Luke Walton, much of Laker nation rejoiced. Walton, last year's lauded assistant in Golden State, marked, if nothing else, a comically stark contrast to the brooding persona of Byron Scott.
Last season's miseries were nearly synonymous with former coach Scott. His hard-nosed, authoritarian style was a disaster for this young roster and a change of pace was urgent entering the offseason. Luke Walton fit the perfectly, but few could have predicated this immediate of an impact.
Sitting at an even record of 10-10, the Lakers have shattered expectations so far, playing with an offensive potency miles ahead of last year's squad. They're currently among the top 10 in scoring, effective field goal percentage, true shooting percentage and offensive efficiency.
Last season, their offensive rating was ranked 29th in the league. As for the other three categories, dead last, and that just scratches the surface of the the Lakers have improved on that end.
Is this real life? pic.twitter.com/R8m9vRKtea

— Mutiple Sources (@ericdyee) November 26, 2016
Whatever the 36-year-old coach is selling, his players are buying it, and there's now camaraderie among players that just didn't exist in previous years. Players are leaning on each other, and unlike last season, they're still standing.
Tarik Black shared these sentiments after Sunday's win over the Hawks.
"We give ourselves up for each other," Black said. "We sacrifice for each other. You can see it on the court: open man gets the shot. We play defense for each other. You can see it on our team: We smile together, we laugh together. Man, we love each other in this locker room."
The positive culture that Walton has brought over from his time with the Warriors is resonating. The team is playing hard, sharing the ball, and most importantly, winning. Even D'Angelo Russell are coexisting.
That's quite the first impression.
Julius Randle Keeps Getting Better
One of the few bright spots from last season, Julius Randle has picked up right where he left off. Still the tenacious rebounder and aggressive finisher around the rim, the third-year forward has also emerged as a gifted passer this season.
His assists have doubled from 1.8 last season to 3.8 per game this year. The freedom he's had to push the ball in transition has allowed his unique skill set shine. The Lakers are fifth in fast break points and Randle's ability to facilitate on the break is a big season why.
Randle feeds Mozgov for the jam!#LakeShow pic.twitter.com/OGLwdJZA0t

— Def Pen Hoops (@DefPenHoops) November 23, 2016
Randle has found his groove in Walton's free flowing system and he currently boasts the fifth-hight assist ratio of any front court player. With much improved spacing and a stronger emphasis on quick points, this offense has given the Kentucky product more opportunities than ever to utilize his vision.
He's already collected one triple-double this season and remains a nightly threat for 10-plus points and rebounds.
Still, there are certainly areas that he can improve upon, namely his interior defense and mid range jumper. He's been more confident letting it fly on the catch and pull up, but he still has work to do before he'll be considered a threat.
Nonetheless, he's been the team's best player so far and he'll only get better as his confidence grows. With just one full NBA season under his belt, he's already made great strides both mentally and physically. If he can stay healthy, he'll continue to have an impact all season long.
The Bench Is a Thing of Beauty
While ripe with young talent, the Lakers notably lack any real star power. With so many currently superstar gracing the NBA limelight, this has been a serious disadvantage for this Laker squad.
That is, until the subs enter the fray.
What LA lacks in elite talent it more than makes up for with its top-ranked bench unit. The five-man group of Jordan Clarkson, Lou Williams, Brandon Ingram, Larry Nance Jr., and Tarik Black are the highest scoring bench unit in the league. They play with an energy and cohesion that's overpowered opposing reserves.
This highlights a unique aspect of the Lakers current roster: the talent gap between the team's best player and the 10th guy off the best is marginal. When the bench comes in, the threat doesn't diminish, it just changes.
Two of the team's top three scorers (Williams and Clarkson) are reserves and nine players on the roster see between 21 and 28 minutes per game.
That's called balance.
Williams and Black in particular have been superb, boasting the highest plus-minus ratings on the team among eligible players. Still, each individual piece of the Bench Mob is equally important, and their ability to understand their specific roles has been key to their surprising success.
Lou Williams on the importance of taking pride in your role https://t.co/5zojIE63y6

— Lakers Nation (@LakersNation) November 28, 2016
Considering the struggles of the Walton's starting units thus far, these role players  are largely to thank for the team's impressive start. And for now, we'll certainly take it.
Swaggy P: The Resurrection
Heading into the summer, it was a foregone conclusion that Nick Young would wouldn't be around come October. After barely cracking the rotation under former coach Scott, the final nail in his swaggy coffin presumably came during April's Snapchat fiasco with rookie D'Angelo Russell.
Oh how the tides have turned.
Not only is Young still donning the Purple and Gold, he's starting, and putting up the best shooting numbers of his career. It's real, and it's happening.
Despite missing the next two to four weeks with a calf injury, his role in this team surprise success remains substantial. He's shooting a blistering 40.1 percent from behind the arc and is connecting on 2.6 three pointers per game, good for 14th best in the league.
Swag. In. His. Veins. Had some fun with this one. #LakeShowhttps://t.co/KFXmfupSTFpic.twitter.com/EGAkapckYG

— Drew Garrison (@DrewGarrisonSBN) November 23, 2016
But more important than his scoring resurgence is his mind-boggling commitment on the defensive end.
People, Nick Young is the Lakers' best perimeter defender.
While that sounds like a sick joke, it's not, and he's doing a commendable job tracking opposing players on a nightly basis. Whether it be Jimmy Butler, Paul George, or even Kevin Durant, you'll find young matched up against them, possession after possession. While his individual statistics won't reveal a lockdown defender, he's making a visible effort and more often than not it's paying off. Whatever, Walton is feeding them in the locker room, the 10-year veteran is eating it up.
When Swaggy returns near the end of the calendar year, hopefully he'll pick up right back where he left off on both ends of the floor.
Defense and Turnovers Are Still a Work In Progress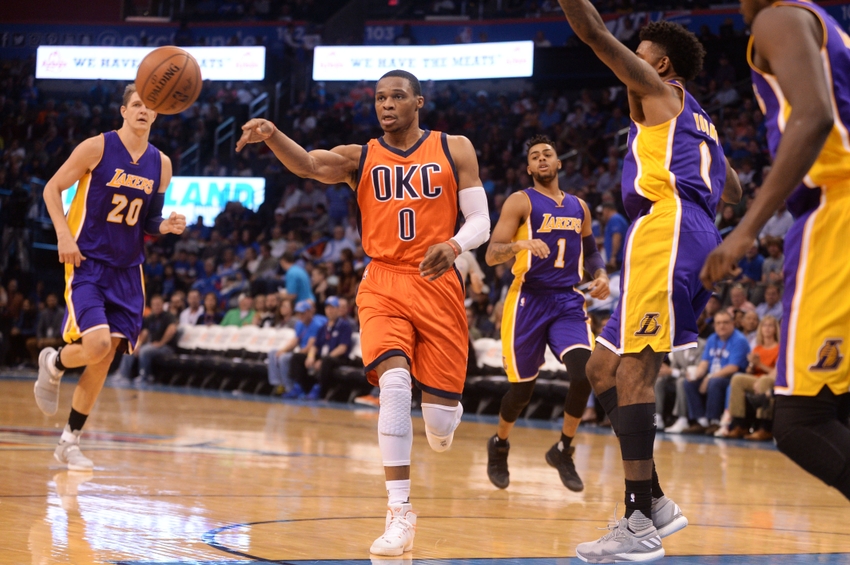 For all the praise heaped on the Lakers offensive improvement, the other side of the ball remains a glaring weakness. Luckily, this young squad has been able to score in bunches, masking their shortcomings on the other end.
This season, The Purple and Gold are giving up the fourth most points in the league and 28th in defensive efficiency. These numbers are reminiscent of last year, when team finished 27th and 30th in the respective categories.
The addition of Timofey Mozgov has certainly helped with rim protection, but their lapses in rotation and and lack of a true perimeter ball-stopper has been too much to overcome.
They're giving up the most points in the paint in the NBA and are surrendering the fourth most second-chance points. This  will likely improve over time, but a lot of these points can be chalked up to a lack of hustle and fundamentals. With Clarkson, Williams, and D'Angelo Russell all playing heavy minutes, Walton will need to find a to compensate for their poor on-ball defense, especially while their ironing out the kinks in their defensive rotations.
And then there are the turnovers.  They currently turn the ball over at the seventh-highest rate and give up the third most points off giveaways. This is fully expected for a young, fast-paced team learning a new offensive scheme, but they've played their way out of a few games because of it.
While this isn't surprising, it's also not acceptable in the long-term. NBA players will end up getting their hands on passes, but unforced errors have piled up so far this season. Still, with a team this young coming off of a putrid 17-win seasons, we can be patient, as long as they keep it up on the other end.
What has been your biggest takeaway from the first 20 games? Let us know in the comments below or join the conversation on Twitter (@TheLakeShowLife).
This article originally appeared on