Lakers: Biggest Surprises of the Season So Far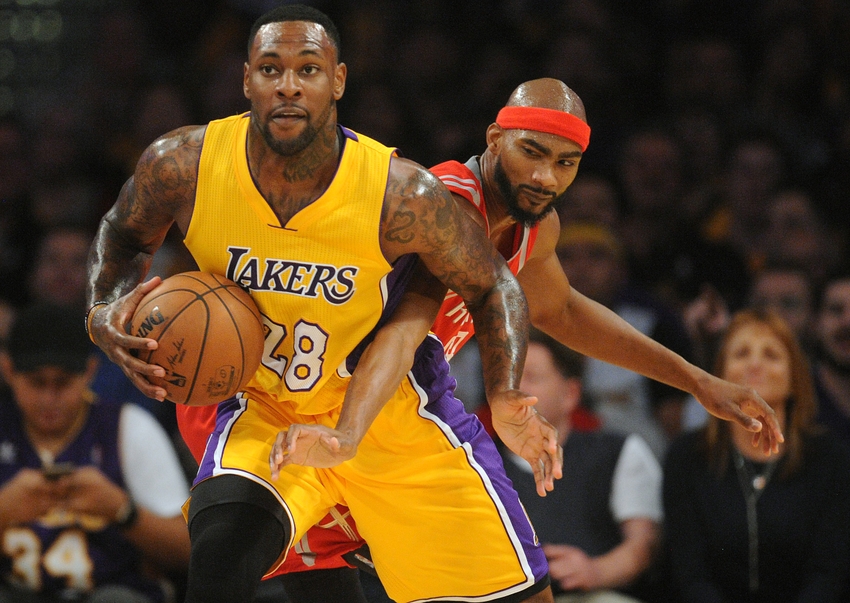 Lakers fans were full of questions as the team and coaching staff came together before the season started, but there are a few surprises for fans at the start of the season
No. 1 – The Lakers have a winning record after seven games in the 2016 season
Not only do the Lakers have a winning record of 4-3 at home after seven games, but they are also undefeated at home, winning three consecutive games.
After winning their first game against James Harden and his Houston Rockets, fans tempered their excitement but were still happy and hopeful. Would the win be just a fluke?
Lakers fans everywhere reconsidered their doomsday rhetoric and held their breath for game two.
Sure enough, the Lakers subsequently lost their next three games to the Jazz, Pacers, and the OKC Thunder respectively. Hope was not lost though when the Lakers went on to beat Atlanta. A team with notably the best defense in the league. What was happening here?
Next up was Golden State. The Warriors were favored by 11.5 points and probably weren't too worried about the young and inexperienced Lakers. The Lakers beat the Warriors the last time the two teams met, and that was the highlight of their 17-win 2015 season.
The Lakers came out with a bang and never looked back. The team remained in the lead the entire game and ended up winning by 20 points, 117-97.
The young and spirited team held one of the most prolific three-point shooters in the NBA to absolutely ZERO 3-pointers made. Yes, Steph Curry's record was broken by the supposed lowly Lakers. Curry ended the evening on the bench with a goose egg in his 3-point stat column, zero of ten attempts.
And on Sunday night, going into the game with a 3-3 record, the Lakers stunned Phoenix in a hard-fought game beating them by 11-point at Staples 119-108. The Lakers are now 4-3 and undefeated at home.
No. 2 – The Lakers are ranked No. 8 in the NBA Power Rankings in week 2 of the season.
Mark Stein, ESPN, listed the Lakers No. 15 in the NBA Power Rankings published today, jumping 12 spots. Stein explained his reasoning as follows:
"The Lakers' recovery from 12 points down in the third quarter in Atlanta marked just the third time over the past three seasons in which they won a game after trailing by at least a dozen points in the second half.
And it wasn't their most impressive performance of the week. Thanks to what Steve Kerr is calling "our annual beatdown at Staples," L.A. has ushered Golden State's Splash Brothers, Stephen Curry and Klay Thompson, to 3-for-38 shooting from deep in the teams' last two meetings."
This is the Lakers' first winning record since 2013.
The Lakers bench is averaging 50.6 points per game, the best mark in the NBA. That's 5+ points more than any other bench in the league.

— Serena Winters (@SerenaWinters) November 8, 2016
No. 3 – Nick Young is silencing critics
Against the Phoenix Suns, Nick Young led the Lakers with 22 points and seven rebounds. What? Who? Yes, Nick Young!
Nick Young 22 points and 7 rebounds, everyone still hating on Swaggy P or is he in your good graces again like the rest of us fans?

— Shereen Rayan (@SportsCrazee) November 7, 2016
Laker Nation turned quickly on Swaggy P over the last two seasons. The "Haters" were somewhat silenced over the last couple of games, and that was music to this long-time Lakers fan who remembers how prolific a shooter he can be.
Swaggy P's four-point opportunities and plays are in full gear this season.
Here are the 31-year old's average stats for the season thus far, his tenth season in the NBA and his fourth season as an LA Laker. Notice that his average blocks and rebound per game are higher than his career average along with his FG percentage:
Per Game Table

| Season | Tm | G | GS | FG | FG% | 3P | 3P% | 2P | 2P% | eFG% | FT | FT% | TRB | AST | STL | BLK | PTS |
| --- | --- | --- | --- | --- | --- | --- | --- | --- | --- | --- | --- | --- | --- | --- | --- | --- | --- |
| 2016-17 | LAL | 7 | 7 | 4.4 | .431 | 2.1 | .333 | 2.3 | .593 | .535 | 2.7 | 1.000 | 3.0 | 1.0 | 0.6 | 0.6 | 13.7 |
| Career | | 583 | 140 | 4.2 | .418 | 1.3 | .369 | 2.9 | .444 | .482 | 2.1 | .835 | 2.0 | 1.0 | 0.6 | 0.2 | 11.9 |
| | | | | | | | | | | | | | | | | | |
Nick Young's totals for the year so far are as follows; notice he has made 19 out of 19 of his free-throws:
Totals Table
Season
Tm
Lg
G
FG
FG%
3P
3P%
2P
2P%
eFG%
FT
FTA
FT%
TRB
AST
STL
BLK
PF
PTS
2016-17
LAL
NBA
7
31
.431
15
.333
16
.593
.535
19
19
1.000
21
7
4
4
27
96
Career
NBA
583
2449
.418
758
.369
1691
.444
.482
1253
1500
.835
1184
598
323
117
1102
6909
Remember, Walton chose to keep Young because of what he saw in the preseason. One thing is for sure, if Swaggy P continues to have his swag back, that can only mean great things for this Lakers
No. 4 – Metta World Peace makes a big impact on the team
Metta World Peace is turning out to be an inspiring under the covers leader to his young teammates. When the chips were down against Atlanta, he lighted the mood with the bench during half time shoot around, "I love basketball!" said Metta. The team's new motto has taken hold and now has become the fun and inspiring mantra now adopted by and frequently used by the players.
Jordan Clarkson explained the new mantra and how it came about postgame, giving props to Peace.
Metta also has been helping Nick Young improve on his defense. Young also gave Metta shout out in his postgame interview on the STAPLES Center court. He said something to the effect of "Why do you see my defense getting better? That's Metta."
In any case, MWP may not suit up for every game, but he is making a difference on the bench and on the court. He was one of the spark plugs who charged up his team against Houston in their first game playing defense against Harden and racking up three fouls in two minutes. Luke told the media that Metta isn't used to the new NBA, he is still playing like he did in the old days.
Whatever is working the Lakers are continuing to grow and buy into Walton and his coaching staff and if this is how this team wants to surprise fans, we are ready for more!
This article originally appeared on