Lakers Beat the Bulls, Somehow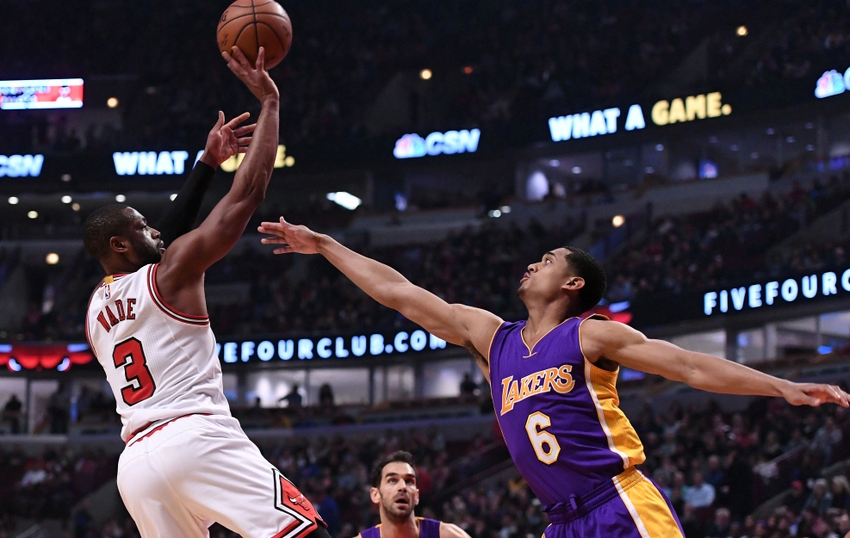 The Lakers, despite a comedy of errors on offense, grinded their way to a 96-90 win against the Bulls in Chicago, thanks to sticky late game defense from Brandon Ingram and a whirling Julius Randle layup with less than a minute to play.
Where to start? LA coughed up a season-high 24 turnovers, clanked 12 free throws, connected on only two 3-pointers, and shot less than 41 percent from the field. The team clearly celebrated Julius Randle's 22nd birthday with a few Bud Light Straw-ber-ritas on the plane last night, because they played like a bunch of hungover dudes sweating out a run at 24-Hour Fitness.
But as basketball rabbi Stu Lantz said in the closing seconds, "somehow you have to learn how to win the ugly games." The Lakers did this by outworking Chicago on the glass, holding a 60-46 rebounding advantage, and playing stellar defense in the fourth quarter, limiting the Bulls to only 17 points.
Randle's lead the charge LA, tying a career-high with 20 rebounds on the night. His erratic play on offense was a microcosm of the entire squad, as he turned the ball over five times and missed nine of his 13 FG attempts. But his patented spin and layup gave the Lakers a late 92-90 lead, an advantage they wouldn't relinquish.
Highlights: @J30_RANDLE ties a career-high with 20 rebounds, as the Lakers leave Chicago with a W. #LakeShow pic.twitter.com/T6ibkvLG18

— Los Angeles Lakers (@Lakers) December 1, 2016
Two big stops from Brandon Ingram on Jimmy Butler immediately followed, as the 19-year-old rookie used his 7-3 wingspan to alter a Butler drive to the hoop, as well as a midrange jumper from the Chicago swingman on the next possession. They were plays that belied his age and showed why Luke Walton trusts him at the end of tight games.
The game started off inauspiciously for LA, as the Lakers looked to still be in a haze from their drubbing at the hands of the Pelicans. LA gave away 14 points on eight turnovers in the opening quarter, leading to a 28-17 deficit. Minus D'Angelo Russell and Nick Young, the starting unit was static on offense, forcing LA to throw tight passes to
Stop me if you've heard this before, but LA's fortunes turned around with the bench mob. Jordan Clarkson and Lou Williams paced the Lakers with 18 points apiece, and Larry Nance did all the dirty work, snaring 11 rebounds and three steals.
The game was won for LA on the defensive end, as the Lakers held Chicago to 35 percent shooting from the field by packing it in the paint and forcing the non-Butler Bulls to beat them from long-range. The game plan worked, as the Bulls only connected on 4-21 from downtown, allowing the Lakers to give extra help on Butler. After dropping 40 points on LA two weeks ago, the All-Star only managed 22 points on 4-18 shooting.
What's especially sweet about the win is the Lakers had every opportunity to fold in crunch time, but answered the bell each time. Two late bad breaks from the refs — Randle batting the ball off of Butler out of bounds was overturned and given to Chicago, and Big Ju being held by Robin Lopez on a rebound attempt and leading to a 3-pointer that tied the game at 90 — would have given them worthy excuses if they'd let the game slip away. Instead, LA shrugged off the no calls and sloppy play on offense and found a way to close it out. If you're a Lakers fan, the future looks bright.
Game Notes
Luol Deng Cooked Meter: "Medium." Deng was active against his former squad, but he still missed six of his nine shots and even bricked 3-6 from the line. He even traveled on an automatic layup in the second quarter. But his eight boards and two steals helped make up for some of his missed opportunities on offense.
I love how James Worthy introduces himself to the players being interviewed by calling himself "Big Game." If I had a sweet nickname, I guess I'd introduce myself with it everywhere I went, too.
Robin Lopez had eight (!) blocks, a career high.
The win pushed the Lakers back to .500 at 10-10, and they'll continue their road trip on Friday when they face off against the Raptors in Toronto. And yes, I think Drake sitting courtside is the worst kind of Jack Nicholson knockoff.
This article originally appeared on