Lakers: 5 Things That Must Happen in 2016-17 Season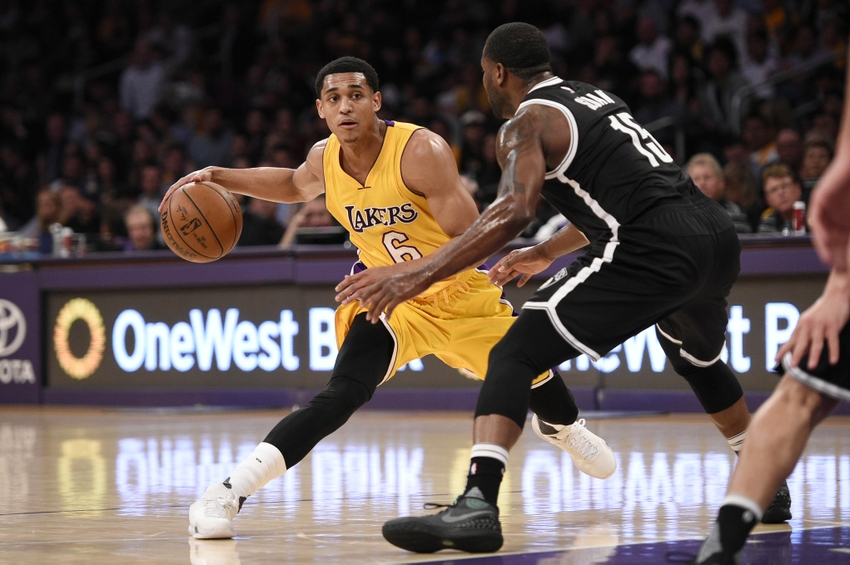 With the 2016-2017 season coming around the corner, here are five things that must happen for the Lakers this year.
After the past few years of injuries, historically bad win totals, and the end of an era for the Los Angeles Lakers, the upcoming season is the first step in what most fans hope will be a quick rebuilding process.
With top ten lottery picks in the past three NBA drafts, the Lakers roster is filled with young talent and will finally be without their 20-year stalwart, Kobe Bryant.
As a result, there is currently lots of uncertainty and many questions about how the season will unfold, but here are 5 things that must happen for the Lakers in the 2016-2017 season to truly jump start the franchise back in the right direction.
Moving On From Kobe
Trust me, as much as I don't want to do it, it needs to be done. For nearly my whole life, watching Lakers games meant watching Kobe Bryant dominate on the court and inspire with his unmatched intensity and work ethic. As it will for all fans, Lakers' games will likely seem incomplete without the Black Mamba involved.
But, as most of us did not want to admit for the past few years, it's time to move on. Bryant fought admirably against Father Time, yet was ultimately defeated as all players are eventually in their career.
Now with Bryant finally hanging up his sneakers for good, the attention must shift to the rest of the team and how they can usher in the next era of Lakers' basketball.
For most, it will be hard to not constantly reminisce about the "good ol' days," but we can't keep living in the past. We'll leave that to the Celtics fans!
The new face of the Lakers may not be clear at the moment, but there are many promising options both on the roster and in new head coach Luke Walton. As hard as it is to lose a legend like Kobe Bryant, we have to move onto the next generation of Lakers and hope one of them will become an all-time great like the Black Mamba.
Progression of the Young Core
As the door closes on one era of Lakers glory, most fans are hoping that another one is just beginning. The current roster is loaded with youthful talent that figures to be the future of the starting line-up for Coach Walton's team.
With lottery picks Julius Randle, D'Angelo Russell, and Brandon Ingram, as well as other promising young players Jordan Clarkson and Larry Nance Jr., there is no shortage of potential for the Lakers.
However, there is a huge difference between having potential and making the most of that potential. For Walton and the Lakers, the plan is not to simply throw all the young guys out there and hope for the best. He plans on playing both veterans and newer players to provide an opportunity for growth and development.
"You develop the young core by rewarding them when they play well," Walton said in a recent interview. While this mentality, and his announcement that Ingram will start the season on the bench seemed strange to some, it is the best plan for a young player who needs time to adjust to the NBA game.
For Ingram and all of the young core, this season should be about progressing and improving their games, both individually and as a team. With some experience under their belt, this group could make major strides towards contending in the Western Conference in the next few years.
Less Drama Off the Court
Boy, oh boy, where do I start with this one? As most fans, and most people in general remember, D'Angelo Russell got into some very hot water this past season when he "accidentally" posted a video of teammate Nick Young.
Both Russell and Young received plenty of criticism in the aftermath of this incident. Besides the consequences of Young's relationship with Azalea ending, the Lakers chemistry was clearly damaged as well.
Russell was seen as a "snake" or untrustworthy and was reportedly isolated by his teammates. On a team that was in the middle of one of the worst seasons in franchise history, the added tension didn't benefit anyone.
While Russell immediately regretted his actions and apologized to all involved, he was able to handle the intense scrutiny better than most rookies likely would have. He simply accepted the blame for his mistakes and vowed to let his future actions prove this was not reflection of his true character.
If the Lakers really want to take a positive step this year, they will have to eliminate distractions like these and build a cohesive unit with good chemistry. Or maybe, a Lebron James-esque social media blackout is in order to prevent any slip-ups by this season.
More Production On the Court
If the Lakers are able to keep the off-court drama to a minimum, it should make it much easier to improve their record on the hardwood. Then again, it can't get much worse after finishing last season with a record of 17-65.
While not many people are expecting the young Lakers team to compete for an NBA championship, fans are desperate to see some sort of progress towards being a contending team. Unlike the Philadelphia 76ers organization, the Lakers franchise is not content being a yearly lottery team and building a team of #1 overall draft picks.
Of course, more wins will depend on two other factors I've already listed: moving on from the Kobe Bryant Era and the progression of the young core. Bryant won't be there to play hero in those inevitable close games and last-second situations. However, as Russell showcased last year, he is completely capable of hitting game-winners when given the opportunity.
For the inexperienced Lakers, it might be a little tough to win many games early in the season as they adjust to playing with each other. Yet, once they begin to gel and build some chemistry, this year's roster has the potential to greatly increase last year's win total.
Rebuilding the Lakers Brand
If the Lakers are able to accomplish the previous four goals, then they will certainly be on their way to this achieving this one as well: rebuilding the Lakers' brand.
It will not be an overnight process that will change right away, but one of the league's most successful franchises needs to begin to turn the corner and get back to contending in the Western Conference.
While the Lakers' brand is not truly ruined thanks to their historic past success and beneficial geographic location, it has clearly suffered in the past few years.
Some believe that the Black Mamba's intensity and difficult personality drove away potential free agent signings (Example: Dwight Howard) and made it hard for the Lakers to attract top players to join the team.
However, I believe top players have been hesitant to come to Los Angeles due to the previous lack of major talent and unsteady coaching situation. Both of those concerns have hopefully been addressed with the hiring of Luke Walton and the drafting of multiple lottery picks in the last few seasons.
As the roster begins to grow together and Walton proves his interim coaching success with the Warriors was no fluke last year, the team will be well on their way to start their journey back to relevance.
The Lakers hope that an improvement this year will do wonders in their quest for a major free agent signing next summer and in years to come.
This article originally appeared on