Lakers: 3 Things Fans Can Be Thankful For This Season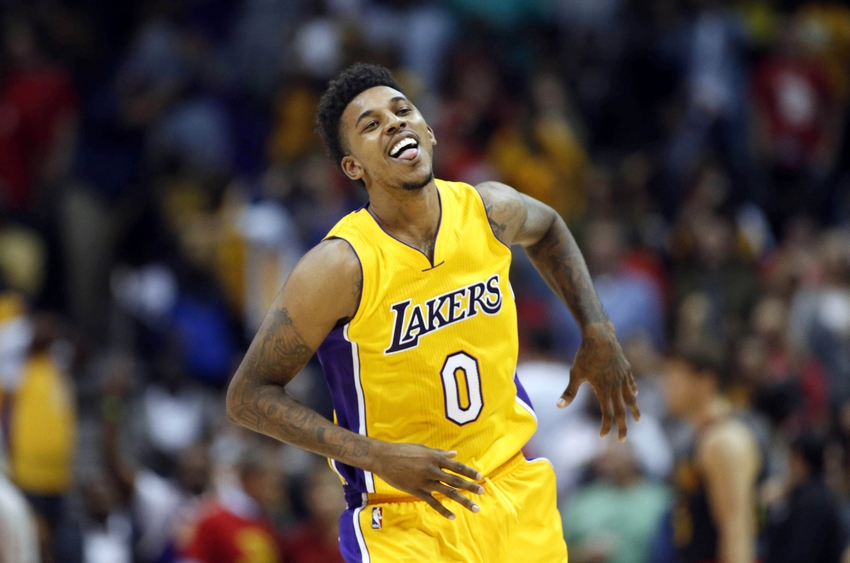 Los Angeles Lakers fans have a number of  things to be thankful for this holiday season, and here are three of them.
For all of the blessings in our lives, the Los Angeles Lakers are certainly one of them. After sitting through a few miserable years of basketball, fans finally have a team they can get behind.
This Thanksgiving, before you stuff your faces with turkey and yams, ask yourself "what am I thankful for this season?"
We did exactly that, and put together a list of things we think Los Angeles Lakers fans should be thankful for this 2016-17 season. From the man that changed everything, to the hardly praised front office, here are three things fans can thank their lucky stars for this season.
1. The Houston Rockets and the Washington Wizards
One team's trash is another team's treasure. In fact, one team's trash is the reason the Lakers have a legitimate chance of making the playoffs this season.
In 2014, the Lakers ended up with the seventh overall pick in the NBA Draft after a 27-win season under former head coach Mike D'Antoni. With the seventh pick, the Lakers drafted energetic big man out of Kentucky, Julius Randle.
Because of previous trades, the seventh pick was the only pick the Lakers had that night. That was until the front office worked the phones and purchased the Washington Wizards' second-round pick for $1.8 million. Pointless deal, right? Wrong.
With the 46th pick in the 2014 NBA Draft, the Lakers selected Missouri point guard Jordan Taylor Clarkson. The rest is history.
Fast forward a year later, and the Lakers were still bad. Like, franchise-worst season (at the time) bad. However, with the draft and free agency coming up, the front office had a few things to take care of.
In 2015, the Lakers had three picks; their own first-rounder, the Houston Rockets' (via LA Clippers) No. 27 pick and their own second-rounder.
Los Angeles acquired Houston's pick and Jeremy Lin the summer before in a salary dump. While Jeremey Lin didn't quite pan out in tinsel town, the Lakers made sure to make their late first-rounder in the 2015 NBA Draft well worth it.
With the 27th pick, the Lakers drafted Larry Nance Jr. out of Wyoming. Initially, fans weren't crazy about this choice with players March Madness sensation R.J. Hunter and UCLA standout Kevon Looney still on the board.
Turns out, the Lakers' front office knew exactly what they were doing. Exhibit A:
OH. MY. 😱 https://t.co/gnkDU40Rzl

— SportsCenter (@SportsCenter) November 5, 2016
Thank you, Rockets and Wizards. We owe you big time.
2. The Lakers front office (hear me out)
LA has some of the most passionate fans in the world, especially when we're talking basketball. With a storied franchise like the Los Angeles Lakers, expectations by fans are high. Often unrealistic, but high nonetheless.
For the past couple of seasons, one could make the case for the Lake Show to be taken off the air. I mean, my goodness they were horrific, and a lot of that blame fell on the shoulder of the Lakers' front office – namely Jim Buss and Mitch Kupchak.
The front office doesn't get a ton of credit for the work they do. Fans would argue that Adam Morrison was a key part of the Lakers' championship run in 2010 before saying something nice about LA's management.
Fans would argue that Adam Morrison was a key part of the Lakers' championship run in 2010 before saying something nice about LA's management.
While a ton of that criticism is warranted, things could be a lot worse. If there was a good example of rebuilding "the right way" in the NBA, the Lakes are it. When you compare LA's rebuilding efforts to that of Philadelphia's or Sacramento's (?), the front office deserves a round of applause.
Not only have they drafted extremely well over the past couple of seasons, but they also mastered the art of tanking in the process. They surrounded a broken Kobe Bryant with enough washed up talent for the league not to be too suspect of their plan to run the team to the floor.
Did anyone really think a roster headlined by Carlos Boozer, Wesley Johnson and Ronnie Price was going  to win games? The answer is an astounding hell yes. Why? Because Lakers fans, often to a fault, are delusional.
Buss and Kupchak did a great job of putting together a semi-respectable NBA roster without hurting their financial flexibility.
The trades for Jeremy Lin, Roy Hibbert and Jose Calderon's expiring contract and a few assets? Brilliant.
Signing Lou Williams and Nick Young on dirt cheap, multi-year deals? Bravo.
Dumping Byron Scott for an up and coming Luke Walton? Priceless. Speaking of that handsome little devil.
3. Luke effing Walton
Imagine dumping your ex and getting with someone that makes you feel good about yourself, helps you keep your job and fixes a problem between you and your friend. That is exactly what happened with Luke Walton and the Los Angeles Lakers.
Walton, in his first season with the Lake Show, has turned a lowly, 17-win team into arguably the most fun team in the NBA. Everything he touches turns to purple and gold.
He rejuvenated a discouraged Nick Young to the point where Young is the new starting shooting guard for the Lakers and one of the team's best defenders.
Although, you can make a strong argument that not having to pretend to like Iggy Azalea's music anymore has a ton to do with it too. That sounds exhausting.
He took a group of young, talented players and forced them to play basketball the right way.
While Julius Randle showed a ton of potential last year, he has taken a giant leap this year in Walton's system.
D'Angelo Russell had an interesting rookie season, to say the very least, but Walton has healed all wounds both on and off the court, and Russell has been productive.
The Lakers are second in the league in points per game and have the highest scoring bench in the NBA with the virtually the same roster Byron Scott had just a season ago.
How did he do this?
One can only assume that Luke Walton is angel sent by the basketball gods to make things right in Los Angeles again. That, or Walton treated a young basketball team with patience and respect.
Regardless of the cause, Luke Walton has made a name for himself in the league as a coach, and the Lakers are very fortunate to have him.
What are you most thankful for this NBA season? Let us know in the comments below, or tweet us @TheLakeShowLife on Twitter.
This article originally appeared on