Lakers: 3 Takeaways From Sloppy Loss to the OKC Thunder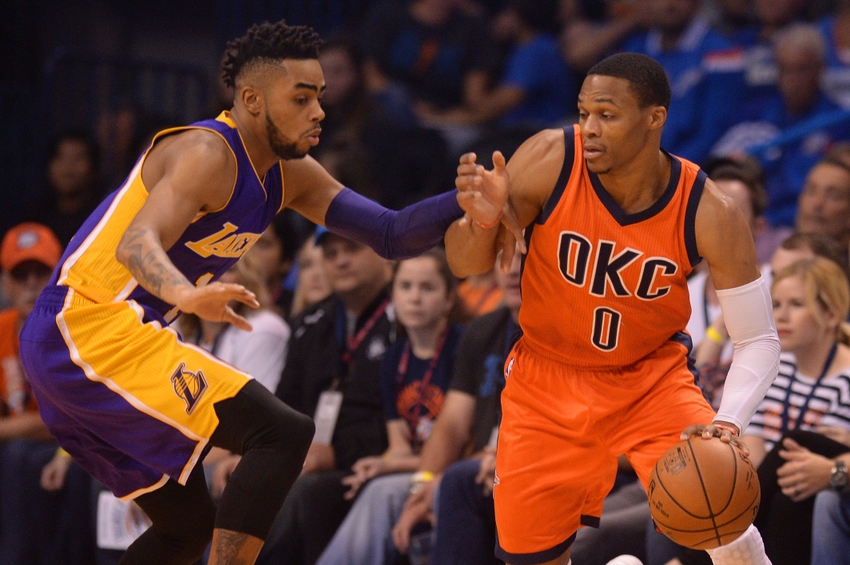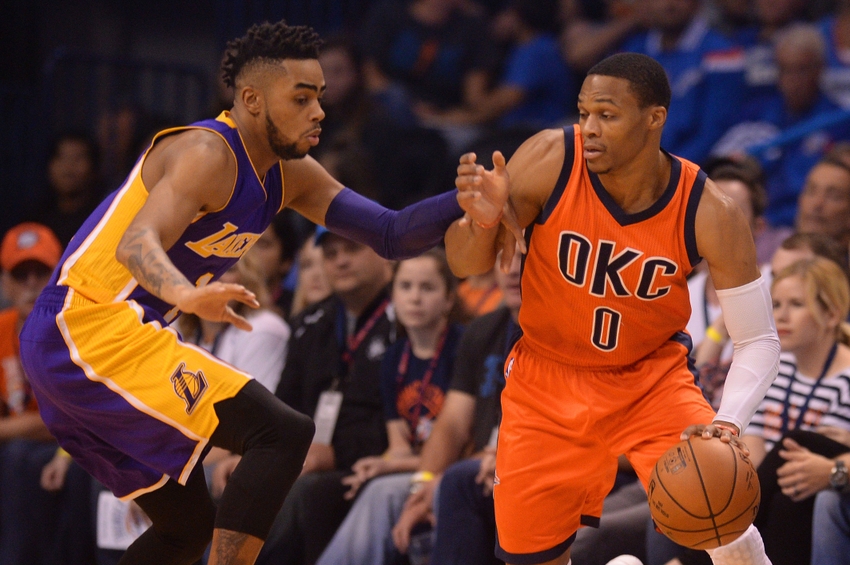 Oct 30, 2016; Oklahoma City, OK, USA; Oklahoma City Thunder guard Russell Westbrook (0) handles the ball against Los Angeles Lakers guard D'Angelo Russell (1) during the first quarter at Chesapeake Energy Arena. Mandatory Credit: Mark D. Smith-USA TODAY Sports
Unable to contain Russell Westbrook, the Lakers drop their second straight in Oklahoma 113-96
The Lakers got off to a fast start at the Chesapeake Energy Arena Sunday night, but ultimately couldn't stop the monster that is Russell Westbrook.
Oklahoma City's second son finished the night with 33 points in 33 minutes to go along with 12 rebounds and 16 assists. No one was going to stop him.  The guy is a freight train, but if a freight train were also a helicopter and a tank.
With tonight's loss, the Lakers drop to 1-2 in the Western Conference and have two more games on the road before they can go back to sunny Southern California.
They will travel to Indiana to face a rejuvenated Pacers squad before ending their road trip in Atlanta to face Dwight Howard and the Atlanta Hawks.
But first, a few takeaways from tonight's loss to the Oklahoma City Thunder.
Julius Randle can be a go to guy on offense
Julius Randle followed a rough game in Utah with a great performance against the Oklahoma City Thunder
What Julius Randle lacks in size, he makes up for with pure hustle. There aren't too many guys in the league that can take the hits Randle can give in the paint. OKC's rookie Domantas Sabonis learned that the hard way tonight.
Randle came up just shy of a double-double, finishing the game with 20 points on 6-for-9 shooting, and 9 rebounds in 32 minutes.
Typically, Randle won't be the guy putting up points for the Purple and Gold with walking bucket Nick Young now starting and with the year D'Angelo Russell is expected to have. However, make Luke Walton should consider running his offense through Randle more often.
The former Kentucky Wildcat was heavily criticized last season for his lack of on court awareness. Often times, Randle would head to the basket with his head down despite a number of teammates waiting for the ball on the wing.
That is no longer the case.
He has consistently been one of the better playmakers for the Lakers this season, and with all of the shooters in the starting lineup, it has paid off. Through three games, Randle has averaged 3.5 assists per game.
Randle averaged a double-double in what was essentially his rookie season. If he continues to make plays for his teammates the way he has been, Randle could average a triple-double in his second year.
Not like a Russell Westbrook triple-double, but a triple-double nonetheless.
Going small only works sometimes
While going small worked for Luke Walton with the Warriors, the Lakers need size up front
Maybe bigs aren't dead after all. The Lakers faced an Oklahoma City Thunder team with two starting-caliber centers.
Steven Adams, who is a monster on the defensive end, caused all kinds of problems for the Lakers. However, when Timofey Mozgov was on the floor, the bleeding stopped for a bit.
The same could not be said for Larry Nance Jr. and Tarik Black, who struggled with Enes Kanter in the paint. The 6'11 big man out of Switzerland got virtually any shot he wanted with Black (6'9) and Nance (6'8) on the floor.
While he didn't offer much on the defensive end, Kanter finished the game with 16 points on 73 percent shooting.
The Lakers will find themselves in a similar situation Tuesday with Indiana Pacers front court. Not only do they have one of the most promising young big men in the league in Myles Turner, but they also have the towering presence that is Al Jefferson.
Both Nance and Black have a ton to offer the Lakers, but the front office should strongly consider trading a piece or two for some size up front, or signing a big man free agent.
Larry Sanders anyone?
D'Angelo Russell is getting cold, but in a bad way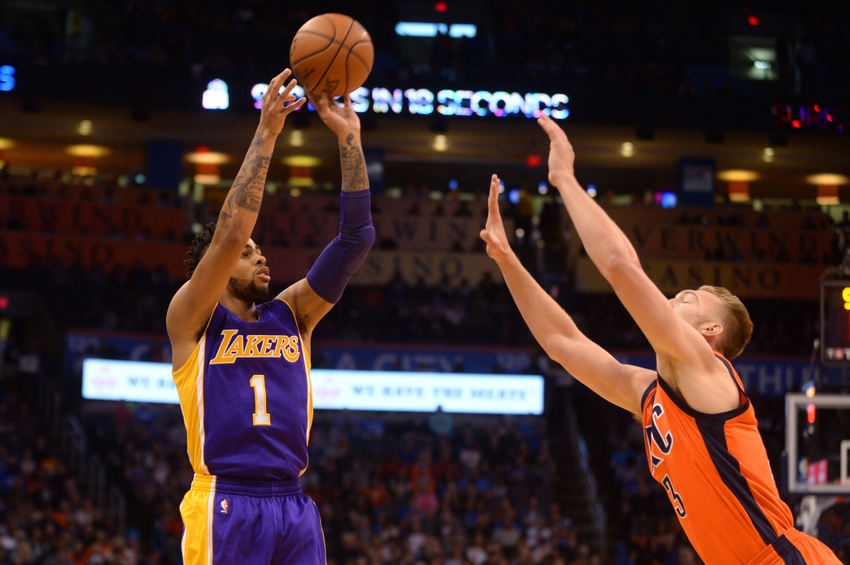 The Lakers are going to need D'Angelo Russell if they want to win games this season
This is supposed to be D'Angelo Russell's year. After lighting it up in Summer League and preseason, Russell has fallen into a mini shooting slump.
"Shooting slump, you say? But he scored 20 points on Sunday!"
Yes, Russell scored 20 points on 7-for-20 shooting. The game before that he scored 9 points on 3-for 14 shooting. Less than ideal numbers for someone who is supposed to be the Lakers go to guy.
However, Russell isn't getting a ton of help either. His assist numbers should be higher than they are, but his teammates can't seem to hold on to the ball.
Multiple times throughout Sunday's game against OKC, Russell made some sweet passes that turned into 14 turnovers because of his teammates. Lou Williams finished as the team's assist leader with six.
The biggest difference between the Thunder and the Lakers is a superstar. While the Lakers have a ton of young, talented players, they do not have a guy they can turn to when they need points in a hurry.
Russell Westbrook has been that for OKC his entire career. If the Lakers plan on pushing for a playoff spot in the Western Conference this season, D'Angelo Russell is going to need to be that guy for the LakeShow.
This article originally appeared on