Lakers: 3 Takeaways From Preseason Rematch With Warriors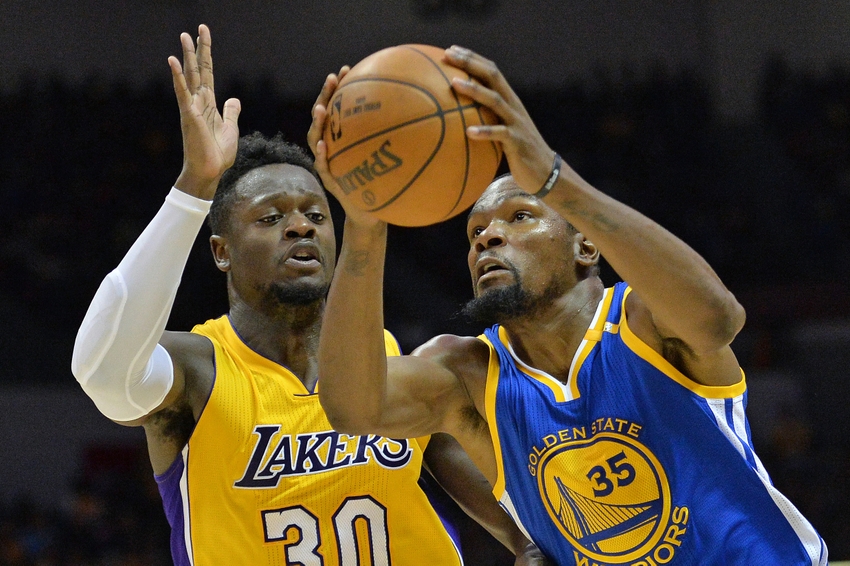 The Lakers were no match for the Warriors in their second of back-to-back games against the Dubs, losing 123-112
Luke Walton, in many respects, returned home today. Not only did the San Diego kid return to his hometown for the night, but he also faced off against a few familiar faces.
Unfortunately, those faces are the faces of some of the most talented players in the NBA. The Lakers lost to the Warriors once again, but left the game with a few big positives.
Here are three takeaways from the Lakers loss to the Golden State Warriors.
Nick Young isn't slowing down
A few productive games later, Nick Young is still red hot
Call it superstition, but maybe everyone on the Los Angeles Lakers should have their own shoe. Hear me out.
Since the release of Nick Young's signature Adidas Crazy Explosive Primeknit, he has been playing his best basketball in years. Dare I say it, his life.
We're talking about a guy that wasn't even supposed to be on the roster come the start of the season. Now he has the attention of the fans and head coach Luke Walton.
In Wednesday's matchup with the Golden State Warriors, Young poured in 19 points on 7-for-13 shooting to go along with a pair of assists and three rebounds. His play in 30 minutes kept the Lakers in a game they should have been blown out of in the first quarter.
Young started in place of Luol Deng, who had the night off against the Dubs tonight, and made the most of his opportunity. Now head coach Luke Walton has a tough decision to make with his wing rotation.
Unless Deng gets nights off regularly, Young won't be playing 30 minutes a game too often. With the regular season just a week away, Walton will have to get his bench rotation sorted and make sure Young is a key part of it.
Brandon Ingram Is Going to Be Alright
With a few games under his belt, Brandon Ingram is adapting to the NBA game
Raise your hand if your eyes got watery watching Brandon Ingram's first 20-point game. You're not alone, friend.
Ingram had to face off against his biological basketball father, Kevin Durant, once again Wednesday night, but had a lot more for his matchup this time around.
In just 27 minutes, Ingram scored 21 points on 7-for-10 shooting. Correct me if I'm wrong (I'm not), but I believe that's 70 percent from the field, which is pretty good. Y'know, for a rookie.
Because of his thin frame, Ingram is going to need a little time to develop, but don't tell him that. Not only did he finish the game leading his team in points scored, but he also lead his team in rebounds.
The former Blue Devil has a ways to go until he reaches his ceiling, whatever that may be, but if Wednesday night was any indication of what to expect from Ingram, put your shades on Los Angeles. The future is too bright.

This Team Has Heart
Despite trailing tough opposition, the Lakers fought their back way into the game
You can say a lot of things about this young Lakers team, but you can't say they don't have heart. I mean you can, but you'd be wrong.
The Lakers, who are expected to finish well below the Golden State Warriors this season, gave the Dubs a run for their money Wednesday at the Valley View Casino Center.
Slow starts have been a reoccurring problem for the Purple and Gold this preseason and Wednesday was no exception. The Warriors, however, came out blazing hot, taking an early eight point lead over the Lakers.
For a large portion of the game, the Lakers were down by 10 or more, which is what you'd expect from a game between a lottery team and a championship contender.  The Lakers did lose, but they didn't go down without a hard fought battle.
After going down big to come out of the half, the Lakers fought their way back into the game and forced the Warriors to play hard basketball.
In fact, just looking at the second half stats the Lakers only lost to the Warriors by two points. If the Lakers can find a way to get their game going early, they might win some games this season.
Just not against the Warriors.
They will play their final preseason game in Anaheim on Friday, Oct. 21 against Devin Booker and the Phoenix Suns.
This article originally appeared on