Lakers: 15 Reasons We Absolutely Love This LA Team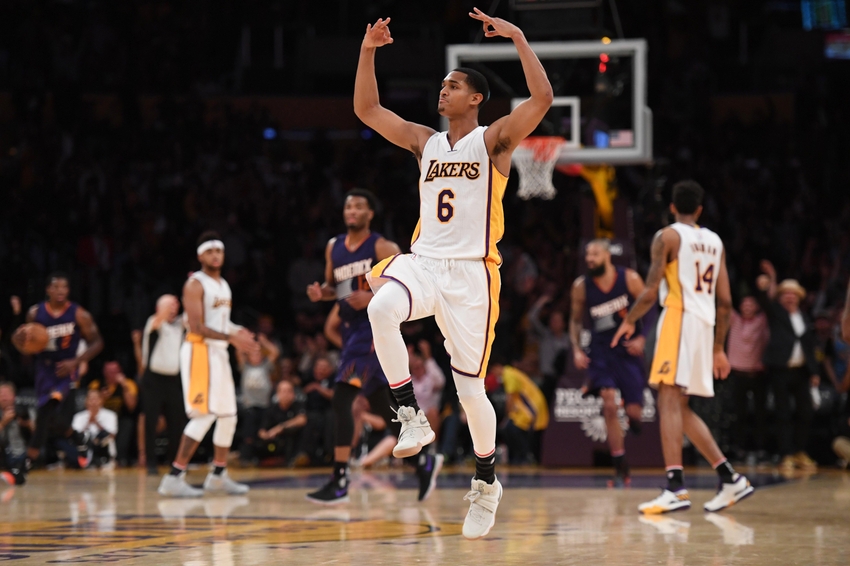 Operation "Make the Lakers great again," is already off to an amazing start
First things first, it must be stated, in the words of none other than Ivica Zubac himself, "I love Lakers," and here are a multitude of reasons why.
I love that the franchise is finally from scratch by building a team around new, home-grown talent while sprinkling-in a few key veterans to help season the 'baby Lakers'.
I love that the players have totally bought into Luke Walton's team-oriented, share-the-ball style of play. Even veteran gunslingers like Lou Williams and Nick Young are moving the ball around effectively.
I love that Walton is spreading playing time around to at least 10 players a game, mixing and matching and finding the most effective combinations in each game while keeping everyone fresh.
I love that D'Angelo Russell is becoming an elite combo-guard. Instead of trying to score every time he touches the ball, he sets-up the offense and makes deft passes to teammates, yet still mixes in his deadly 3-point shot, and takes pride in being a team leader.
I love that Julius Randle still fearlessly attacks the basket and the backboards on top of handling the ball as well as some guards in the league.
I love that both Jordan Clarkson and Brandon Ingram have accepted their roles coming off the bench without complaint, instead bringing in tremendous energy while leading the highest-scoring second unit in the NBA.
I love that Clarkson has embraced the role of guarding the opponent's top backcourt player, and is doing an incredible job of it, without sacrificing his offense.
I love that Ingram finds ways to help the team even when his shot isn't falling, an unusual trait for a rookie and that he is already showing improvement.
I love the energy that Larry Nance Jr provides when he enters the game, especially crashing the offensive boards.
I love the pick and roll offense, and the crushing picks, great cuts to the basket and conversion of passes into baskets by big men Nance, Timofey Mozgov and Tarik Black.
I love the interior defensive presence of Mozgov and his ability to run the whole court along with Black's overall motor.
I love the professionalism of Luol Deng. Even though he has not yet been a major individual factor on offense, he keeps the ball moving, and he constantly counsels his younger teammates about things they could have done differently.
I love the shot-making skills of Williams and Young. We knew that Sweet Lou could flat-out score, and he has been a major offensive force, but he's also become a team leader. Young has made an impressive comeback from oblivion, playing with at least a bit of restraint, and taking pride in his defense.
I love that Mitch Kupchak didn't panic in the off-season and resisted the temptation to package two or more of the young core to trade for a big star like Russell Westbrook or DeMarcus Cousins. Yes, Westbrook is one of the game's top players, and an MVP candidate, and Cousins is arguably the best big man in the game but there's something special about watching your own young players develop into stars.
And most of all, I love the potential this team has to turn into a championship contender somewhere down the line.
After suffering through the past three seasons of despair, man, is it a great time to be a fan of the Purple and Gold.
This article originally appeared on