Watch Kobe get one last highlight — or two — against LeBron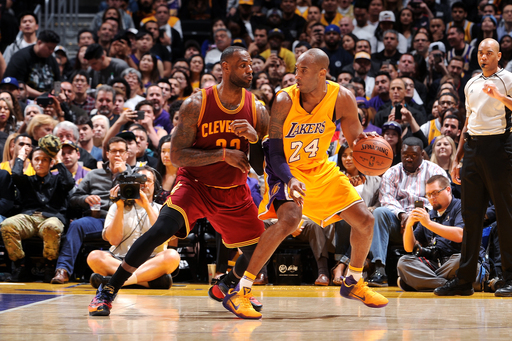 No one was even sure Kobe Bryant would be healthy enough for Thursday night's game against the Cavs, and what was expected to be his last matchup with LeBron James.
But Bryant was in the starting lineup for the Lakers, and needed just a few minutes to net one last highlight against the King.
As legendary Lakers announcer Chick Hearn would say, Kobe put LeBron in the popcorn machine.
Hi LeBron, it's Kobe… pic.twitter.com/2vYaz04F1v

— Rachel Nichols (@Rachel__Nichols) March 11, 2016
But he wasn't done.
Kobe destroying LeBron this half. https://t.co/O2irRtYMZO

— BBALLBREAKDOWN (@bballbreakdown) March 11, 2016
Kobe outdueled LeBron 26-24 and while James and the Cavs won 120-108, Twitter was lit.
LeBron on Kobe: "I wish I could play against him every single night."

— Rachel Nichols (@Rachel__Nichols) March 11, 2016
I really think Kobe got another year in him but he has to leave the lakers to do so!

— Shannon Easterling (@Jvillesfinest) March 11, 2016
Me every time Kobe plays Lebron pic.twitter.com/boKsgfMVuy

— Matty Ice (@_MattGreen10) March 11, 2016
Because it's the last time Kobe plays LeBron #KOBEvLEBRON

NIKE MVPuppets "Three Rings" (in HD) https://t.co/HUL9x4QSBB

— karinajoya (@karinajoyaa) March 11, 2016
Lakers win by Kobe buzzer beater. It's only right!

— Justin Lorenz Hughes (@justin_2201) March 11, 2016
More titles: Kobe
More MVPs: Lebron
Less teams: Kobe
More movies with Bill Hader: Lebron

It's too close to call.

— Stephen Avitabile (@SteveInevitable) March 11, 2016
I just wanna see LeBron jam one on Kobe And end his career

— German (@My_GERMSs) March 11, 2016
I love how Marcelo Huertas has really just inherited the city from Kobe

— Michael Ball (@Mike_Ball423) March 11, 2016
Kobe lost his athleticism with age but changed his game to still be a scorer. When Lebron loses his bounce, I wonder what his game will be

— The Fox ♛ (@brandonthefox) March 11, 2016
I swear they be hyping up the littlest moves that Kobe do now https://t.co/guZmlREZIR

— B.Dot (@King_Bush75) March 11, 2016
Was super pumped to see Kobe's last game against the Cavs, but instead spent the night reporting our counterfeit tickets to the police 😑🔫

— Anthony Achille (@lilChille_01) March 11, 2016
This dude nailed a 3 for a prize during the break and got as big a cheer as any Kobe's gotten tonight

— Josh Martin (@JoshMartinNBA) March 11, 2016
Forget Kobe vs Lebron. The real matchup tonight is Dellavedova vs Huertas #MVPs #NotAllGoatsLiveOnFarms pic.twitter.com/nqzc5ZB4wG

— Shia Lebeef (@CJunior_Horn) March 11, 2016
If y'all ain't watching Kobe and Lebron play against each other for the last time ever then are you really a basketball fan?

— D. J. Ham. (@David_Hamlein) March 11, 2016
I'd rather watch Kobe v LeBron than those Republicans debate any day

— Hello Kitty (@ukmary1968) March 11, 2016
I feel like Lebron fell for it just to make Kobe look good…. https://t.co/eAD9ibMELK

— Austin Tarbox (@AustinTarbox) March 11, 2016
Kobe and LeBron trading baskets, one last time on TNT. #KOBEvLEBRON #NBARapidReplay https://t.co/mL3xtOwLim

— NBA (@NBA) March 11, 2016
Ready for the final chapter of LeBron-Kobe 🍿 pic.twitter.com/goFKBXJORL

— SportsNation (@SportsNation) March 11, 2016
Kobe Bryant & LeBron James, Through The Years! #KOBEvLEBRON 🐍👑 https://t.co/8SdaVxNHsV

— NBA (@NBA) March 11, 2016