LA Clippers: X-rays on DeAndre Jordan's thumb negative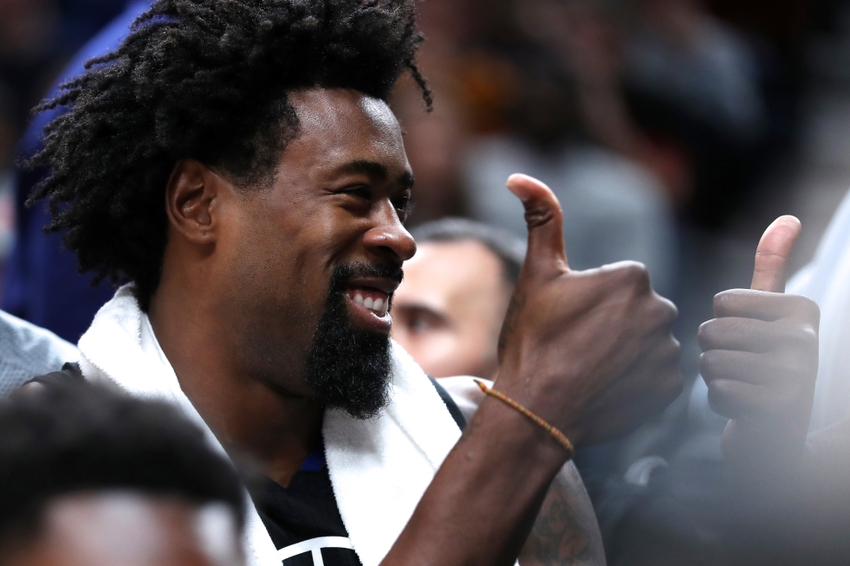 X-rays on DeAndre Jordan's thumb after the LA Clippers' 88-75 win against the Utah Jazz were negative, revealing that the injury was no more than a sprain.
The LA Clippers had a brief scare when DeAndre Jordan collided with George Hill in Sunday's home opener against the Utah Jazz. Jordan caught his thumb while reaching for a loose ball, soon bending over in pain, making his teammates and fans wonder what could have slowed down their ironman. He played in 360 consecutive games before being forced to the sideline last season with pneumonia, but thankfully he can continue another streak of appearances now as the thumb injury is nothing to worry about.
For a start, Jordan returned to the game, finishing with seven points, 16 rebounds, one block, and a game-high +/- of +18.
Then, to confirm that the thumb injury was nothing serious, x-rays following the game were negative and revealed it was only a sprain, as Dan Woike reported for the L.A. Daily News. As per usual, Jordan rejected injury and will play again in the Clippers' next game on Monday against the Phoenix Suns at Staples Center.
The initial reaction from Jordan did worry his team, though.
When head coach Doc Rivers noticed some swelling, he jumped to the conclusion that it could be something more serious.
"I was worried because I saw the swelling," Doc said to Woike. "When it's that quick, that's never a good thing. When he went back in, it started to feel a little better."
It's great news to hear that Jordan's thumb is fine, seeing as an injury to start the season after the playoff elimination they suffered a few months ago due to injuries to Chris Paul and Blake Griffin couldn't be much worse.
If the Clippers were going to start this year strong and show that they can stand up defensively when their anchor, Jordan, is off the floor, though, they've done it.
Of course, there's going to be a drop off when Marreese Speights comes in at center. A major one. It's impossible to avoid how easily Speights can be beaten off the dribble or attacked in the pick-and-roll when he's draw away from the basket, and he isn't nearly the rim protector that Cole Aldrich was last season.
However, Speights has been drawing charges at a surprising rate, had a few more against Utah, and has been communicating well with his teammates. Together, he's joined the bench in their impressive defensive play so far to defend with energy, switch effectively, and help drive the Clippers forward.
Want your voice heard? Join the Clipperholics team!
Jordan's health and this level of bench play are a couple of things to be happy about in the LA Clippers' 2-0 start.
This article originally appeared on