LA Clippers: Why Chris Paul faces lighter workload in 2016-17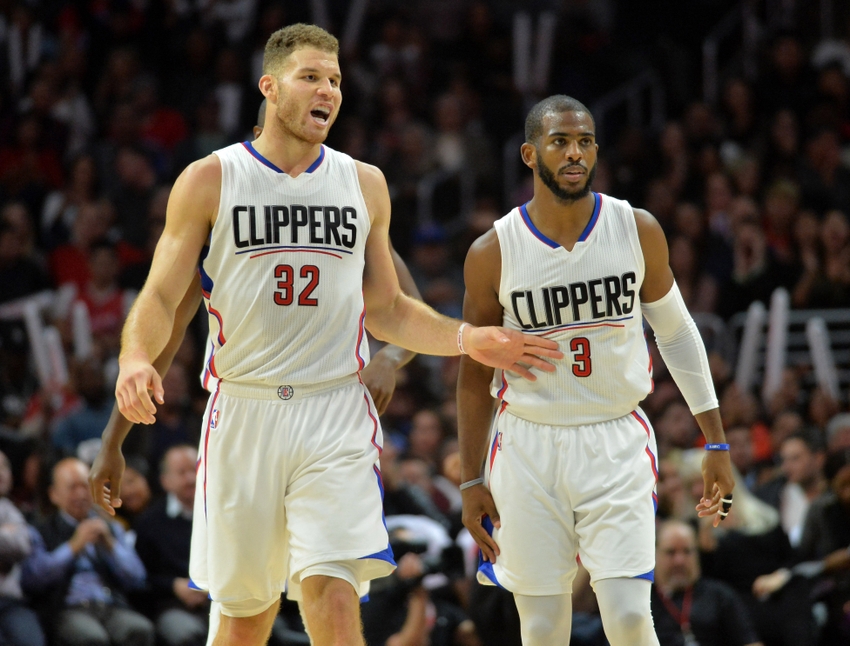 With the return of Blake Griffin and some adjustments from LA Clippers head coach Doc Rivers, Chris Paul won't have to shoulder such a heavy load (at both ends of the floor) in 2016-17.
There's no denying that a collective effort from the LA Clippers spurred them towards 53 wins in the 47-game absence of Blake Griffin last season. They rose from 15th in defensive efficiency in 2014-15 to 4th, benefiting from elevated effort from the likes of Austin Rivers, the newly arrived Luc Mbah a Moute and Cole Aldrich as they followed the defensive anchors of the team in DeAndre Jordan and Chris Paul.
There were a variety of factors that allowed that Clippers team to win 53 games, and it certainly wasn't the arrival (and prompt exit) of Lance Stephenson or Josh Smith. It definitely wasn't the arrival of Paul Pierce. And, no, it's not because the Clippers are "better off" without Griffin.
One decisive factor that we can all agree on was just how brilliant Chris Paul was, showing how little the Point God ages at 31 as he continues to deliver a level of two-way basketball and floor general-ness that's still unmatched by anyone else at his position.
The basic numbers show his increased aggression to score in the absence of Griffin as he looked to take the scoring reigns more often and create his patented and deadly mid-range game, weaving in and out of defenders to find the perfect look.
Per game averages of 19.5 points, 10 assists, 4.2 rebounds and 2.1 steals per game (not to mention 46.2 percent shooting and a 37.1 percent three-point shot) along with a 26.2 PER (his best in three years) make it fairly clear that he's far from done. No matter what idiotic "well, he's never passed the second round" critics have to say about him.
So, yes, Paul is pretty terrific.
We can see that from the load he shouldered for the Clippers last season. It was clear just how much they needed him to get the offense going, get the ball movement, get players good looks, and make the team elite without Griffin.
However, at the same time, the load Paul carried also shows us how much of the pressure can be alleviated by the return of the aggressive scoring and point-forward play of Griffin. Which, without doubt, helps the team, could help Paul's efficiency, and most importantly helps preserve him for the playoffs.
To simply visualize just how much Paul had to do for the Clippers' offense last season, here are a few charts to indicate how far ahead he was of everyone else on the roster. All statistics are taken from the time Griffin was out, and from Paul's points per game to the points he created for others with his assists, it's easy to see how much hinged on his performance.
To be precise, Paul's scoring and assists accounted for 46.6 of the Clippers' 104.5 points per game (44.59 percent of the offense).
It was always going to be the case in Griffin's absence and Paul was always capable of doing so, but it's not going to keep him in the best condition possible for the playoffs. The return of Griffin and potential tactical adjustments can change this.
Of course, this comes down to Doc Rivers' approach in 2016-17.
Doc said he wants to stagger more this year & it's something they'll have to do, even though he feels the bench is deeper than ever before

— Rowan Kavner (@RowanKavner) October 19, 2016
Will Griffin facilitate for the offense more often and receive more touches at the post and elbows, allowing him to run the team more and give Paul some opportunities to operate off the ball at times? Paul shot a stellar 46.3 percent on catch-and-shoot threes last season (albeit on only 1.1 attempts a game, per NBA.com), and taking a couple more couldn't hurt.
This is one change we could see, but Doc's choice to start staggering their minutes will also take pressure away from carrying the second unit in close game situations as Paul had to last season, and Griffin can instead be used to anchor the bench at times.
Next, there's the crucial matter of some defensive changes that can help keep Paul in top condition.
Defensive changes
As for the team's defense, Mbah a Moute guarding point guards at times or Austin Rivers checking in as the Clippers' option to guard the opponent's point guard (if they happen to be a team with a athletic, talented scorer) also helps take some of the load off Paul. He can't be at his absolute best if he has to endure such drastic offensive responsibility and guard their opponent's best guard, too.
Raymond Felton helps in this regard. As good as Pablo Prigioni was at racking up steals with 2.3 per 36 minutes last season, he wasn't a strong on-ball defender as a declining 38-year-old. Felton isn't in his physical prime at 32, but he's a solid enough defender, he's energetic, has aggressive bursts of play, and can give Paul some defensive rest when the Clippers aren't facing an explosive monster or All-Star level point guard.
Then there's the role of Austin Rivers, the Clippers' most improved defensive player last season. Doc has said he may be using Austin at small forward in certain situational lineups against smaller teams, and there's no doubt that he should be utilized (in addition to Felton) as an option to help prevent Paul from guarding their opponent's top point or backcourt threat when necessary.
Combine these adjustments, helped by Rivers' defensive improvement and Felton's impressive play with the team in preseason, and it's clear how the pressure on Chris Paul can be removed somewhat.
The question at hand is whether we will see Griffin receive more touches at the elbows and from the post, continuing the extremely aggressive scoring and passing from double teams that he's showcased in preseason. If that's the case, even slightly more, and he anchors the second unit from time to time, Paul is forced to do less yet again.
We need to see what happens, but Felton and Rivers to help defensively and the return of Griffin can help Paul after one of the most demanding regular seasons of his career.
Want your voice heard? Join the Clipperholics team!
More than anything else, it's what the LA Clippers need to help in the build up to the playoffs. Because if they face the Golden State Warriors, they need all the help and rest they can get.
This article originally appeared on