LA Clippers-Utah Jazz Player Grades: L.A. keep finding rhythm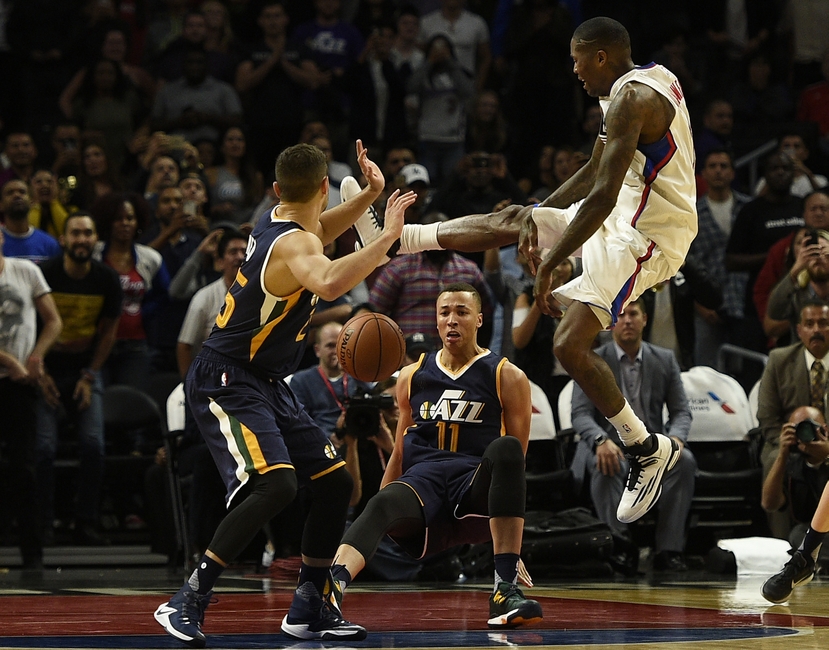 In a 96-94 loss to the Utah Jazz, the LA Clippers struggled to find reliable play from their bench and consistent intensity.
The LA Clippers turned their preseason performance around in a 104-98 win against the Toronto Raptors, bouncing back from a woeful 120-75 loss dealt to them by Kevin Durant's Golden State Warriors. It was needed, but the Clippers started slow again against the Utah Jazz, struggled on the boards (outrebounded 51-30), and Doc Rivers experimented with a host of lineups (specifically Wesley Johnson and Luc Mbah a Moute as the frontcourt to finish the game) to help lead to a 96-94 loss on Monday at Staples Center.
It was a game of runs to a fair extent. The Clippers were shaky early on with another dip in intensity and their defense struggled to rotate effectively, yet they came out firing in the second half to open the third quarter on a 16-0 run.
We saw the Paul Pierce–Marreese Speights frontcourt against the Jazz as well, which hinted at the benefit of having five shooters on the floor but showed the terrible defense of the duo.
Heading into the fourth quarter, the game got messier. The Clippers' bench was made to carry the bulk of the load, and small lineups struggled with turnovers and executing at both ends of the floor.
Before the small frontcourt duo of Johnson and Luc gave up a rebound off a missed free throw in the final seconds, Jamal Crawford's attempt to win the game was eradicated when Dante Exum made a stellar falling steal.
Well, the start was slow, the ending wasn't pretty, and some of Doc's lineups won't cut it when games actually count. Then again, experimentation is what preseason is for, even though two small forwards playing at the four and five seems useless.
Let's dive into some player grades of the key contributors to go into more depth about the team's performance, starting with another look at Blake Griffin as his impressive comeback continues.
Blake
Griffin
PF,
Los Angeles Clippers
B+
Blake Griffin looked great again. Sure, he didn't have the 24-point, eight-rebound, five-assist stat line he recorded against Toronto, but Griffin was a force in the post against Utah and continued to remind us just how much he changes the offense. From a pump fake, and-one circus finish over Rudy Gobert to his ball handling in the open court, Griffin looked great (and fully healthy) in his 20 minutes. He finished with 13 points (5-of-9 shooting), three rebounds and two assists, and while he didn't find his range as he has done in the last couple of games, he dropped a couple of beautiful passes and was powerful blowing past opponents in the post. If he didn't get foul fives early and Doc didn't try out his bench lineups, we'd have seen even more.
Chris
Paul
PG,
Los Angeles Clippers
B+
Chris Paul played more than most LA Clippers fans would have been expecting when tuning in Monday night. With Griffin playing 20 minutes, Paul logging just under 28 shows how much he was needed to help guide the team. He scored 14 points on 4-of-10 shooting to go along with five assists and three steals, and was used more than expected to help support the bench into the second half. Paul couldn't cancel out the Clippers' weak start offensively, though, as the team's ball movement slowed down, shots missed, and consistency became hard to find. Some shooting rhythm from Paul as the game progressed help turn things around somewhat.
Austin
Rivers
PG,
Los Angeles Clippers
D-
He provided some aggressive defense as per usual, but this game wasn't a good one for Austin Rivers. Shooting 2-of-12 from the floor to finish with seven points is never going to do anything except hurt the LA Clippers' offense, and it only made matters worse for the bench as they had some poor runs over the course of the game. Either from Marreese Speights' defense, questionable lineups, or simply cold shooting, Rivers didn't really help.
Marreese
Speights
C,
Los Angeles Clippers
C+
This was a typical Marreese Speights performance, one that we should expect to get used to as the LA Clippers' 2016-17 campaign gradually gets underway. 14 points in just under 12 minutes is certainly rapid production, and Speights tends to shoot whenever he gets space. He shot a passable 3-of-7 from the floor against the Jazz (only 1-of-4 from three) and the benefits of his arrival of obvious, especially in terms of how he spaces the floor. But the issue with his poor defense is also obvious; he isn't a shot blocker and he's terrible away from the basket, with Jazz players often blowing past him with ease on drives to the basket. Mo Buckets aside, that defense hurts the bench. He at least helped by wilfully drawing charging fouls.
Jamal
Crawford
SG,
Los Angeles Clippers
C
Similarly to Speights, Monday night's game against the Jazz was a typical Jamal Crawford performance. He scored and provided some quick offense off the bench, converting a couple of tough shots and scoring 16 points on 5-of-12 shooting (2-of-4 from three), even drawing a foul on a crucial late three-point attempt. Crawford wasn't helped in his attempt to lead the bench late in the game, specifically on a troublesome inbounds play on one of several sloppy possessions, but he was streaky and had an uncharacteristic miss on those three free throws late in the fourth.
One other benefit of Monday night's game was the return of J.J. Redick, who only played 19 minutes, but scored nine points as he made three three-pointers to help the team's cold shooting performance (a field goal percentage of 40 for the game).
Want your voice heard? Join the Clipperholics team!
To continue their preseason, the LA Clippers will play the Portland Trail Blazers at Staples Center on Thursday at 10:30 PM ET.
This article originally appeared on