LA Clippers' starting small forward spot is 'wide open'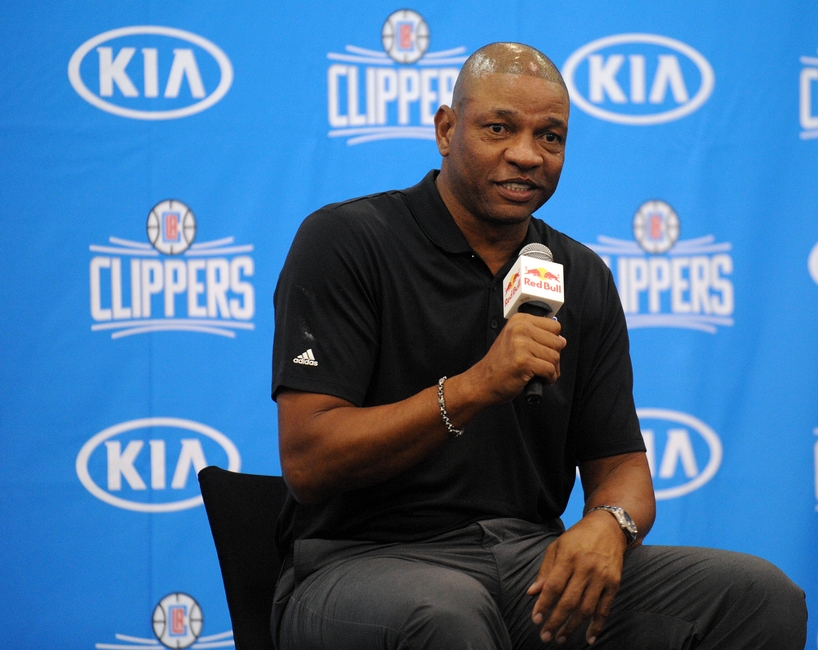 Doc Rivers says the LA Clippers' starting small forward spot is "wide open," and is up for grabs between last year's group and 2016 signing Alan Anderson.
Who makes the LA Clippers starting lineup is practically a guarantee. Chris Paul, J.J. Redick, Blake Griffin and DeAndre Jordan headlining their spots is a given, seeing as they're easily the four best players on the team and four of the best in the NBA altogether at what they do. When it comes to the starting small forward position, things aren't so definite, with Luc Mbah a Moute stepping up with his defensive energy as the starter last season.
However, Luc may not be holding onto his spot in 2016-17. Head coach Doc Rivers has some depth and plenty of various lineups to utilize, with a host of small options when he uses three-guard lineups or shifts a wing player to power forward.
His experimentation includes the starting small forward position, which is currently "wide open", as Dan Woike of the Orange County Register has reported from the start of training camp:
"It's the first day. I think that job is wide open," Clippers coach Doc Rivers said. "I'd say Luc, Alan [Anderson], Wes [Johnson] would be the three, but we may go small. Like I said last year, and didn't follow through on it, that position will change a lot. Last year, we ran a lot with the small lineup, three guards, and we may do that to start games."
As Doc reiterated, using a three-guard lineup could be an option. He may decide to use new signing Alan Anderson, someone who has typically played between the two and three, at small forward.
Then again, he may simply opt to stick with Luc, whose lack of a shooting is obviously an issue, but brings the kind of defense that complimented the starters well last season. Plus, bringing an almost all-defense player off the bench isn't going to do wonders for the second unit offense when the likes of Paul and Griffin are off the floor. A scoring punch from Anderson off the bench could be the better option.
Doc commented on how he views the strengths of Anderson and Luc, who both spent time with the starters at Tuesday's training:
"They're both bringing defense; they're excellent defenders," he said. "They're bringing toughness to that group, which is nice. Alan's the better shooter. Luc's probably a better cutter. Alan is still getting over his injury, so it may take him some time."
Doc will start to come to a more informed decision over training camp and the preseason. He'll see who works well together and get a better understanding of what the new guy, Alan Anderson, can bring to the table. Doc has also said that Paul Pierce will be spending most of his minutes, however limited they may be, at the four. So, he's hardly worth considering as the last option behind the other three small forwards.
Want your voice heard? Join the Clipperholics team!
I'll probably stick with Luc as the LA Clippers starter for now due to the way he compliments the starters and the second unit's need for more offense and shooters, but we'll see how things work out as preseason approaches.
This article originally appeared on