LA Clippers shouldn't underestimate young Phoenix Suns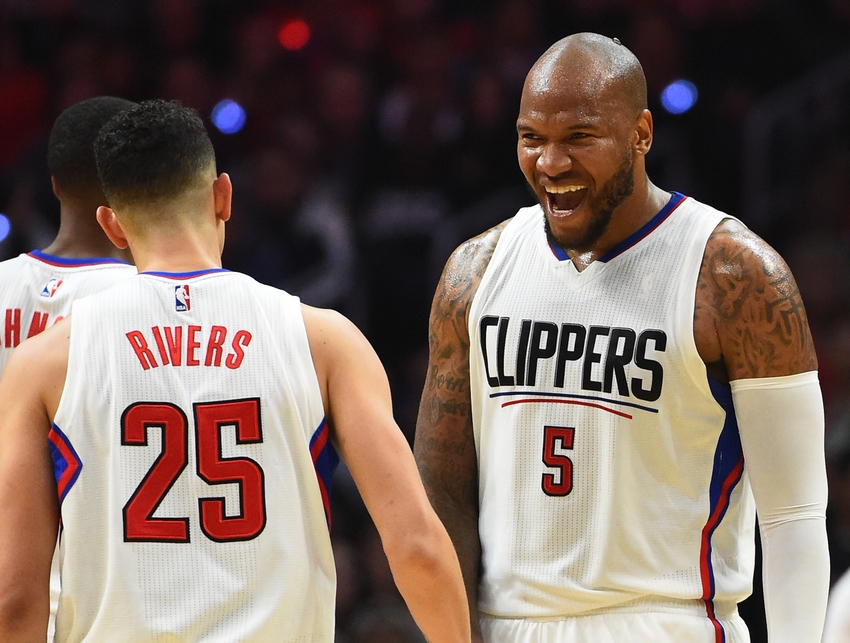 The LA Clippers have been playing with intensity and impressive bench defense so far, but still need to be sure that they aren't caught off guard by the young, energetic Phoenix Suns.
The LA Clippers haven't thrived in their 2-0 start to the 2016-17 NBA season from their best offensive play or their healthy starters, but from energy, rebounding, defense and depth. At the forefront of this, stepping up to a surprising level so far, is the bench, leading a balanced attack to take down the Portland Trail Blazers on the road 114-106 and now the Utah Jazz at home 88-75.
The bench has been great so far. A 16-0 run in the opener against Portland, with energetic defense and more of the same against Utah, has allowed them to make up for the starters being slightly out of their typically elite rhythm.
As brilliant as Blake Griffin has been so far and as clinical as Chris Paul has been at times, the bench have been a driving force in capturing two wins. Without them, the Clippers would likely have a loss.
Here's one brief stat to sum up the Clippers' second unit play so far: the lineup of Raymond Felton, Jamal Crawford, Austin Rivers, Wesley Johnson and Marreese Speights has a net rating of +11 so far, the third highest of any five-man lineup in the league.
A lot of this play comes down to intensity, good communication, pressuring ball handlers thanks to guys like Felton and Rivers, switching well, helping others, and crashing the boards as best as they can. Without this approach, the Clippers' bench could fail in a hurry defensively, especially after downgrading from Cole Aldrich to Speights at backup center.
It's why the Clippers need to embrace this level of energy as a trademark for their game this season. Along with tremendous offensive talent and the return of a healthy, aggressive, and highly motivated Blake Griffin, continuing to establish themselves as a top defensive team with enough depth to be taken seriously across their roster is key.
It's also why the Clippers need to ensure that this mental toughness and intensity doesn't switch off against easier opponents. And one such opponent that could be overlooked is their matchup for their next home game on Monday: the Phoenix Suns.
They may be sitting at 0-3, a record that you may expect from such a young team, but the Suns could easily be 2-1 by this point. In their last two games, those young guys have been showing potential and the losses have been close. A 110-113 overtime loss on the road against the Oklahoma City Thunder and a 106-100 loss at home to the Golden State Warriors aren't bad results to have.
With a guy like T.J. Warren stepping into a major scoring role so far (23.3 points per game on 52.8 percent shooting this season), Eric Bledsoe returning, rookie Marquese Chriss chipping in with absurd athleticism and averages of seven points and four rebounds in his 15.7 minutes a night (to name a few guys), the Suns have a host of young talent. Not to mention a primed to breakout Devin Booker if he can find his shot.
They're playing fast, they're playing with intensity, and they're playing with confidence, almost upsetting the vastly superior Golden State Warriors on Sunday and going on a 22-2 run in the first quarter. Having a few talented shooters, a bunch of athletes, and some scrappiness to force turnovers and score in transition has helped this inexperienced team compete.
The Suns had 25 points off the Warriors' 16 turnovers alone on Sunday.
The Suns are showing what you can do with energy, a few hot shooting spells and fastbreak points to punch above your weight at times.
While the Clippers are still far ahead in terms of talent, this is what they need to look out for. They can't sleep on someone like Warren from having too much space and finding a host of open looks. They can't sleep on Bledsoe's athleticism in transition. They can't fail on boxouts and let Tyson Chandler get easy put backs (he's averaging 12.7 rebounds per game so far). They can't let someone like Chriss tear past in transition, receive a long outlet pass, and burn them for an easy dunk.
The Clippers have been playing completely opposite to a lackadaisical team who could be caught off by the Suns' approach, though. These Clippers have been locked in. They're in ultimate win now mode, Paul and Griffin are highly motivated after being eliminated by injury last season, the team is rebounding well, protecting the paint well, and the bench's defense is nothing but impressive.
Want your voice heard? Join the Clipperholics team!
Based on talent disparity alone and this urgency at the start of the season, it's fairly easy to predict a LA Clippers win at Staples Center on Monday night. Ideally, the starters will begin finding their offensive fluidity again, too.
This article originally appeared on