LA Clippers reminding Doc Rivers of his old Celtics teams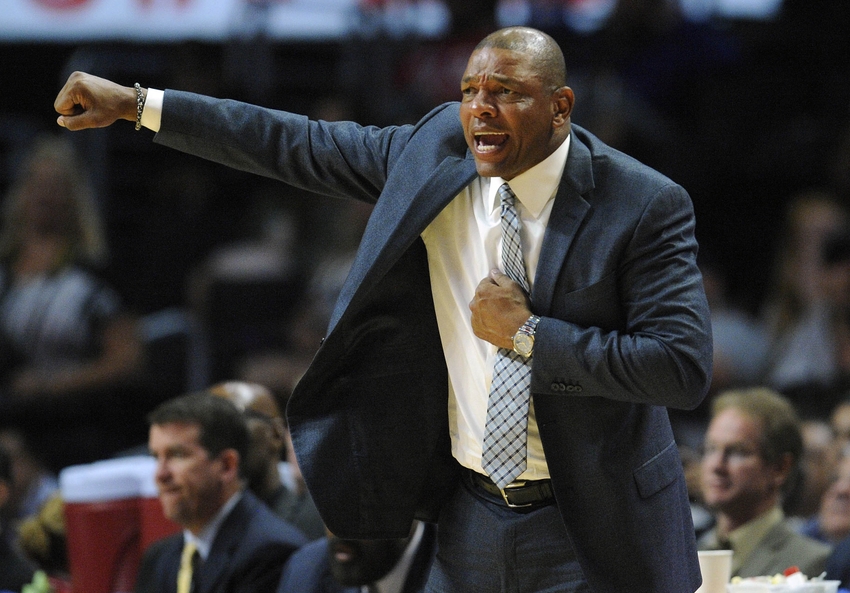 The LA Clippers are playing tremendous defense and are enjoying doing so, which has them reminding Doc Rivers of his elite Boston Celtics teams.
When any team can compare to a former NBA championship winning team and one of the best defenses in recent memory, that's only a good thing. It's early days for the 2016-17 LA Clippers and no one should be saying they'll be on that level, but the fact that Doc Rivers is seeing similarities between this group and his old Boston Celtics teams is only a promising way to start the season.
Doc's Celtics teams include the 2008 NBA champions, a team featuring Kevin Garnett, Ray Allen, Paul Pierce, Rajon Rondo and Tony Allen to highlight a squad full of depth and well coached defensive pieces. Before going onto win the title, the team won 66 games in the regular season and dominated the league by ranking first in defensive efficiency, allowing only 98.9 points per 100 possessions while scoring 110.2 themselves.
As of right now, the Clippers are allowing a league-best 89.3 points per 100 possessions. With the cohesion of this team, their raw defensive ability, intensity, and simply knowing how to switch and where to be on the floor to do their own jobs, Doc is feeling reminiscent of his Celtics teams.
Doc said the following to one of his Celtics players, Brian Scalabrine, as he recalled to Rowan Kavner of Clippers.com:
"I told [Scalabrine] this group is the first group that reminds me of that same spirit. They're just playing. It's really a no-nonsense group. They get along, they understand their roles, and they buy into it. They can argue and laugh two minutes later. It's just a good spirit."
Blake Griffin gave even more encouragement to Clippers fans by emphasizing just how much the team is enjoying playing defense, mentioning the energy they draw from it:
"I was talking to somebody on the bench, maybe it was at halftime, and it's like, 'When you play defense like that, it's fun.' You look forward to getting stops. Guys are just flying around, might make a mistake, but somebody's covering up for you, then somebody's covering up for them covering up for you. When you're playing basketball like that, it's a blast."
This is the perfect approach to have eight games into the season at 7-1 (the best start in franchise history). With such increased passion for defense, it's not surprising that Doc is feeling reminiscent of his Celtics teams.
"We are having a lot of fun right now, and I think a lot of that has to do with our defense," Chris Paul added.
Keeping up this level of intensity won't be easy, and remains as the biggest question mark around the LA Clippers' performance so far. However, they aren't building this defense off nothing. They've added pieces like Raymond Felton and Brandon Bass and already ranked 4th in defensive efficiency last season.
Want your voice heard? Join the Clipperholics team!
Perhaps this team now has the right mentality and chemistry to make defense a staple of their identity in addition to stellar offense.
This article originally appeared on