LA Clippers primed to make Russell Westbrook, Thunder struggle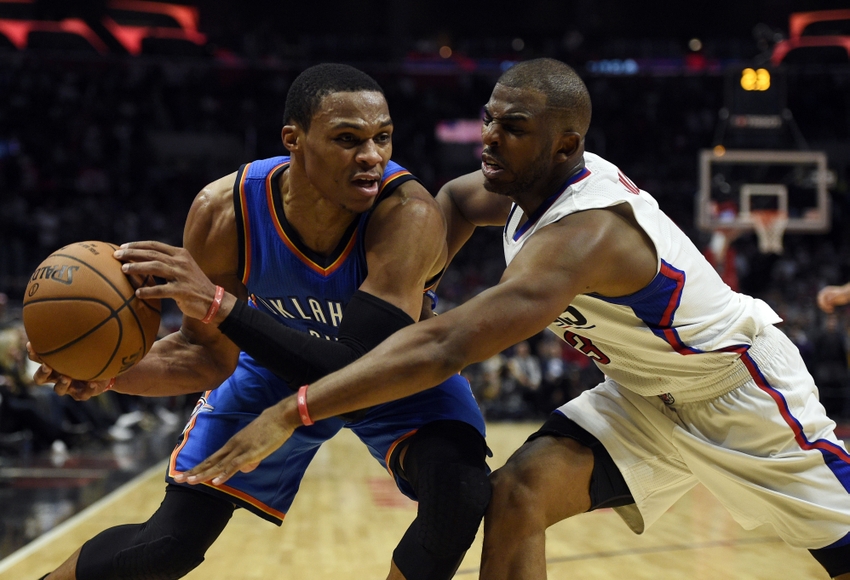 The LA Clippers lost to the Oklahoma City Thunder in their first matchup, but should be primed to win on Friday after finding their offensive rhythm and dominating defensively.
The LA Clippers (7-1) have held the starting point guards of their last three opponents to a combined 3-of-24 shooting for 14 points. Ish Smith is no scorer, but the San Antonio Spurs' Patty Mills is a dangerous shooter, and Damian Lillard is one of the best scorers in the league. The Clippers' defense has been giving opposing point guards (and teams in general) an awfully tough time so far, and that should be the case again when they face the Oklahoma City Thunder (6-2) on Friday night at Chesapeake Energy Arena.
No one can lock up Russell Westbrook one on one. The NBA's best on-ball defenders are always going to have a hard time trying to stay in front of him, backtracking fast enough to cover his drives to the basket or not be caught out of place when he tears past in transition.
That being said, Westbrook isn't unstoppable.
A lot of the time, as Thunder fans will only know too well from watching him, it's Russ himself that can turn a Westbrook takeover into a nightmare. From poor shot selection and way too many contested threes to erratic decision making and costly turnovers, he can hurt OKC in an instant when things go awry.
Unfortunately for Westbrook, he's going to feel the need to do it all this season after the departure of Kevin Durant. That's what Russ can do at times and there's no player in the NBA that has more ferocity and drive to embrace that, but it can't work all the time. He can either destroy everything in his sight or turn into a cataclysmic disaster. When he doesn't know how to pace his play, there isn't always a middle ground between breathtaking spectacle and chaotic mess.
If this is the kind of Westbrook the Clippers get on Friday night, their league-best defense should be even more ready to beat him and the Thunder this time around.
In the first matchup between these teams on November 2 at Staples Center, the Thunder came away with a 85-83 win as the Clippers struggled offensively, shot 39.1 percent, and lost the rebound battle 51-41. Rebounding will be a vital aspect of this game again against the Thunder's length, size and athleticism, and scoring won't come easily against OKC's fourth-ranked defense.
That being said, it's undeniable that the Clippers' offense has clicked since the first game, and shooters are actually making more open shots now. Such an inevitable change is almost certainly going to lead to them scoring more than 83 points this time.
Westbrook wasn't that stellar against the Clippers the first time around either. He may have had 35 points on 14-of-30 shooting, but he made zero of his seven three-point attempts and had an ugly 10 turnovers.
It's something Westbrook has started showing recently, returning to his more erratic former self at times when he feels forced to do everything.
In the Thunder's last game, a 112-102 loss to the Toronto Raptors, Westbrook was out of control. He attempted 12 three-pointers (far too many for his low level of efficiency on such shots) and made just three, racking up eight turnovers to push his season total to 45, the most in the league.
The Clippers' defense has been destroying opponents this season. Led by Chris Paul and DeAndre Jordan, who are both playing their best, along with everyone across the roster and guys like Austin Rivers and Wesley Johnson coming off the bench, the team has been fully locked in to allow a league-best 89.3 points per 100 possessions (well ahead of second place Charlotte at 95.4).
The team have been communicating and switching effectively, pressuring ball handlers, rebounding well, and simply smothering opponents with their level of intensity. They should be primed to crack down on a Thunder team relying on Westbrook this time around. Of course, L.A. will always be wary of what he's capable of and this team's possible rebounding edge.
Want your voice heard? Join the Clipperholics team!
Stopping Russ is the key. If the LA Clippers keep making their shots and moving the ball as they have been, combining that typical offensive prowess with defense after winning their last four games by a combined total of 98 points, they should have all the momentum they need to take down OKC.
This article originally appeared on