LA Clippers: Paul Pierce announces he will retire after 2016-17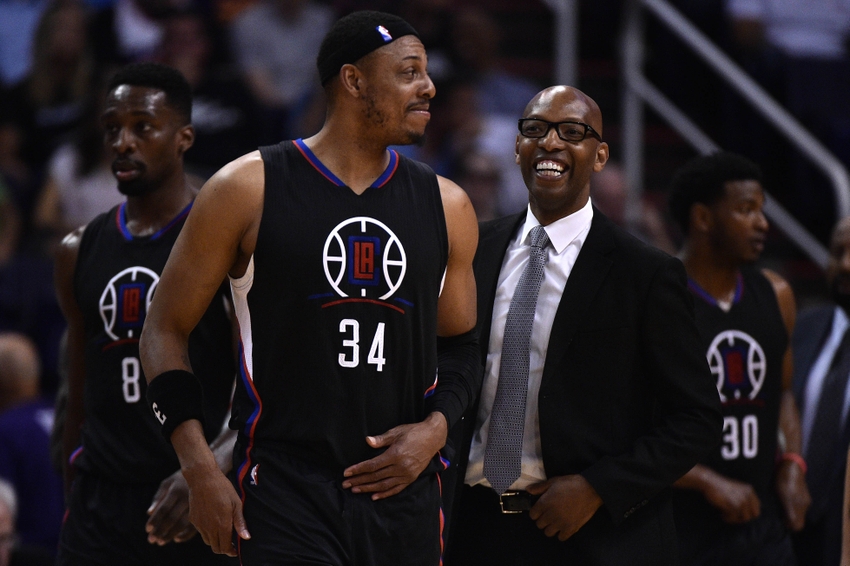 Paul Pierce has announced that he will have one final run with the LA Clippers in 2016-17 and retire from the NBA after the season ends.
Paul Pierce didn't want to go out on a low point. He didn't want to retire after the worst season of his career. While his announcement video for The Players' Tribune started as though he'd be joining the likes of fellow legends Kobe Bryant, Tim Duncan and Kevin Garnett and retire this summer, Pierce revealed that he will be returning for his 19th season in the NBA and have another year with the LA Clippers in the hope of winning his second championship.
It feels somewhat against the trend of this summer. Three legends, including his former Boston Celtics and Brooklyn Nets teammate Kevin Garnett, decided to retire. But Pierce has decided that he has a little left. Rather than building off what he did with the Clippers last season, it's bouncing back to go out on some kind of high that Pierce is hoping for.
There's no doubt last season was the worst of his spectacular career. Being a liability at both ends of the floor with career-lows of 6.1 points per game and 36.3 percent shooting, not to mention just 31 percent from three and the first single digit PER (8.2) of his career, turning things around at 39 years old by the time next season starts won't be easy.
Pierce wrote that he's ready to enjoy his final season in a few words he added alongside his announcement video:
After 18 NBA years, it's hard to believe I'll be playing in each arena for the last time. So I'm going to enjoy every practice, every bus ride, every team dinner, every time running out through the tunnel. I'm going to do my part to give us a shot at the ultimate goal.
While it's safe to say Pierce's final season won't quite be on the level of Kobe's grand farewell tour, Pierce's nearing retirement will still help bring this era to an end as another Hall of Famer walks into the sunset.
Hopefully for Pierce and the LA Clippers, the real Truth can make an appearance and have some kind of bounce back season. It may seem unlikely after how he fell off in 2015-16, but there's nothing Pierce and fans want more than a turnaround year where he can at least be a three-point threat again and come through with a few more clutch moments.
This article originally appeared on