LA Clippers NBA 2K17 Preview: Ratings, predictions, MyPlayer talk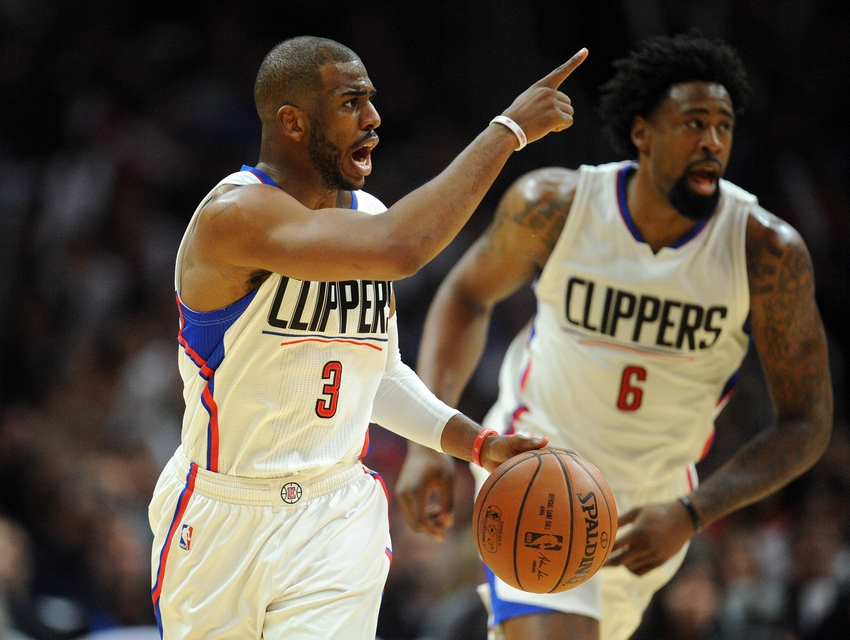 With the release of NBA 2K17 rapidly approaching, here is our LA Clippers preview, predicting player ratings, a look at the trailer, and some talk about MyPlayer.
---
On September 16, NBA 2k17 will be released and we can all breathe a sigh of relief. We have entered the doldrums of the offseason, and the only thing that can save a basketball fan from this brutal, NBA free summer is just around the corner: endless sessions playing 2K. Also meaning endless hours playing with our Lob City LA Clippers.
There is a lot to be excited about in the newest version of 2K's annual release. The graphics and lighting have been improved, the physics of how players interact and make contact on the court has been adjusted, and there is a new emphasis on player control.
There's also a new tutorial mode that's a great way to learn the game's new mechanics, and relearn the old ones. The tutorial mode is hosted by Mike "Coach K" Krzyzewski, who is also in the game as the Team USA coach — another added featured for 2K17.
You can play as the 1992 dream team or play the current team USA roster (featuring the LA Clippers' very own DeAndre Jordan).
Some player ratings have started to leak, but not all of these are confirmed. So, let's look at some key Clippers players and try to predict their 2K ratings.
Player ratings
Chris Paul is one of the league's elite players and his rating should reflect that. He is in his prime (even at 31, he's hardly slowing down), and is coming off of a strong season with All-NBA Second Team and All-Defensive First Team honors. His rating in 2K16 was 91 and I don't see why that should change. This would make him the second highest rated point guard in the game behind only Stephen Curry, and put him around 6th in the league overall.
Blake Griffin struggled last season. He had trouble staying healthy with his quadriceps injury and broken hand from the Matias Testi altercation, and his 2K rating may dip slightly as a result. If early leaks are to be believed, Blake has a rating of 87, and is not one of the top 15 ranked players.
However, I would look for Blake's rating to improve as the game updates during the season. Griffin has been working hard all summer and he's ready to show the league he's back.
DeAndre Jordan is available on two team rosters in the game: the LA Clippers and the current Team USA roster. Jordan's stock is on the rise after a strong showing at the Rio de Janeiro Olympics, and he's another player I expect to receive a rating boost during the season. Leaks have him rated at 85, the same as Andre Drummond. I wouldn't be surprised if he ends the season as the second highest rated center, after only DeMarcus Cousins.
J.J. Redick is probably in the 80-83 range, as well as Jamal Crawford. Austin Rivers is another player who could receive a ratings boost during the season. He is currently rated in the 75-78 range with Marreese Speights, Brandon Bass, Wesley Johnson, and Luc Mbah a Moute; but Rivers is young and still improving.
Paul Pierce will have the biggest rating drop and could find himself the lowest rated Clipper after only rookie Brice Johnson, most likely in the 70-73 range. After shooting 36.3 percent and having a -5.1 net rating last season, one of the worst years of Pierce's career can only result in one of his worst 2K showings, too.
MyPlayer
The game mode I look forward to the most every year is MyPlayer. Last year's version was directed by Spike Lee and cast your MyPlayer as the main character in his very scripted, pre-planned story. It was a lot of fun, but left you with limited options.
This year's version is less rigid, and will star Michael B. Jordan, coming off one of the best moments of his career as Adonis Johnson Creed in "Creed".
I've led the LA Clippers to many championships in MyPlayer mode. One of my personal favorite scenarios that played out was when I created a point guard.  When his rating was over 90, the team traded Chris Paul for Kawhi Leonard. As my player was essentially Chris Paul, this had the effect of adding Leonard to the current Clippers roster. It was a ridiculously good team that won five straight championships.
If only that were the case in reality…
Let me know in the comments section about the crazy directions you have taken the team in GM mode, or the wild players you have created in MyPlayer. I look forward to seeing you all on the 2K servers.
This article originally appeared on