LA Clippers' Luc Mbah a Moute will trouble Harrison Barnes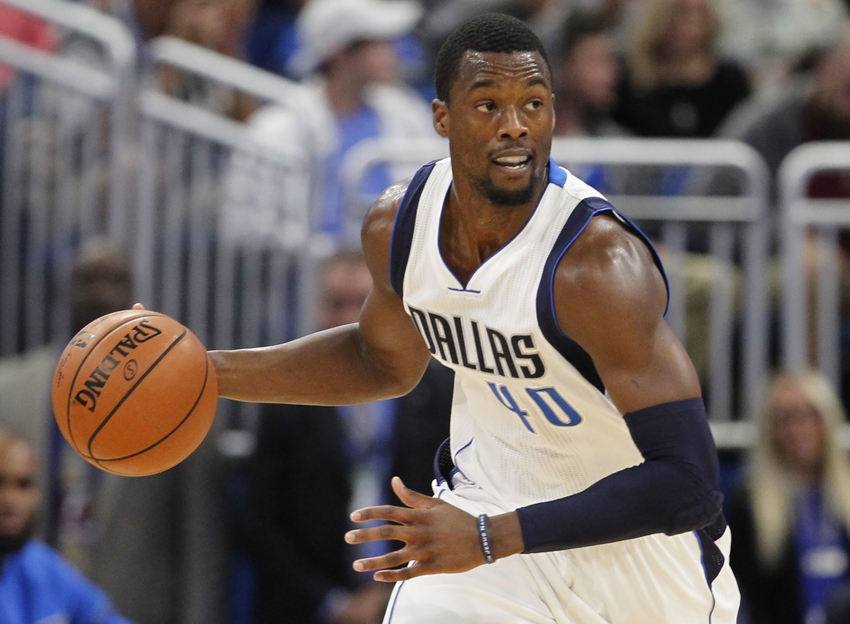 The LA Clippers go against the Dallas Mavericks on Wednesday night, and Harrison Barnes has a real challenge on his hands against Luc Mbah a Moute.
The LA Clippers may have missed out on the Kevin Durant sweepstakes in NBA free agency this summer, but the small forward they do have at their disposal has still been impressing. Luc Mbah a Moute, from guarding any position asked of him to actually increasing his offensive input, has been fantastic to start the new season.
Beyond his 43.5 percent shot from three with 0.7 makes per game (for someone who's always been a poor shooter like Luc, we're well and truly in the small sample size stage), his defense warrants some real attention. Because he's simply been brilliant so far. As a major contributor to the Clippers' 2nd ranked defense (97.7 points allowed per 100 possessions, just 0.5 behind the Atlanta Hawks), Luc has been playing at an All-Defensive level so far.
He can simply do so much with his long, 6'8″ frame, quick feet and drive to keep hustling. He's been using all of that to defend every position from point guard to power forward, and has often covered the opposing team's point guard to help take some of the defensive burden off Chris Paul. And seeing as Luc has been successful in doing so, along with guarding the best wing scorer, there's no reason he won't carry on and be just as effective.
He can shift his feet well enough to cover guards on drives to the basket and he uses his length effectively to contest at the perimeter, either smothering three-point attempts or sticking with opposing wings as they try to create past him when attacking inside.
Such play has enabled Luc to, as best as possible, become the Clippers' missing piece at small forward, helping opposing teams score 9.1 fewer points per 100 possessions when he's on the court this season. On top of that, Luc ranks 14th among all players and 6th among power forward in Defensive Real Plus/Minus.
On Wednesday night, Luc will be guarding Harrison Barnes, the Golden State Warriors' outcast who left this summer to make room for Kevin Durant.
Barnes has been the end of countless jokes over the last few months. He was the Warriors' complimentary starter, responsible for standing in the corners to shoot open threes and play some defense at both forward positions. He wasn't a go-to scoring option with the talent to play like one, even though some argued that he was merely held back and didn't have his chance to shine playing in Golden State.
Well, he has never been a go-to scorer. That fact and his relegation to a fold-up seat near the end of Team USA's bench at the Rio De Janeiro Olympics turned Barnes into a joke after he received his overpriced four-year, $94.4 million deal from the desperate Dallas Mavericks this July.
He wasn't ready to be a go-to scorer and carry a franchise, and ugly play in preseason only reinforced to everyone just how much he got overpaid.
However, since then, the very same Harrison Barnes, who spent months as a punchline, has started proving people wrong.
No, he certainly isn't an elite scorer and he won't come close to carrying this Mavs team to the playoffs. But he's improved more than we thought he would.
Even though his three-point percentage has fallen to 28.9 and he hasn't been gaining as many three throw attempts (4.5 per game) as you'd like from an athletic, 6'8″ combo forward with the ball in his hands a lot, Barnes has clearly developed his handle and has done a better job of creating for himself. When either attacking off the dribble from mid-range or manoeuvring to the basket, he's shown improvement.
Put such developments to his game together, and his three 30-point games and average of 21.2 points a night on 46.3 percent shooting is more than solid in his lead scorer role.
In fact, his efficiency has been rather impressive when you consider his sudden jump into this go-to role. He currently leads the NBA in total isolation points at 90, also ranking in the 76th percentile after scoring 1.02 points per possession on such shots (per NBA.com).
The problem is that we'll likely see him struggle a little more when his long two-pointers stop falling with such high efficiency; it's hard to see him making 48.6 percent of his shots from between 16 feet and the arc all year long.
To put his scoring to the test, Barnes will have a great challenge going against the smothering team defense of the LA Clippers and Luc Mbah a Moute in one-on-one situations. Luc, as we've been reminded of all season so far, is designed to trouble guys like Barnes, especially ones without the best handles to break free.
Want your voice heard? Join the Clipperholics team!
The LA Clippers should handle the Mavericks (2-11 and dead last in the Western Conference) fairly easily in Dallas on Wednesday. The Clippers are the deeper, more athletic, healthier team, and Luc vs. Barnes should provide us with one of the more entertaining matchups.
This article originally appeared on