LA Clippers: How Austin Rivers can improve this season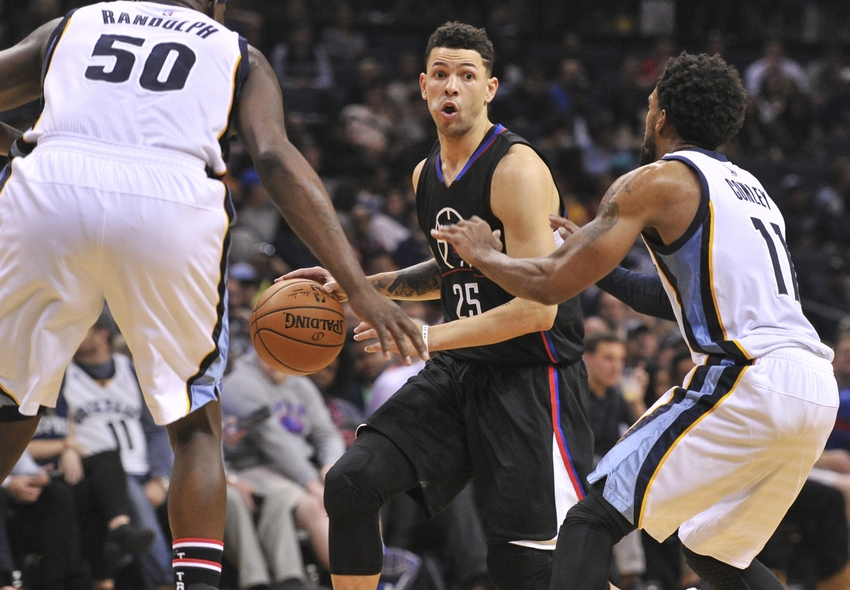 Everyone is looking for Austin Rivers to stand out for the LA Clippers this season, and he has the minutes, ability, and heart to do so.
Austin Rivers, the LA Clippers' backup point guard, signed a three-year, $35 million dollar contract this summer, and is not impressing anyone so far this season. Fans know what he is capable of, we have all seen it in the playoffs. However, this season has been a rough one for Rivers thus far.
He's playing 22.6 minutes per game off of the bench, averaging 7.3 points and shooting 40.8 percent from the floor. Last season, Rivers had 8.9 points per game on 43 percent shooting. Again, it's early days, but Rivers hasn't found too much success outside of his nifty, athletic drives to the basket. His 21.2 percent three-point shooting is definitely a slump he needs to break out of quickly.
So, here are some possible reasons why Austin's contribution off of the Clipper bench has been lacking, and some fixes for them.
From playing alongside Marreese Speights to altering shot selection, Rivers has some changes to make.
Crawford and Speights like to take shots
It is understandable why Rivers' points per game are low whenever shot creator Jamal Crawford is on the same bench, taking 9.4 shots each night and scoring 10.9 points in the process. He commands the role of creator, as he always has while accumulating two of his record-breaking three Sixth Man of the Year trophies in L.A.
With the recent addition of Marreese Speights, the two guards are competing even more for shots. Speights is currently taking the same amount of shots as Rivers each night (seven) and producing more with 9.3 points per game. This is the most probable factor for Rivers' lesser season so far. Speights is called Mo' Buckets for a reason, and the way he can get turnaround jumpers from the post and be used so effectively as a pick-and-pop option have helped him make an instant impact.
While Crawford and Speights are making it harder for Rivers to score, he can now look for more assists. He's already averaging an increase of 2.2 assists per game compared to last season's 1.5, also raising his assist percentage by a fair margin from 10.6 to 14.5.
Fans and critics alike would be impressed to see Rivers have more of a point guard mentality as his game matures. With more shot takers in the second unit, Rivers has a great opportunity to become a better passer with more second unit support around him.
Take less threes, and get to the basket
Austin Rivers' career-high three-point percentage sits at 36.4 from 2013-14, and this season it is a struggling 21. Rivers is a great ball handler with obvious athletic ability, so sitting behind the line and taking threes is not necessary for him.
He made a career-high 61.5 percent of his shots within two feet of the basket last season and his best scores often come from him crossing up an opponent and blowing past with his quick step for a finish at the rim. Whenever possible, these are the shots Rivers needs to look for when he sees a lane or is matched up against a slower defender.
If a three-point shot is open he should take it. However, if the shot clock is running out and he has the ball, a drive to the basket for a foul or layup would pay off much more.
Crawford, Raymond Felton, Wesley Johnson and Speights all have a better three-point percentage than Rivers, so letting them take the deep shots and exercising his athletic ability could help. Overusing step-back threes won't help his efficiency.
Rivers' highest scoring games generally occur when he plays with high levels of focus and aggression. He operates at one tempo: fast. His crossover is lightning quick. He can get to the basket.
Rivers needs to step up as the primary ball handler in the second unit at times. While he can't be overused as a scorer, and playmaking has always been his weakness as a guard, it's what he needs to work on, especially with a new option like Speights to pull opposing centers away from the paint. This helps create kick-out options for Mo threes or for Rivers to attack the space inside.
Want your voice heard? Join the Clipperholics team!
There is always room for improvement, no matter how talented or achieving a player is. Austin Rivers is no different, and after developing into a strong defender, he could start finding an even more productive offensive role with the LA Clippers by making these changes over time.
This article originally appeared on