LA Clippers: Doc Rivers disagrees with Marreese Speights' comments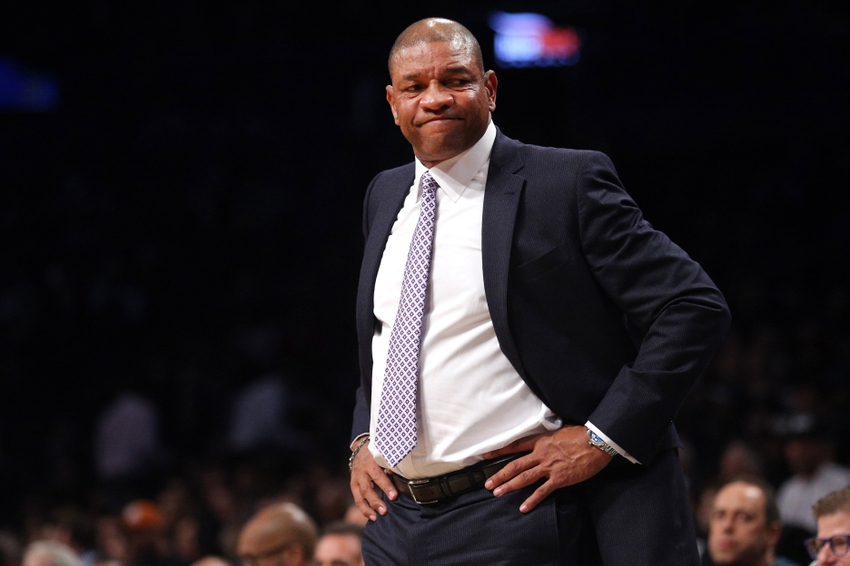 Doc Rivers disagrees with Marreese Speights' recent comments, criticizing the LA Clippers' lack of sacrifice and complacency to refs after their loss to the Golden State Warriors.
No one, players and fans alike, were happy after the LA Clippers' 115-98 loss to the Golden State Warriors on Wednesday. It was the Clippers' biggest game of the season yet and one of the most highly anticipated contests for NBA fans all around the league. After the Warriors' won the first quarter 37-19, though, and the Clippers' best comeback effort (in the second quarter) briefly cut the lead to no lower than seven points, it was a disappointing loss to say the least.
Complacency and lacking effort in particular. Chris Paul picked up a technical early on for making contact with a referee after disagreeing about a turnover call and the Clippers' intensity, ball movement and transition defense was lacklustre for most of the night.
No one was more frustrated than Marreese Speights, who called out the Clippers for a lack of sacrifice and saying that things would need to change (such as complaining to the refs or pursuing "personal goals", as he said) after years of the same thing. As you might expect, Doc Rivers disagreed with some of Speights' comments, as Dan Woike of the Orange County Register reported:
"The officiating thing, I don't think, is our issue. I will say that… (If that were the problem) then, Golden State will be struggling. They've been No. 2 the last years in techs, too. I think we need to point fingers in another direction than that."

"That's the other thing I didn't like… I don't think we have an agenda team. I think we've proven that."
So, Doc didn't dislike everything Speights said, but did disagree on the officiating and "personal agenda" comments.
The officiating issue isn't as surprising, as most people would agree that the complacency issue stems from Doc himself and Chris Paul. Just recently, in the Clippers' startling double overtime loss to the Brooklyn Nets, Doc completely lost his cool on the sideline and was ejected from the game.
However, as for the personal agenda comment, that's harder to justify. The Clippers' chemistry has improved over the years and we've seen how much of a dangerous, cohesive unit they can be at both ends of the floor, precisely as they showed us over their 14-2 start this season. They don't have players that are only focussed on personal performance, especially after all the crushing playoff eliminations they've experienced together.
That may be part of the reason why Speights corrected himself somewhat, saying he wasn't calling anyone out and maybe should have chosen his words differently:
"It's just sometimes, I should have just said it in different kind of ways. I'm on the team, man. I'm biased to this team. Every time I step on that court, I'm going to play hard for Doc, for this city, for this team. I'm not trying to call nobody out. The will to win … you just want to win. You just want to do it the right way. You want to do it for a great coach like Doc and the city of L.A. That's something that maybe I should have said a little different. I'm not calling nobody out."
J.J. Redick said to Woike that he had no problem with what Speights said, so it sounds like the team, except for Doc questioning a couple of comments, haven't dealt with much tension over the comments. Perhaps hearing another voice and the opinion of Speights to speak up like this will give the team a new voice to help change their approach on some nights.
Want your voice heard? Join the Clipperholics team!
The LA Clippers need to rally together well right now, seeing as they're 2-5 in their last seven games and have clearly lost their initial intensity and performance. They'll look to bounce back with a win on Saturday against the New Orleans Pelicans.
This article originally appeared on