LA Clippers: Doc Rivers amazed by Blake Griffin's return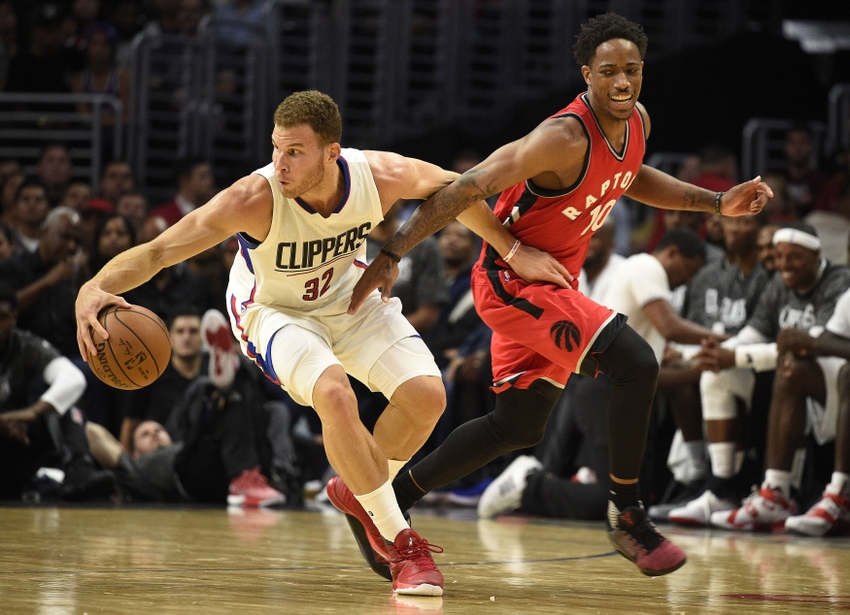 As the LA Clippers' preseason continues, Blake Griffin keeps showcasing his ability and just how explosive he is now that he's fully healthy again.
The LA Clippers had another somewhat shaky performance after a slow start in a 94-94 loss to the Utah Jazz on Monday. Primarily because of cold shooting, losing the rebounding battle 51-30, and weak bench lineups that struggled later in the game. However, one of the bright spots from the Clippers' performance was just how good Blake Griffin looked, again.
He didn't produce as much as he did against the Toronto Raptors in the Clippers' second game (he tallied 24 points on 10-of-13 shooting, eight rebounds and five assists), but still had 13 points, three rebounds and two assists with 5-of-9 shooting. In only 20 minutes, Griffin did what he could.
More to the point, he looked healthy — fully healthy. He was explosive and moved as well as fans could hope for, further reiterating just how emphatic his comeback season can be in 2016-17.
As this comeback effort has got underway at the earliest stages of the season, Doc Rivers has had some high praise for what Griffin has done so far.
"It's amazing how well he's playing and moving," Doc said before Monday's game, per Rowan Kavner of Clippers.com. "It's like he didn't miss last year. For a lot of guys, it takes a while. You come back. He's been amazing to me."
"Amazing" is certainly high praise, but it seems appropriate for how Griffin has moved on the court and some of his play after struggling with so much injury last season and being limited for months.
Griffin made a pair of threes against the Raptors to showcase his improved shot mechanics (which you can read about in full detail here), and was yet again playing with power in the post against Utah, executing an emphatic spin move past Boris Diaw and using his strength and touch that we didn't see in a  tentative, injured return for last season's playoffs.
So far, this return has been exactly what fans could have hoped for. Improved three-point range makes it that much better, and Doc is right to be amazed with everything he's done — both technically and physically — so far.
Want your voice heard? Join the Clipperholics team!
Next up, Griffin and the LA Clippers play the Portland Trail Blazers at Staples Center this Thursday at 10:30 PM ET.
This article originally appeared on