LA Clippers: Blake Griffin, Luc Mbah a Moute are an elite defensive duo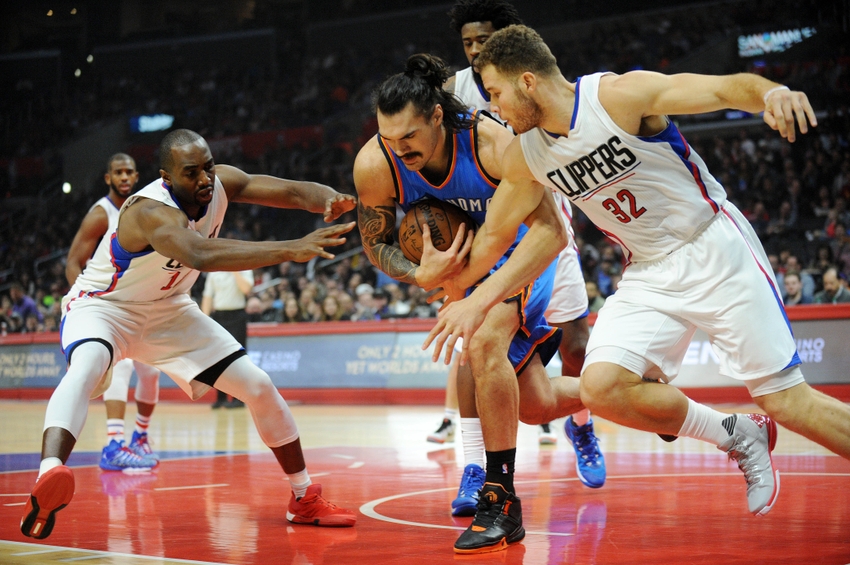 The LA Clippers' defense has been awfully impressive to start the 2016-17 NBA season, and Blake Griffin and Luc Mbah a Moute defending better than ever has been a vital part of it.
The 2016-17 NBA season is well underway and we're starting to approach the point (around the 20-game mark) where we leave the "small sample size" period behind. It's a time after a few games when we can dismiss trends as purely premature or questionable, and can't really start gauging how good teams can be. For the LA Clippers, this means we'll be able to acknowledge what they've done even more in their 12-2 start.
They now rank 2nd in both offensive and defensive efficiency, which is nothing but exceptional, even for a relatively small 14-game stretch. They've been locked in at both ends, and except for a slow start out the gate on offense and a couple of uncharacteristic defensive lapses in the last few games, they've been rock solid.
Many haven't been too hesitant in naming these Clippers as the NBA's best team right now. For that to even be considered a fair point and not laughed off due to the overpowering dominance of the Golden State Warriors says a lot about how good this Clippers team really is.
They're benefiting from more roster continuity and bolstered depth than ever before, completing a unit that's looked cohesive and engaged to support one of the top starting lineups of the last few years.
At the forefront of the starting lineup, behind an early MVP caliber spell of play from Chris Paul, has been the terrific forward duo that is Blake Griffin and Luc Mbah a Moute.
#NBA's top 5 PFs in Defensive RPM:

1: Trevor Booker (3.16)
2: Draymond (3.13)
3: Mbah a Moute (3.05)
4: Millsap (2.94)
5: Blake (2.69)

— Clipperholics (@ClipperholicsFS) November 21, 2016
They've been so good that both rank in the top five power forwards in Defensive Real Plus/Minus, a stat that estimates a player's impact when they're on the court and how many points are allowed per 100 possessions in that time.
To help the Clippers maintain the NBA's best record at 12-2, Blake and Luc have combined as an integral defensive duo in the league's top five-man lineup — L.A.'s starters — with a +10.4 net rating. For some context, their net rating more than doubles that of the reigning champion Cleveland Cavaliers' starters (+4.6).
Defense has been absolutely essential to this, and both Blake and Luc have done nothing but go above and beyond early expectations and play at the best level of their careers. Let's dive into what each player has done so well.
Blake is better than ever
Blake Griffin has never been known for defense. Despite having such explosion, he's never been a shot blocker (a career-high of 0.7 per game in 2011-12), and he's simply made an All-NBA name for himself with his incredible, constantly evolving offensive skill.
However, to start this season, he's been key on defense. A team built around All-Defensive First Team players Chris Paul and DeAndre Jordan at point guard and center is going to be successful. These two are too good by themselves, but the Clippers have still managed to improve upon their ranking of 4th in defensive efficiency last season and play less top heavy, showing more balance and fight on defense across the roster.
Like every Clipper, effort has been a key part of Griffin's improved defense. He has more quickness and agility than pretty much every big man in the game, and along with that nimbleness and brute strength, he has an imposing physical profile for defense, even if he lacks a crazy wingspan.
Partnered with an uptick in effort has been improved awareness, with Griffin operating as an ideal frontcourt partner to Jordan as someone who can help in the right positions when Jordan shifts across the lane to block a shot. Griffin has used all his physical tools better than ever to switch like crazy this year, covering anyone he needs to.
From a purely effort standpoint, plays like the following where Griffin fights through his opponents using that strength are why he's averaging a career-high 1.3 steals per game this season.
"Now, defensively, [Griffin has] really grown," Tom Thibodeau said to Broderick Turner of the Los Angeles Times after the Minnesota Timberwolves' game against the Clippers. "You can see the multiple effort plays. It's not just his individual defense. His team defense is excellent now, too."
Here's an example of some of that on-ball and team defense that Griffin provided against the Timberwolves and for the Clippers all season.
After starting the play guarding Gorgui Dieng and shifting well to the baseline to prevent Shabazz Muhammad from trying to drive past Jamal Crawford, then shifting back to stop a possible mid-range jumper from Dieng, Griffin does a good job of pressuring a high pick-and-roll run by Andrew Wiggins. Despite Wiggins' brilliant speed and long strides, Griffin stays right with him on a drive down the lane and forces him into missing a tough jumper, rather than allowing a layup opportunity.
On the following possession, Griffin switches perfectly again after Wiggins dribbles off a pick-and-roll from Karl-Anthony Towns.
Once Griffin switches onto Wiggins, he applies perfect pressure to keep him away from his preferred look of a shot at the rim. Wiggins has to pick up his dribble and uses Dieng for a quick hand-off at the arc, only to be forced into a contested three over DeAndre Jordan while Griffin stays further back to prevent a roll from Dieng or drive by Wiggins.
With Griffin playing at such a high level, both his and the Clippers' standing in the league will be far better.
Next, a look at just how impressive Luc has been, beginning what could well be a campaign for an NBA All-Defensive team.
Luc for Defensive Player of the Year!
Ok, we'd better pump the breaks there a little bit. We're only 14 games into the season. But the point is that Luc Mbah a Moute has been spectacular on defense to start this season, and he deserves some recognition for it. Potentially, if he maintains it (he likely will seeing as it's the foundation of his game) and the Clippers are able to win nearly 60 games and rank in the top few teams defensively, Luc earning enough attention to make an All-Defensive team shouldn't be out of the question.
Ahead of Blake Griffin, Luc ranks 3rd among all power forwards in Defensive Real Plus/Minus.
Partly because the Clippers' starting five is their best defensive unit and partly because Luc is such a strong defender, L.A. allow a tremendous 15.5 fewer points per 100 possessions when he's on the floor (a stifling total of just 89.6 points). Which, for some early season comparison, is lower than Chris Paul (14.1 fewer points) and only 0.1 behind the anchor that is DeAndre Jordan (15.6).
Essentially, Luc has been really, really, really good. He can be used to defend point guards to help lighten the burden on Paul, and his ability to guard every position from one to four (and even switch onto some smaller fives) is so valuable.
Even though Luc has doubled his points per game from last season to six and has shot 40 percent from three (only eight makes, but five more and he'll have passed last season's total), it's a level of consistent, aggressive, engaged and versatile defense that has allowed him to become the Clippers' missing small forward.
Some of Luc's persistent nature can be seen in the following play from a 116-92 win against the San Antonio Spurs in which Kawhi Leonard 3-of-13 from the floor and totalled only 14 points, thanks to Mbah a Moute.
Keeping Leonard firmly locked in his sights, Luc ensures a baseline fake can't turn into a cut to send Leonard around a screen from Pau Gasol. After Leonard takes the ball right under the basket, Luc fights around the screen, contends him far too closely and forces a miss.
In the next sequence, you can gauge exactly how Luc plays defense.
As he continues to cover Leonard, accepting his nightly role of guarding the best wing scorer, he sticks within an arm's reach of Leonard when moving off the ball around the three-point line. Once Leonard takes the ball at the top of the arc, Luc guards him tightly and stays with him perfectly on a drive inside, then reacts quickly to leap forward and contest a jumper as Leonard realized he wouldn't be having an easy drive to the basket against Luc.
In the Clippers' 111-80 win against the Portland Trail Blazers on November 9, Luc's defense was a major reason why Damian Lillard struggled to shoot 1-of-10 from the floor for eight points, the only game of the season he's scored less than 18. Two possessions are in the following clip, both showing how well Luc reads his opponents and uses his quick feet and length to cover attempts to penetrate the lane, even against an athletic, elite scoring point guard like Lillard.
Luc not only defends many point guards and forces opponents to plummet below their season three-point percentage by 10.4 (all the way down to 25), but also holds players to just 44.1 percent shooting at the rim (per NBA.com).
On all field goal attempts, players are shooting a useless 34.1 percent against Luc so far this season. He's been that good.
Such numbers sum up Luc Mbah a Moute's defense in a nutshell. He knows his role with the LA Clippers and he delivers it perfectly, making his limited offense far less of an issue. Yet, in fairness to his offensive game, he's provided a little more than just cutting this season. Any threat of him from three to keep his defender further from clogging the paint around Blake and Jordan is a win.
Want your voice heard? Join the Clipperholics team!
Next to improved defense from Griffin, Luc really does form a terrific forward duo to make the LA Clippers a force to be reckoned with defensively. Now that such play is part of their identity along with the NBA's 2nd ranked offense, Blake isn't the only one who deserves attention.
This article originally appeared on