LA Clippers Black Friday Breakdown: Best value on L.A.'s roster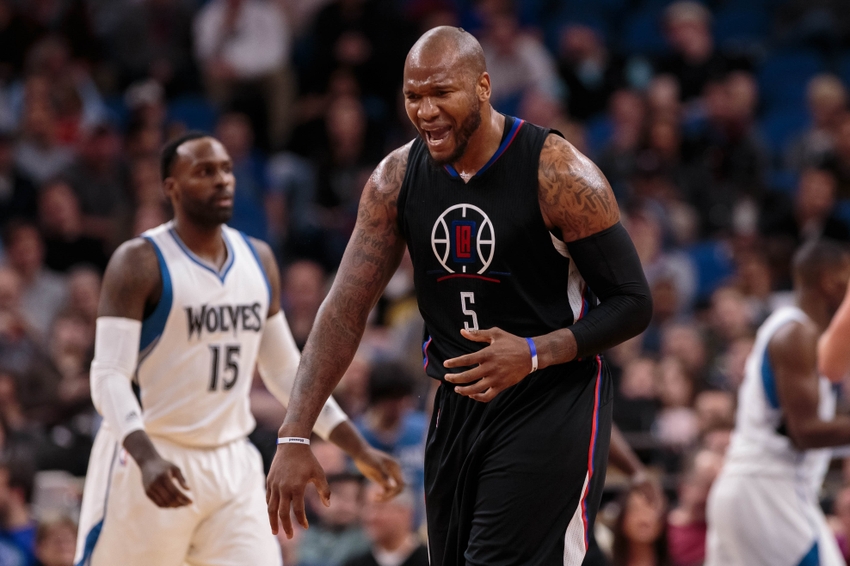 To celebrate Thanksgiving and Black Friday from an NBA standpoint, here's a look at some of the best value players the LA Clippers have on their roster.
It's now Black Friday, meaning that everyone is either lying back in a bloated turkey coma from Thanksgiving, scrolling through their phones and laptops in search of good deals online, or they shed their meat sweats fast enough to be the committed ones and actually hit the shops in person. It's a day to spend. A day to spend a lot if you were camping early out to burst through store doors the second they opened. Looking for cheap buys, especially with Christmas just a month away, is always fun after a day of indulgence. So, to put an NBA spin on things, even though no money will actually spent in the league, let's take a look at where the LA Clippers have found the best value for their money this season.
This is just for some fun. Of course, with Chris Paul playing at an MVP level and Blake Griffin having an emphatic return now that he's fully healthy and at his best again, I could name both these players as great value. They may cost the max, but when you're getting so much back and they've led the team to an early 14-2 start to the season, they're worth that price.
However, to check in with some other Clippers and see where Doc River has found the best bang for his buck this season, I'm going to take a look at some cheaper members of the team.
Whether it's a player on a lower contract or some of his new signings from free agency this summer such as Raymond Felton or Marreese Speights, this is a ranking of a few players performing above their current cheap contracts.
Let's begin.
4. Raymond Felton
Raymond Felton has often received a lot of hate for playing overweight and hurting his teams (primarily the New York Knicks a few seasons back) because of it. However, he well and truly returned to being an impactful backup with the Dallas Mavericks, and the LA Clippers should have no doubt he won't have overdone it on the turkey this year with the way he's playing and driven to help this team.
Felton has played a solid 16.9 minutes per game so far, benefiting from Doc Rivers using plenty of smaller lineups. His 48 percent three-point shooting (0.8 makes a game) has been a welcome surprise even though it won't last forever, but the way he can drive to the rim, create penetration, get the ball moving, and help defensively have all been valued so far.
And while Felton certainly isn't the NBA's best backup point guard, he isn't bad. So, for the Clippers to sign him for the veteran's minimum while others like D.J. Augustin (four years, $29 million with Orlando) and Ramon Sessions (two years, $12.5 million with Charlotte) made far more is a certainly a good deal.
In fact, Doc said that he had to beg hard for Felton to accept a minimum contact, but ultimately the chance to play a fairly large role off the bench for a top team was good enough for Felton.
This has worked out for both the Clippers and Felton so far, and kicks off this Black Friday celebration nicely.
Next, a bargain contract that Clipper Nation loves.
3. Mo' Buckets for no cost
As our own Nick Junker wrote this week (check out his piece, it's spot on), the LA Clippers have been trying to find a shooting center for years. Experiments like Byron Mullens, Spencer Hawes and Josh Smith all failed, and Cole Aldrich became the best option last season as a stellar defensive, rebounding, hook-shot-shooting backup.
Now, the Clippers have Marreese Speights. Who, despite being a weakness on defense (in his own defense, he's been better than expected in the paint alongside the rest of the team so far), has the ability to provide instant offense. It's his sole job, and along with a respectable 10.8 rebounds per 36 minutes, that's exactly what he's given the Clippers so far.
The best part about the Speights signing is how much he costs. Which, for a big man who can space the floor so well, is awfully cheap. Weaknesses aside, the Clippers paying the veteran's minimum for Speights this summer at no damage to their salary cap is a bargain for how he's helped so far. At the very least, you'd think a shooting big could fetch a few million in today's market.
Speights is playing 15.7 minutes per game and his production is what you'd expect when transferred to a per 36-minute basis. 21.8 points and 10.8 rebounds in this time span has been light work for Speights as he comes in to shoot, hit the odd turnaround jumper from the post, operate in pick-and-pop plays with the backup guards, and simply live up to the Mo' Buckets name.
Getting buckets is exactly what Speights has done so far, with an 11-point fourth quarter against the Chicago Bulls in particular serving as a glowing example of how he can provide some major second unit punch at times. He helped the Clippers pull off their biggest comeback of the season after going down by as much as 19 in the first half, scoring 11 of his 16 points in the fourth quarter (in which L.A. outscored Chicago 30-18) to help seal the 102-95 win.
In his last game against the Dallas Mavericks, a 124-104 win, Speights tallied 16 points and 12 rebounds in just 22 minuets.
Having a quick impact is what Mo' Buckets does, and he came with great value for money and fun factor for the cheapest price possible.
2. The Clippers' elite defensive stopper
FIRST TEAM ALL-DEFENSE!
It's a shout we've famously heard from an incredibly hyped-up Tony Allen in the past, looking for his respect as one of the best defensive guards in recent NBA history.
It won't be a cry we'll hear from the far more mellow Luc Mbah a Moute, but he could be deserving of similar recognition this season if he continues his trademark defense at this current level.
The All-Defensive First Team is surely out of reach, seeing as guys like Kawhi Leonard and Draymond Green will be leading the way as forwards, but the point is that Luc has been exceptional on defense so far. He's been covering point guards frequently to help ease the load on Chris Paul, and he can defend every position from one to four at a high level.
Using his persistent hustle, quick feet and length, Luc has been the defensive weapon at small forward that has helped the Clippers transform into the NBA's 2nd ranked defense so far, currently allowing only 98.2 points per 100 possessions. Luc ranks 6th among all power forwards in Defensive Plus/Minus, and helps L.A. allow 9.1 fewer points per 100 possessions when he's on the floor.
To have someone who can guard practically every position and defend the top opposing wing scorer on any given night is a huge asset, and while Luc is a very limited player offensively, what he brings at the other end of the floor is more than worth the cheap two-year, $4.5 million he re-signed for this summer on the Clippers' bi-annual exception.
On top of the defense, Luc has stepped up offensively, too. He still can't really do anything off the dribble besides attacking closeouts for the odd layup of dump off pass, but he's improved from three to hit 44 percent of his shots from deep and make 0.7 per game (1.1 per 36 minutes). While that percentage won't last, Luc hitting almost as many threes (11) as he did all last season (13) already is impressive, and any threat from him can help create more space in the paint.
If Luc can keep hitting threes at a reasonable rate (by his standards) to go along with his defense, the value for money the LA Clippers get from him is hard not to appreciate.
1. The best shooter outside of Golden State
There's no way J.J. Redick couldn't lead this Black Friday list. For only $7,377,500 this season, the LA Clippers have the best pure shooter outside of the Warriors' Splash Brothers in Golden State (Stephen Curry and Klay Thompson if you're somehow unfamiliar with their work). The only issue is that Redick is heading for a major pay rise in NBA free agency next summer, likely doubling his salary as one of the best shooting guards on the market who continues to play at the best level of his career.
However, we won't worry about the financial issues that may arise for the Clippers next year. For now, we'll look at what they do have, and that's Redick for an absolute bargain.
At $7.37 million, Redick is only the sixth highest paid player on the team, obviously placed behind the Big 3 and now Jamal Crawford and Austin Rivers following their big contracts from this year's free agency. Yet, because of the way things have worked out with Redick getting his last contract in a far lower salary cap climate, he's an absolute steal right now.
He had a career year in 2014-15 and improved yet again in 2015-16. Last season, he averaged 16.3 points per game, shot career-highs of 48 percent from the floor and a league-best 47.5 percent from three with 2.7 makes a night. Along with career-highs in PER (17.5) and true shooting percentage (63.2) last season, Redick well and truly emphasized how he's the perfect two guard for the Clippers' offense.
Besides being an ideal shooting partner next to Chris Paul and a deadly trailer in transition, Redick operates like clockwork with his tireless off-ball movement around screens and catch-and-shoot threat, creating space around DeAndre Jordan and Blake Griffin inside. Redick is the perfect complimentary piece to the pick-and-roll play of the Clippers, and with either Paul at point or Griffin having the ability to roll and pass, Redick can always get good looks.
This season, he's at it again. And his 15.1 points per game looks far better when you see that he's shooting new career-highs of 48.8 percent overall and 48.1 percent from three. For his efficiency, production and fit, Redick is amazing value. There's no doubt Doc will try to keep him next year.
Want your voice heard? Join the Clipperholics team!
Happy Black Friday, and keep enjoying the LA Clippers' 14-2 start.
This article originally appeared on