LA Clippers: 5 big questions for the 2016-17 NBA season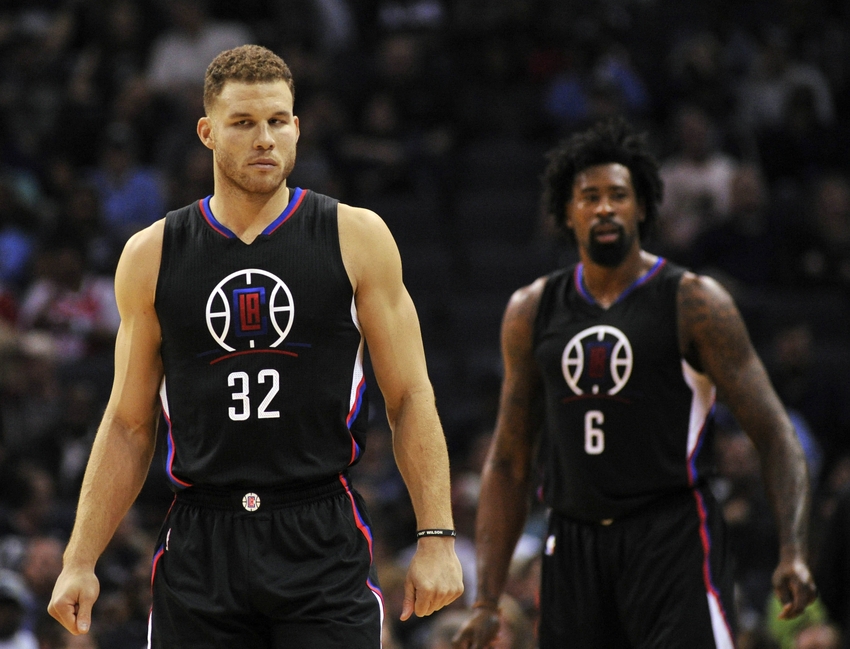 After commanding wins against the San Antonio Spurs and Detroit Pistons, the LA Clippers (6-1) have started the 2016-17 NBA season strong. Here are five key questions to ask about the team going forward, from performance to the MVP race.
We may be just seven games in the 2016-17 NBA season, but it's safe to say the LA Clippers have surpassed expectations at this initial stage of their new campaign. Their offense hadn't really taken off until the last couple games, yet they've still found a way to start with the second best record in the league at 6-1, tied with the Oklahoma City Thunder and just one loss behind the defending champion Cleveland Cavaliers.
Defense has powered the Clippers forward. They've been smothering their opponents so far, fully locked in across the roster and playing with the kind of intensity, interior defense, and steal rate (3rd with 10.3 per game) to lead the league in defensive efficiency, allowing only 90.3 points per 100 possessions.
It's been the staple of their performance so far, but after a 116-92 win against the San Antonio Spurs (their biggest win margin against the Spurs in franchise history) and a thoroughly overpowering 114-82 win against the Detroit Pistons on Monday, the offense has been clicking, too.
We're going to look at more than that here, though.
Let's dive into some big-picture questions, considering what may happen over the course of the season.
From whether Chris Paul or Blake Griffin can be crowned as MVP to the Clippers' potential seed in the Western Conference, here are some key questions to think about this year. Starting with one of the most important additions to the bench.
Can Mo' Buckets outscore Jamal Crawford?
No one on the Clippers has shot well from three-point range to start this season except for Chris Paul. Raymond Felton has shot 66.7 percent so far, but with only six makes his sample is hardly worth paying much attention to. Paul, meanwhile, has been impressive, making 42.4 percent of his shots from beyond the arc with two makes a game.
Outside of these two point guards, it's only J.J. Redick finding success. After a cold start, he's find some rhythm over the last couple of games to reach 40.7 percent. Everyone else is in the twenties.
Jamal Crawford has never been a highly efficient scorer, but he's going to be counted upon this season to provide some three-point punch and shot creation off the bench. He's the only second unit guard the Clippers have that can truly create his own shot off the dribble, rather than leaning on drives such as Felton.
However, if we do see some signs of age from the NBA's Benjamin Button that is Crawford, perhaps Marreese Speights will be able to capitalize as the Clippers' new leading bench scorer.
For a start, Speights has always shown that he's nothing but aggressive when entering the game. He won't hesitate to fire in space, and thankfully he has the ability to be efficient in short bursts and provide spells of instant offense. He's also been cool from three so far with one make a night at a 29.2 percent rate, but he's going to find a lot of space when guys like Austin Rivers, Felton and Crawford are attacking inside to kick out, or he can be used well in the pick-and-pop, as we've seen at times already.
So far, in his 15.9 minutes per game, Speights is averaging 10.3 points. Translate that to his average per 36 minutes, and he's at 23.8. Crawford, meanwhile, is ever so slightly ahead at 10.7.
It isn't too hard to see Speights being aggressive enough and open enough to average around 11-12 points per game when his threes start falling, and if Crawford gives up some shots to let that happen, there's a chance we could see Mo Buckets as the more productive spark plug. Even if that isn't the case, his production is a vital part of the bench and the team's success.
Can the defense stay at this level?
Seven games into the 2016-17 season, it's the LA Clippers' defense that has led them to a 6-1 record.
We knew from watching the team last season that they'd improved defensively. After ranking 15th in defensive efficiency in 2014-15 and shooting up to 4th in 2015-16, an improved level of intensity, improvement from guys like Austin Rivers, and the arrival of Luc Mbah a Moute and Cole Aldrich enabled the Clippers to become more of a two-way team. After losing Aldrich in free agency to the richer Minnesota Timberwolves, though, the interior defense of the second unit has taken a hit, but it's hardly been too troubling so far.
It's impossible to deny that Aldrich is a far better defender, rebounder and rim protector than new backup center Marreese Speights, but the Clippers as a whole and the other defensive weapons they have off the bench have been compensating awfully well for the loss of Aldrich.
High pressure on ball handlers, timely switching, improved rebounding and overall intensity have this Clippers team leading the NBA in defensive efficiency. Seriously, they rank 1st. In allowing a mere 90.3 points per 100 possessions, they're easily ahead of 2nd place Atlanta (94), too.
Even though we could well see a drop off from 1st place at some point, the Clippers have already handled themselves incredibly well on defense against a few tough teams like the Portland Trail Blazers, Memphis Grizzlies, Spurs and Detroit Pistons.
The biggest question mark right now is how Speights can continue to get by as the obvious weakness, whether he keep positioning himself well, draws a host of charge calls (he drew four against Utah alone), and provides effort around the basket.
He will be exposed sometimes and it can't be avoided. But with the return of Griffin to bring more size and rebounding, it really all comes down to how locked in the team can be.
If the focus, effort and communication is there as it has been, and the bench continues to impress as it has, the Clippers' overall defense could be a highly pleasant surprise this season.
Can the Clippers finish 2nd in the West?
In Saturday's matchup between the likely 2nd and 3rd seeds in the Western Conference, the team you'd often doubt more came out on top. But things are different this year.
Barring any serious injuries, the fight for the second spot will come down to the LA Clippers and San Antonio Spurs, the clear class of the West behind the overpowered Warriors. They have more talent and experience than those behind them such as the Utah Jazz or Portland Trail Blazers, and Saturday's game provided us a glimpse at how both L.A. and San Antonio are faring so far this season against elite opponents.
The Clippers dominated. Except for a Spurs run that saw them close the gap to single digits in the second quarter, the Clippers took control. From Blake Griffin's uncontainable 28 points to the way the team took over in transition with 27 points off turnovers, some of the advantages the Clippers have against the Spurs were on show: their frontcourt is far more athletic in both the pick-and-roll and transition, they can outrun the Spurs, and they have the benefit of two elite floor generals in Paul and Griffin. They simply have a genuine shot at the 2nd seed.
Of course, this is one game. This can't be used to predict who finishes behind the Warriors, but these advantages the Clippers have are known regardless, and the issues the Spurs may have as the season goes on are clear, despite their stellar first few games behind Kawhi Leonard's continued offensive improvement that (rightfully) made everyone excited.
Pau Gasol and David Lee aren't going to help the Spurs' defense. Losing Tim Duncan, no matter how many grey hairs entered his beard at 40, was still the anchor of the interior defense, and neither Gasol or Lee can hold down the paint as he could. When drawn away from the basket against athletic teams like the Clippers, they can be attacked when switched onto guards or by explosive bigs rolling to the rim. It's hard to not see the Spurs dropping off defensively because of it (they're currently 9th in defensive efficiency), despite Dewayne Dedmon's ability as the new young center and the exceptional talent of Kawhi.
Meanwhile, if it can be maintained to a fair extent, the Clippers are completely locked in defensively and have been able to cover for Marreese Speights' defense well so far. On offense, all the talent they have and the return of Griffin could see them surpass the output of a Leonard and Aldridge led Spurs team.
We'll wait and see at this early stage of the season, but my prediction of the Clippers winning 58 games to narrowly take the 2nd seed ahead of the Spurs is staying right now.
Chris or Blake for MVP?
As I covered on the last page, my prediction for this season is that the LA Clippers win 58 games to take the 2nd seed in the Western Conference just ahead of the Spurs. If that's the case and the Clippers do assert themselves on a level that commands respect as the closest team out West to the Warriors, winning the most games in the Lob City era in the process, the Clips should easily have a high NBA MVP candidate.
Whether Chris Paul or Blake Griffin takes the lead is something we'll have to see develop as the year goes on, witnessing which player emerges to deliver the more impressive season. But if the Clippers find such success and convince people that they could be ready to finally make the Conference Finals, one of their superstars pushing for MVP is a definite possibility.
At this stage, everything indicates that Griffin could be ready for the best season of his career. On the other hand, if Paul shows he still won't take a step back as his thirties continue and he sets a stellar example for two-way point guard play yet again, producing close to 20 points and 10 assists per game, he could well be near the forefront of the race.
Paul also has the heartfelt chance to pick up votes if voters choose to reward him for such success after so many years of excellence and no MVPs or rings to show for it.
There are always multiple names to consider, but many can be eliminated right away.
No one whose team finished outside the top two seeds in their conference has been crowned MVP since Michael Jordan won his first in 1988. So, unless this near 30-year trend ends out of the blue, guys like Russell Westbrook, James Harden and Anthony Davis will likely be left out. Even if they have more value to their teams than others, the Pelicans won't make the playoff cut and it's possible that at least one of the Thunder or Rockets won't make it either.
Others can be eliminated, too. LeBron James will likely be coasting for most of the season, although him practically averaging a triple-double so far shows how amazing coasting-Bron still is. As for the likes of Stephen Curry and Kevin Durant, they've certainly lowered their chances somewhat by teaming up together and reducing how much they'll stand out individually on a team that looks unfairly talented, anyway.
Kawhi Leonard has had a spectacular start to the season and is showing off improved handles and shot creation already. If the Spurs can win close to 60 games, he could well take home MVP. When gauging and forecasting the MVP landscape, he's a popular pick for good reason.
However, if the Spurs do wind up dropping off a little thanks to age and a weakened frontcourt, Paul or Griffin are definitely in with a shot.
Will Austin Rivers break out?
Austin Rivers took a noticeable step forward last season. Yet, no matter what strengths he can improve and showcase, he receives more than his fair share of criticism. Even by some fans of the LA Clippers, the repetitive father-son argument that Doc needs to go and Austin is no good continues.
Of course, there are weaknesses. Rivers isn't a great passer or point guard, he's off to another cold start from three-point range this season (21.1 percent) and his free throw efficiency for a guard is surprisingly low (63.6 for his career). Such issues and his shot selection have rightfully bothered fans, and he'll still continue to deal with the same issues going forward.
However, it's impossible to deny we've seen improvement from Rivers.
His defense was terrific last season and went a long way to helping alleviate some pressure from Chris Paul as Rivers (along with Luc Mbah a Moute) can be used to defend an opponent's best guard. Rivers has elevated his intensity, fights hard around screens to contest outside, and uses his energy and lateral quickness to consistently cover drives well.
Another positive for Rivers last season, before the sheer heart he showed in that stellar, one-eyed playoff performance, was shooting just shy of 40 percent from three after the All-Star break. So far, we're yet to see that consistency this season. Hopefully for the Clippers it emerges as their offense hits full swing.
The real question, and a vital question for the Clippers' bench as a whole, is whether Rivers can take another step forward this year. Can he be more of a three-point threat? Will his shot selection improve? Will we see him make the most of his quick first step and finishing ability to drive more? Can he create more looks for others?
After seven games, he's just edged past his previous career-high of points per game (8.9, set last season) with 9.1, showing how he can be a spark plug at times with a 19-point showing in the second game against Utah. He's cooled down since then, but his strengths and talents are clear; everything comes down to whether his IQ improves and his game expands as it needs to if he's going to be a bigger contributor.
Want your voice heard? Join the Clipperholics team!
The LA Clippers' bench has looked far better over this initial stage of the season than anyone could have expected, and whether Austin steps forward to coincide with this improvement is something to keep a keen eye on.
This article originally appeared on