Kyrie Irving's Intelligent Game Allows Him To Lead Cavs Past Pistons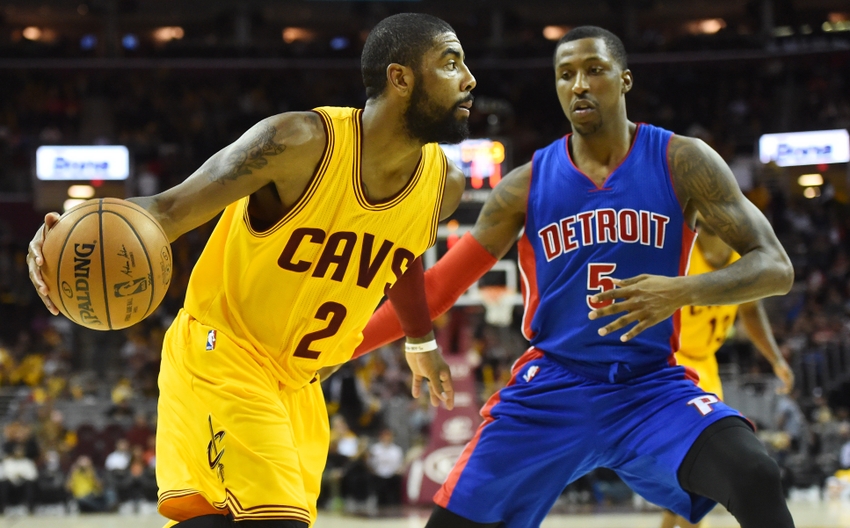 Kyrie Irving was elite in all areas of the game as he led the Cleveland Cavaliers past the Detroit Pistons.
Kyrie Irving had 25 points and 11 assists when he left The Q Arena. In getting those 25 points, Irving was sensational and was efficient from all areas of the floor. He went 11-14 from the field and 3-4 from three-point range. What's more, he did all this in only three quarters of action.
Behind his intelligent play, the Cleveland Cavaliers blew out the Detroit Pistons early. The score was 56-72 at the end of the third quarter.
While Irving hadn't played at the pace Tyronn Lue wanted this season, he made quick decisions tonight against the Detroit Pistons that were also great ones. In the pick-and-roll and dribble-drives to the paint, Irving showed didn't force the issue and took what the defense gave him as a scorer.
Irving also made some impressive assists that will hopefully become a staple of his game. He found Tristan Thompson a few times.
Thompson is his starting center and it's imperative for the two to have a good connection in the pick-and-roll for the game to be easier on Irving. Once Thompson becomes a threat inside, the defense faces a tall task and a tough decision.
They'll want to protect the rim but they'll also stop Irving from nailing a jump shot. Irving is shooting 40.0 percent on shots from 10-16 feet, which isn't bad, but far below his career average of 44.0 percent from that range.
Irving also found James in the pick-and-roll for an impressive assist and used LeBron James on a pick-and pop to take advantage of their efficiency from the midrange.
The pick-and-pop is action that Irving should also be able to run with Kevin Love. Love is shooting 54.5 percent on shots from 10-16 feet away from the rim.
Of course, it's easy to say that the Cleveland Cavaliers will need Irving to continue this style of play for their offense to perform at an optimal level.
Cavs are 16-5 when Irving gets 10 assists or more, and that includes the pre-LeBron years.

— Greg Swartz (@CavsGregBR) November 19, 2016
When Irving has 10 or more assists in a game, the Cavs are 16-5 since he entered the league. For this Cavs team, Irving's abilities as a facilitator allows James to be more efficient. If Irving is finding him in his hot spots, James doesn't have rely on isolation plays or take heavily contested shots at the rim to score.
Irving's abilities as a facilitator also allows James to focus more on defense. Detroit Pistons forwards Marcus Morris (3-11) and Tobias Harris (3-10) were a combined 6-21 from the field.
That's 28.5 percent and the lowest field goal percentage for a pair of forwards this season outside of the Philadelphia 76ers tandem of Dario Saric and Robert Covington. Saric and Covington went 2-15 from the field in their November 6th loss to the Cleveland Cavaliers. With all due respect to Saric and Covington, Harris and Morris are better players. Therefore, the King's defense on the Pistons pair is more impressive.
If the Cleveland Cavaliers can have two elite facilitators in the starting unit, teams will find it hard to contain their offense.
In an interview with basketball insider Sam Amico, James gave praise to Irving's performance on Friday night. He said, "The kid was making all the right passes, all the right plays," James said. "(He was) just running the game."
What did you think of the Kyrie Irving and the Cleveland Cavaliers performance against the Detroit Pistons? Let us know in the comments section or Twitter @KJG_NBA.
More from King James Gospel
This article originally appeared on