Kyrie Irving Continues Streak Of 20-Point Games
Zack Geoghegan/FanSided via Hoops Habit

Fansided
The Cleveland Cavaliers demolished the Detroit Pistons on Tuesday night 128-96 while Kyrie Irving scored 26 points, his 16th straight game with at least 20 points.
Cleveland Cavaliers point guard Kyrie Irving has been on a scoring rampage lately and his current streak of 16 straight games with at least 20 or more points is a personal best for the ankle-breaking mastermind.
On Tuesday night against the Pistons, Kyrie scored 26 points and tallied six assists playing only three quarters.
Uncle Drew's consistency couldn't be coming at a better time.
The Cavaliers have been "struggling" for the better half of the month of March.
LeBron James has been resting, Kevin Love is still working towards his return from injury, J.R. Smith just came back from his injury, Kyle Korver has missed the last three games and Andrew Bogut's body broke before he could even play a minute of actual game time.
That is an excessive amount of unnecessary issues and Kyrie's scoring prowess has been the silver lining during the Cavs' most recent stretch that saw them go 3-5, including three straight losses to teams with sub-.500 records.
During Kyrie's 16-game streak, he hasn't necessarily been putting up gaudy shooting numbers by his standards.
Averaging 27.9 points per game during the stretch — 2.7 more points per game than his season average — while shooting 48.4 percent from the field, 36.8 percent from behind the arc and 92.7 percent from the free throw line.
Anyone that shoots better than 48 percent from the field would presumably be having an incredibly efficient season — which Kyrie is — but he's honestly playing right at his career averages.
Kyrie is a career 45.6 percent field goal scorer, 38 percent 3-point shooter, and 87.1 percent free throw shooter.
While Kyrie is averaging a few percentage points better from the field and the charity stripe compared to the rest of his career, he's actually shooting worse from 3 during this scoring stretch than he usually does.
What's Kyrie doing differently? To put it simply, he's just shooting.
Kyrie has always been an extremely confident scorer (see last year's NBA Finals) but at this point he's just showing off.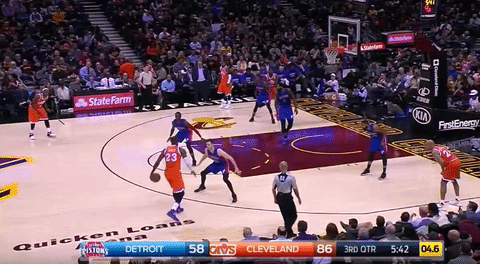 Irving doesn't need any space to get off a shot, actually, he doesn't want any space. He seemingly wants to shoot the ball in someone's eye while they shove a hand in his face.
Kyrie is thriving off embarrassing his opponents, something he's been doing his whole career, however now he's appears to be toying with them.
The score-first point guard has also averaged 5.9 assists per game during the last 16 games, higher than his career average. His ability to penetrate the paint with ease has opened up space for the millions of different shooters that roam the perimeter.
LeBron has recorded a triple-double in four of his last seven games and with the return of J.R. Smith plus the recent signing of Larry Sanders, the Cavs are in a better position to keep their bad losses behind them.
With everything slowly shifting back in favor of the Cavaliers, if Kyrie can continue his excellent scoring streak, the Cavs could head into the playoffs with their highly potent offense working like a well-fueled machine.
This article originally appeared on