Kyrie Irving Chasing Kobe Bryant's Mamba Mentality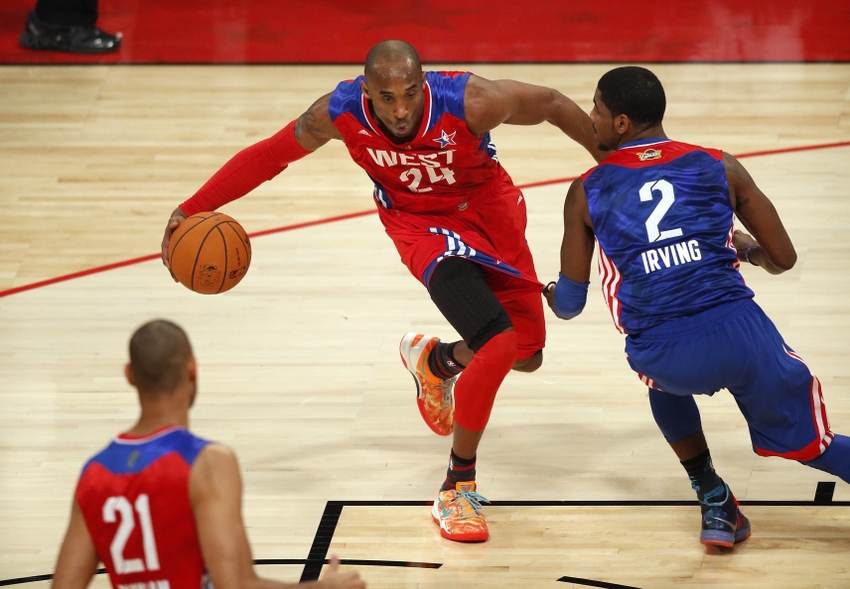 Coming a long way from the youngster that challenged Kobe Bryant at USA Basketball 2012 Summer Olympics training camp in Las Vegas, Kyrie Irving is trying to channel his inner Mamba this season
Kyrie Irving's talent has always been clear, but skill is not the only part of greatness in the NBA.
His current Cleveland Cavaliers' head coach, and former teammate of Kobe Bryant, Tyronn Lue expressed this to Irving last season when he took over the leading coaching job and challenged him to step up and sincerely adopt the "Mamba Mentality" he so desperately wanted to embody.
"I told him, 'You want to have a Kobe mentality?'" Lue recounted to Bleacher Report. "Kobe didn't give a f–k. He don't care. Whatever the outside is saying, he don't care. Kobe's going to be Kobe.'"
As Lue knew first-hand from playing with Bryant for 3 years and winning two NBA titles, you could not find a more intense and cutthroat player than the Mamba.
His drive, later coined "Mamba Mentality", was magnified even more by the jovial and care-free nature of his superstar teammate Shaquille O'Neal, who often clashed over their differences in work ethic and practice effort.
In his excellent article for Bleacher Report, Kevin Ding points out that the Kyrie-Lebron James dynamic shares many similarities with the Kobe-Shaq relationship back in 2000.
Kyrie and Kobe: two young, budding superstars trying to stake their claim as the go-to player on their team. Yet, in their way, are two of the most dominant players to ever play the game in Shaq and Lebron.
However, the Kyrie-Lebron relationship appears to be much less volatile than the Lakers former duo and Cavaliers fans hope it stays that way. Lebron is still clearly the team leader and MVP candidate this year, but it won't stay that way forever.
Coach Lue and the organization hope that Irving choosing to take, and make, that game-winning shot in Game 7 of the 2016 NBA Finals was only the beginning of many big moments to come.
Even Bryant himself realized the potential in Irving last season when he commented that James didn't always have the right mentality to push his teammates to be better. "You have to have somebody that's going to create that tension. Maybe it's Kyrie?" he questioned.
If Kyrie Irving really wants to take the next step and join the NBA's elite, as well as leading his team back to the NBA Finals, he will have to follow Lue's advice and adopt the right mindset.
Once he truly adopts this "Mamba Mentality", he will be tough for anyone to stop, just like it was for Kobe for so many years.
This article originally appeared on