Kyle Lowry can make hay against Celtics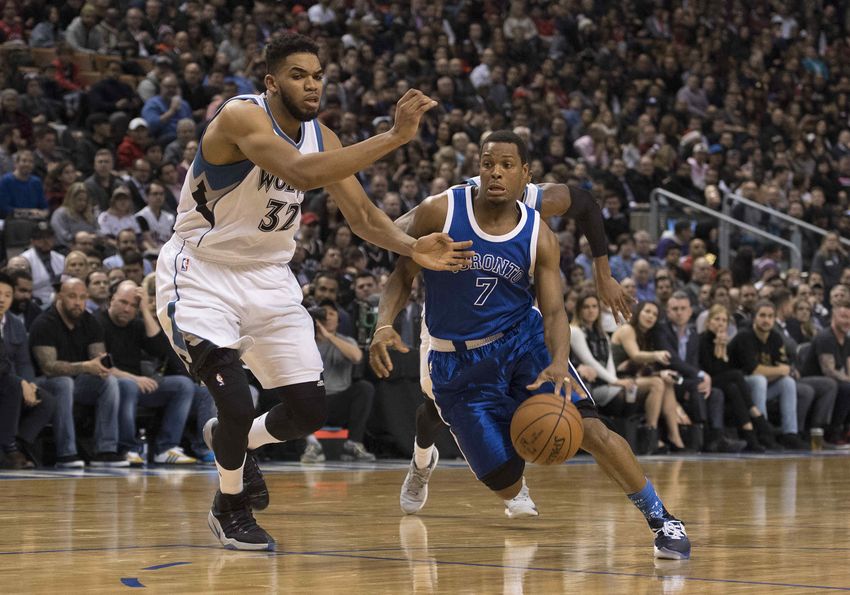 The Raptors leave the Air Canada Centre after 5 wins in 6 tries. They have been solid (6-3) on the road, and will need their best game against the Celtics.
The Toronto Raptors are in Boston tonight for a tussle with the Celtics. So far this season, the Atlantic Division has been exactly in line with predictions. The Celtics and Raptors are battling for top spot, while the New York Knicks are above .500 and lurking. The Brooklyn Nets and Philadelphia 76ers are firmly embedded in the basement. Either team's emergence would be a considerable surprise.
The Celtics will be without the services of their sparkplug Smurf guard, Isaiah Thomas. Boston's leading scorer has a groin injury and didn't play in their Wednesday night game. His absence didn't seem to cause the Celtics any problems, as they steamrolled the Magic in Orlando.
The Raptors are on a back to back. I was flummoxed with coach Dwane Casey's playing time decisions last night against the T'Wolves. Yes, I understand the need to nail down a victory, and that the Raptors were down by a point entering the fourth quarter. But surely we didn't need DeMar DeRozan and Kyle Lowry, looking spiffy in their Huskies blues, on the floor until the last few seconds.
Let's hope Raptors fatigue is not a factor in this game. The Celtics are a strong and deep team which features Thomas, free-agent prize Al Horford and a lengthy list of veteran pests.
I'll guess Marcus Smart will start at the point tonight. He's still learning his craft, but is big and tough.
Toronto got an excellent scoring game from Jonas Valanciunas against Minnesota, but his work on the boards was unsatisfactory. JV will battle Horford and beloved ex-Raptor Amir Johnson tonight. DeMar DeRozan will need to be more interested than usual in the defensive side of the game. He's matched against Avery Bradley, Boston's second-highest scorer…and their top rebounder, despite being generously listed at 6'2″.
Boston is a fire-and-fall-back team. Even their centres, Horford and Kelly Olynyk, are happy to bomb away from beyond the arc. The Celtics are sixth in 3-point attempts, while the Raptors are 22nd. Our guys are third in percentage, while they are eleventh.
I'm concerned about the Raptors' ability to stay in the game through 48 minutes. However, Boston has to be more bothered by Thomas' absence.
Raptors 112 – Celtics 105
More from Raptors Rapture
This article originally appeared on