Kristaps Porzingis dunks all over Mason Plumlee (Video)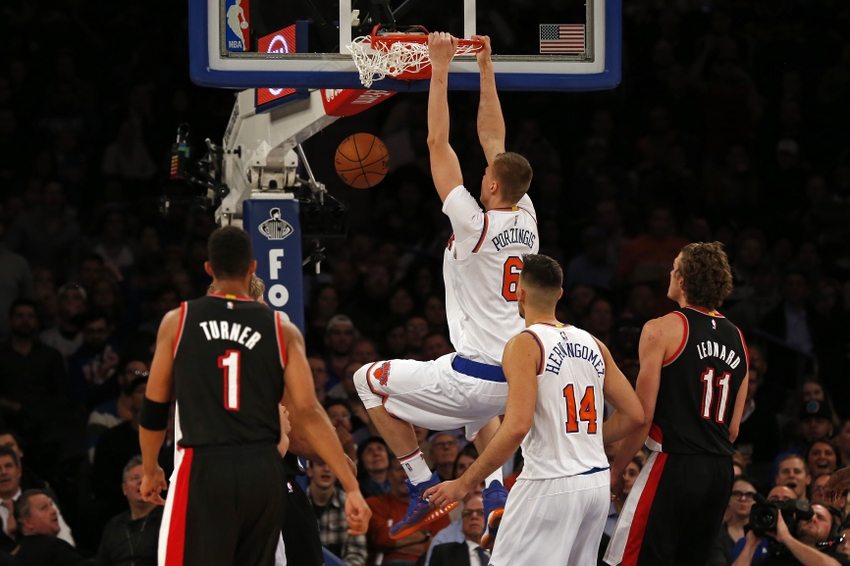 Kristaps Porzingis just added to his ever-growing legacy on Tuesday night with this poster dunk on Mason Plumlee
You know that it's a good night in the NBA when we can all get a Kristaps Porzingis highlight to fawn over. Tuesday night was indeed one of those nights.
Tuesday night the New York Knicks are at home inside Madison Square Garden taking on the Portland Trail Blazers. In the second quarter of this one, that's where the hammer was dropped by everyone's favorite Latvian NBA player.
Kristaps drove the lane and then, to the delight of everyone in the crowd, he proceeded to just dunk all over Mason Plumlee.
Porzingis putting Plumlee on a poster #Porzingod pic.twitter.com/k5nY65jgEg

— gifdsports (@gifdsports) November 23, 2016

Yep, you can just add this highlight to the list that this young man is growing by leaps and bounds. This one was a little more significant because he dunked over a Plumlee, and really, doesn't everyone wanna say that they dunked over a Plumlee at some point in their career? Of course they do.
In all seriousness, though, it just becomes more and more amazing watching this young man develop as a member of the Knicks. A lot of people forget that he was not expected to be this good, this fast. He was supposed to be a player who would need some time to develop these skills, but it's become pretty apparent that he has no interest in the whole development process. He wants to dominate now and that's exactly what he's doing.
Now if only the Knicks could get a solid team around him then everyone will be happy and the organization will be in much better shape.
More from FanSided
This article originally appeared on