Kobe Bryant Doesn't Miss The Lakers…And D'Angelo Russell is Fine With That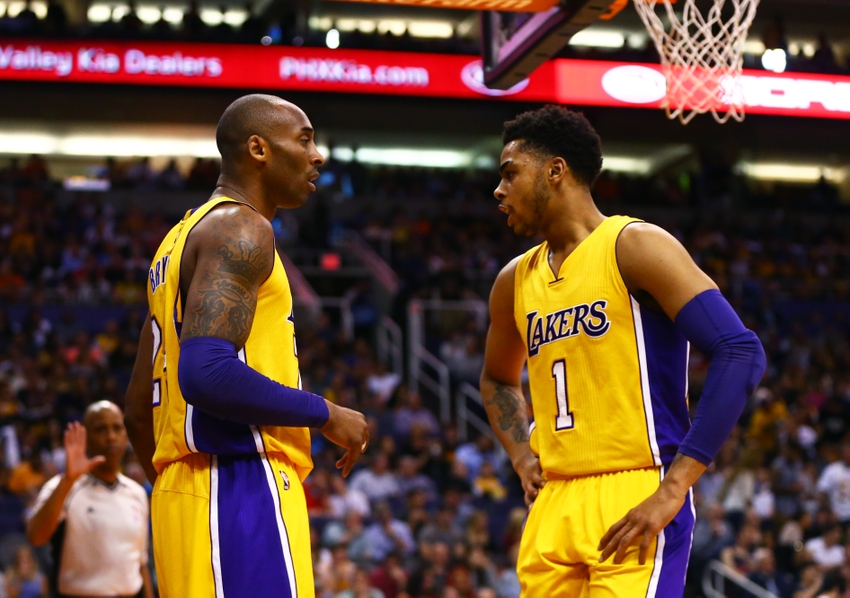 In this maiden season of the post-Kobe Bryant era, the youthful Lakers squad are happy to finally share the spotlight with each other, while Kobe is actually enjoying being out of it
For the past 20 years, Kobe Bryant has been synonymous with basketball in Los Angeles. He gave us some of the most memorable moments on the way to 5 NBA titles.
Unfortunately, all good things must come to an end eventually. While the Mamba technically played for 20 seasons, his body and level of play never truly recovered after his April 2013 Achilles tear.
The loss of Bryant was tough for the Lakers franchise, but they had prepared the roster well for the inevitable.
Of course, 3 Top-10 draft picks in the past three years doesn't hurt. Yet, the major question was who would step up and fill the massive void left by Kobe's departure, in terms of his on court production and leadership supplied.
Th team does have a few proven veterans that will surely provide valuable experience and knowledge throughout the season. However, the role of leader will likely be shared by many of Los Angeles' young guys as the Lakers aim towards a more team-centric philosophy.
As guard Jordan Clarkson recently told ESPN The Magazine, the Lakers will look to take a page out of the Golden State Warrior's book, with the help of new head coach Luke Walton.
"We're all about playing together now," Clarkson says. "It's not about one guy anymore. It's about sacrificing for the team."
If you're thinking, "Wow, is that a not-so-subtle shot at Kobe?", D'Angelo Russell is way ahead of you. "Kobe deserved every bit of attention he got in his last year, but there's freedom in Kobe not being around. There's no one leader, no face of the Lakers," Russell says.
While it may seem like Russell simply didn't enjoy his rookie year coinciding with the swan song of an all-time NBA legend, that's not the case at all. As Russell discussed with Adrian Wojnarowski of The Vertical, Kobe's "Farewell Tour" was just one of many things that made last season tough for the entire squad.
"…So when I realized it was Kobe's last year, so many more things started to play its part, as far as his farewell tour and stuff like that," said Russell. "We had so many new faces and just everything was new, so it wasn't going to click right away and it never clicked."
Besides Kobe's retirement, the Lakers had to deal with a number of young players finding their footing in the NBA, a place-holder, old-school coach that many of the players never connected with, and the everyday circus of playing and living in Los Angeles. There was a lot to handle for any team, let alone one in the beginning stages of a rebuilding era.
For Kobe, stepping away from the hardwood seemed like an impossible task after such a lengthy career. Nevertheless, currently he shows no signs of pulling a Michael Jordan and coming out of retirement.
When asked if he missed being out on the court with the rest of the NBA players, he replied, "Not even a little bit…It's strange to think a couple years ago, to be in this emotional space would be unfathomable. But I mean not even a smidge…"
To hear Bryant, the ultimate cut-throat competitor and NBA warrior, say that he doesn't miss playing the game is quite surprising. It's kind of like saying the Philadelphia 76ers got tired of losing. Just doesn't seem like it would happen right?
Despite being happily retired, Bryant did admit to watching a few NBA games since the season recently started. Like all of us, the Mamba was impressed by the individual performances put on by the likes of Anthony Davis and Russell Westbrook. "Normally at the start of the season you kind of have to work yourself into a rhythm. This year they just came out of the gates smoking. That's rare."
Bryant may be playing coy about how much NBA action he has really been watching though. According to Russell, he spoke to Kobe before the Lakers began their season to get some words of advice for the upcoming year. "I talked to Kobe [Bryant] yesterday, just letting him know I was ready. He told me I looked ready. Coming from him that was great to hear going into opening night."
When some people look at the Lakers this season, they will wish Kobe was still playing. Others will be impressed by Russell and his potential to be the new "face" of the Lakers.
For the sake of the franchise and Lakers fans, hopefully it lands somewhere in the middle of those two. An inspired Russell taking charge, but also supported by his fellow young-guns, as the Lake Show tries to move on from the ghost of Kobe Bryant.
And I'm sure the Mamba will be watching the whole way, whether he wants to admit it or not…
This article originally appeared on