Knicks Rumors: Phil Jackson, Players Upset With Offense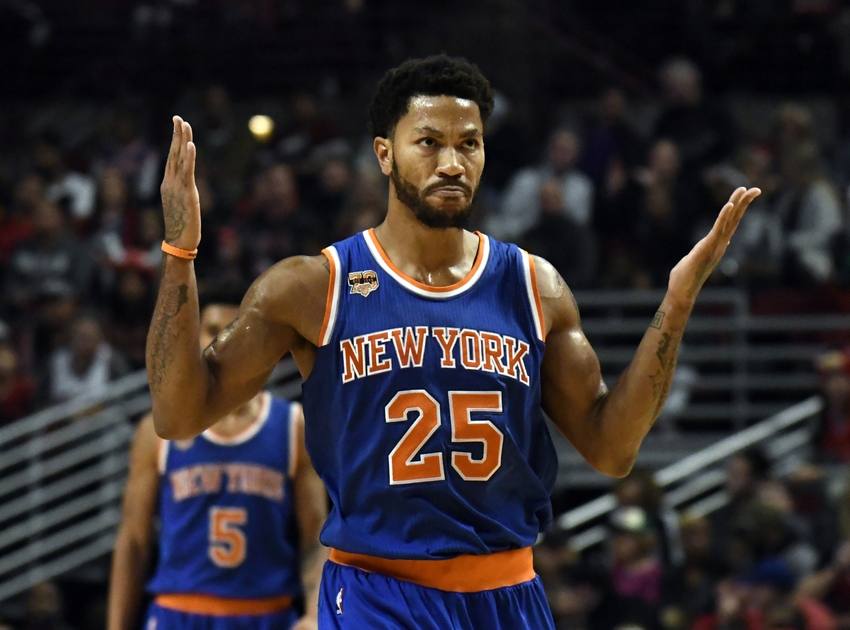 The New York Knicks are off to a 2-4 start. Team president Phil Jackson and a number of players are reportedly upset with the offense.
---
The New York Knicks have one of the better rosters in the NBA. Carmelo Anthony, Joakim Noah, and Derrick Rose are all decorated players, Courtney Lee is one of the better shooting guards in the Association, and Kristaps Porzingis is a rising star.
New York also has a recently formed roster that appears to be having more trouble than expected with adjusting to their new team and roles.
New York is 2-4 through six games—a record that includes a pair of losses in winnable outings against the Detroit Pistons and Utah Jazz. The defense has been the biggest issue, but it's the offense that appears to be causing the most commotion within the organization.
According to Ian Begley of ESPN New York, team president Phil Jackson isn't happy with the way the offense is being run after six games.
Phil Jackson hasn't been pleased with the New York Knicks' performance on offense — particularly with the amount of times the team has run the triangle offense — during their 2-4 start, league sources told ESPN.
That's a shocking rumor considering Jackson and Jeff Hornacek have publicly addressed the need to diversify the offense.
The Knicks have run the triangle offense coming off of timeouts and dead balls, but it's rarely been used in other capacities. That hasn't stopped New York from averaging a respectable 104.0 points per 100 possessions.
That ranks No. 13 in the NBA, which is a full 13 spots better than the Knicks' rank of No. 26 in offensive efficiency in 2015-16.
Hornacek is currently in his first season as head coach of the New York Knicks after spending the previous three years with the Phoenix Suns. He's done an excellent job of helping his guards excel in the past, but his current players don't seem to be as pleased.
Per Begley, Jackson isn't the only member of the Knicks who's unhappy with the current state of the offense.
According to sources, some Knicks players have expressed their displeasure over the offense because they feel it doesn't suit their personnel, particularly point guard Derrick Rose, who has traditionally thrived when using pick and rolls.
That's a rather surprising revelation.
Rose is averaging 16.3 points and 4.8 assists on 44.2 percent shooting through six games—more efficient production than what he put forth in 2015-16. Rose has also one double-double through six games after recording one in 66 games in 2015-16.
All things considered, Rose has already appeared to be better in Hornacek's offense than he was in Fred Hoiberg's system.
Furthermore, while the complaints may be fair, the Knicks' players and executives should be far more concerned with the defense. New York is dead last in the NBA in points allowed per 100 possessions at an unforgivable 110.9.
No matter what offense the Knicks run, defense that poor will destroy their postseason aspirations.
This is only a rumor, but if it's true, then these early issues will need to be sorted out before they destroy the New York Knicks' season.
This article originally appeared on