Knicks Rumors: NYK Expected To Sign Chasson Randle To Main Roster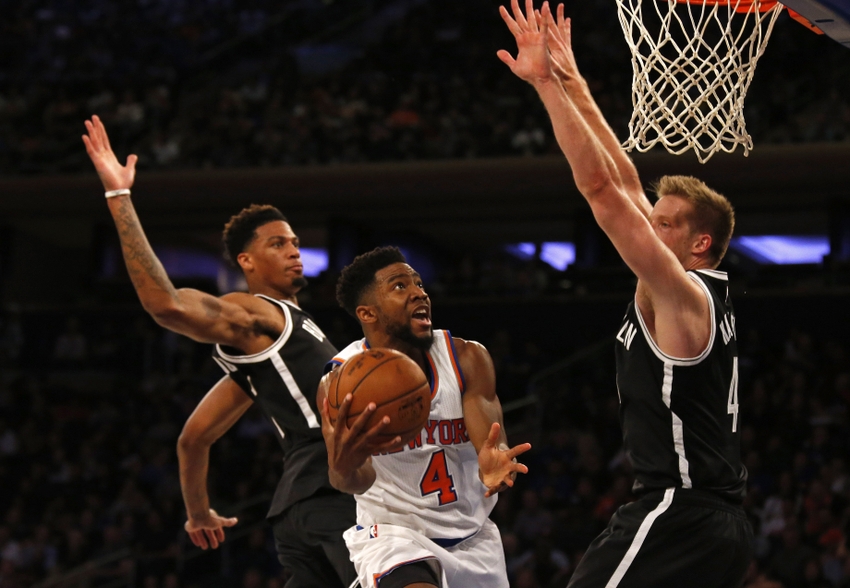 The New York Knicks are in need of depth on the main roster. Summer League and preseason standout Chasson Randle could soon arrive to provide it.
---
The New York Knicks boast one of the most star-studded and productive starting lineups in the NBA. Derrick Rose, Courtney Lee, Carmelo Anthony, Kristaps Porzingis, and Joakim Noah have all shown flashes of being able to justify that very hype.
With an undeniably underwhelming second unit, however, the Knicks are in dire need of an improvement as far as depth is concerned.
New York has an intriguing level of talent with Ron Baker, Willy Hernangomez, Justin Holiday, Brandon Jennings, Mindaugas Kuzminskas, Kyle O'Quinn, and Lance Thomas. Something has been missing early in 2016-17, however, which has thus led to the current development.
According to Marc Berman of The New York Post, the Knicks are expected to sign Chasson Randle to the main roster once he's back at 100 percent.
Point guard Chasson Randle (fractured orbital bone), who is not on the 15-man roster, is starting his rehab stint with the Westchester Knicks at training camp and is expected to be signed when he's back in shape.
Bringing Randle up to the main roster could alter the outlook of the 2016-17 NBA regular season.
Brandon Jennings and Justin Holiday have done an admirable job in relief of Derrick Rose and Courtney Lee. Jennings is beginning to produce like a high-caliber sixth man and Holiday's energy and defensive tenacity have been bright spots for New York's otherwise subpar second unit.
Holiday could shift over to the 3 with Randle and Jennings filling the two guard spots in an attempt to create superior spacing, speed, and two-way consistency.
Randle displayed his individual proficiency at the 2016 Summer League and during the preseason. He scored 14 points against the Brooklyn Nets and displayed a mature level of confidence with the ball in his hands.
New York needs a healthy dose of playmaking to help save the second unit.
Randle played in the triangle offense under head coach Johnny Dawkins with the Stanford Cardinal. His experience in the Knicks' system could provide an invaluable balance to New York's rather inconsistent offense.
Randle could also help provide an invaluable improvement on the defensive end with his active hands and 6'7″ wingspan.
Nothing is imminent, but Berman's report implies that New York could soon sign Randle once his orbital fracture fully heals.
This article originally appeared on