Knicks News: Joakim Noah, Lance Thomas Doubtful vs Trail Blazers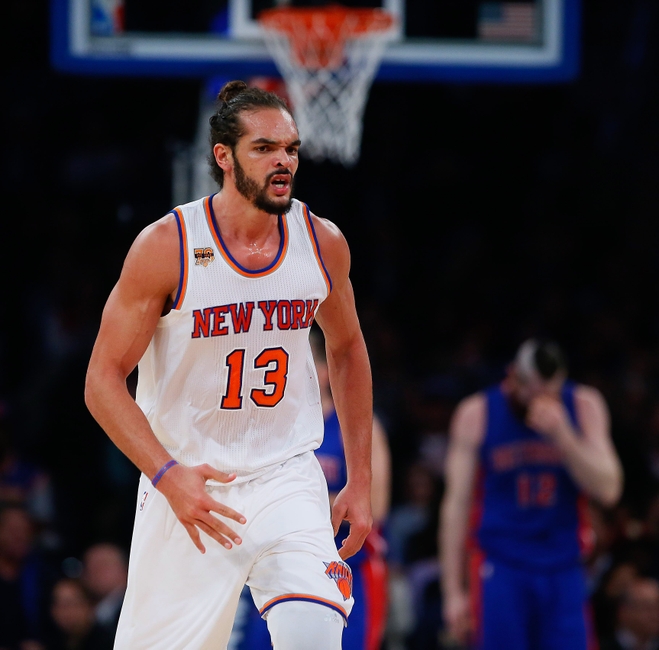 Recent New York Knicks news isn't good regarding the health of two of their players for Tuesday's game against the Portland Trailblazers.
Recent New York Knicks news has been about the health of center Joakim Noah and forward Lance Thomas. In the Knicks most recent win against the Atlanta Hawks on Sunday afternoon, Noah was out due to an illness.
Starting in his place, center Kyle O'Quinn played a very good game, as he brought a ton of energy to the team to start the game. Finding energy has been an important thing for the Knicks early on this season, as some nights they have come out very flat.
In the win, O'Quinn totaled eight points, eight rebounds, and one block in 17 minutes of playing time. In addition to the good minutes from O'Quinn, the Knicks also got some good minutes from Willy Hernangomez.
Off the bench, Hernangomez played 29 minutes, and he totaled seven points and eight rebounds. The play from both of the Knicks centers without Noah was very encouraging in a tough matchup against Dwight Howard.
Noah is still not feeling well, and according to Ian Begley, he will likely miss Tuesday's game against the Portland Trailblazers.
Update: Joakim Noah (illness) & Lance Thomas (feet/ankle) are doubtful for Portland game. Kyle O'Quinn will likely start in Noah's place.

— Ian Begley (@IanBegley) November 21, 2016
In addition to Noah being out, Thomas is also expected to miss the game because of his ankle injury. Thomas has missed four straight games because of his ankle, and there isn't a timetable for his return yet.
The Knicks are winners of three of their four games and will be at home against the Trail Blazers on Tuesday. The backcourt of Damian Lillard and C.J. McCollum is one of the best in the league, and the Knicks will need to make sure their perimeter defenders are focused.
Even though it appears that Noah and Thomas will be out, the Knicks should be encouraged by the way they played without them on Sunday.
More from Empire Writes Back
This article originally appeared on